Stuffed Pork Tenderloin is a great way to serve dinner for a big group or a big family! This pork tenderloin is stuffed with roasted garlic, prosciutto, spinach, roasted red bell peppers, and mozzarella.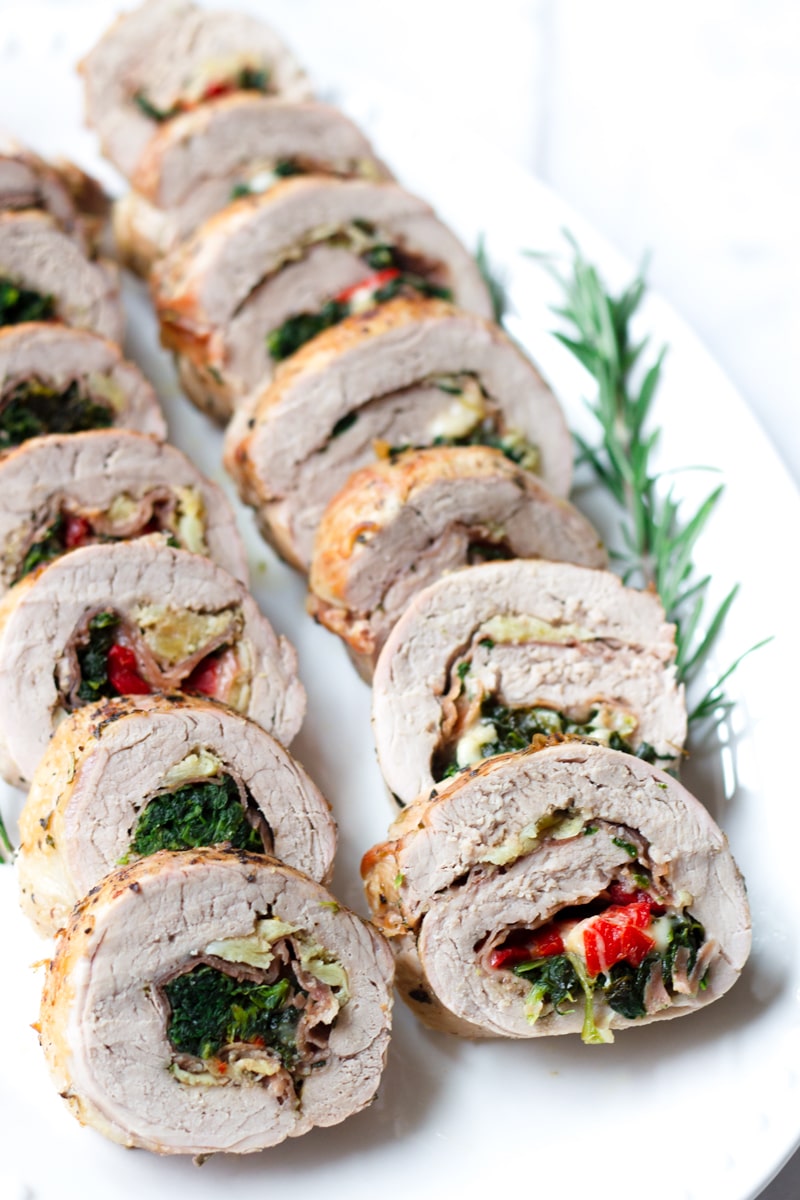 This stuffed pork tenderloin is total comfort food! The pork is tender and the filling is just perfect. The best part about this one is that it's got roasted garlic inside. Yup, I am a big fan of roasted garlic. I even wrote a full guide on how to roast garlic!
If you're wondering how to prepare the meat so you can roll it up, I've got you covered. Since we're using pork tenderloin, instead of a large pork loin, butterflying is much easier, which is why I prefer to make roulades with tenderloin!
So let's get started!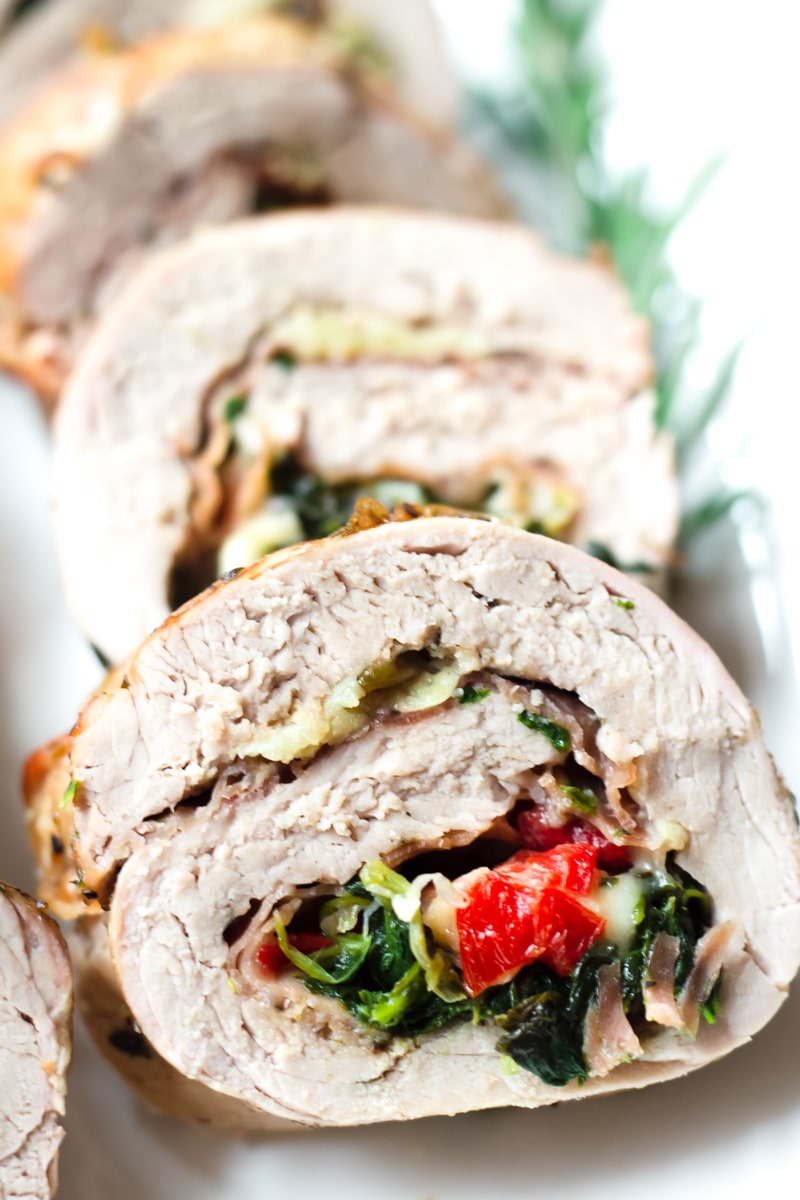 How to Butterly a Pork Tenderloin
Butterflying a pork tenderloin may seem daunting, but with the easy method below, you can do it in less than 10 minutes.
Get a sharp knife! Make a vertical cut, lengthwise, from the thinner edge of the pork loin (if your pork loin is thicker on one side).
Cut, but not all the way through. Leave about 1 inch and stop right there.
Open it like a book.
Line plastic wrap and pound it to a little bit less than 1/2 inch thick. Make sure the plastic wrap is covering the entire tenderloin or you may cross-contaminate other items around your counter as you pound.
Repeat with the second tenderloin. Usually, at the store, you get 2 tenderloins per pack.
After it's about 1/2 inch thick, it's ready for seasoning. I seasoned both sides generously with salt, pepper, and Italian seasoning.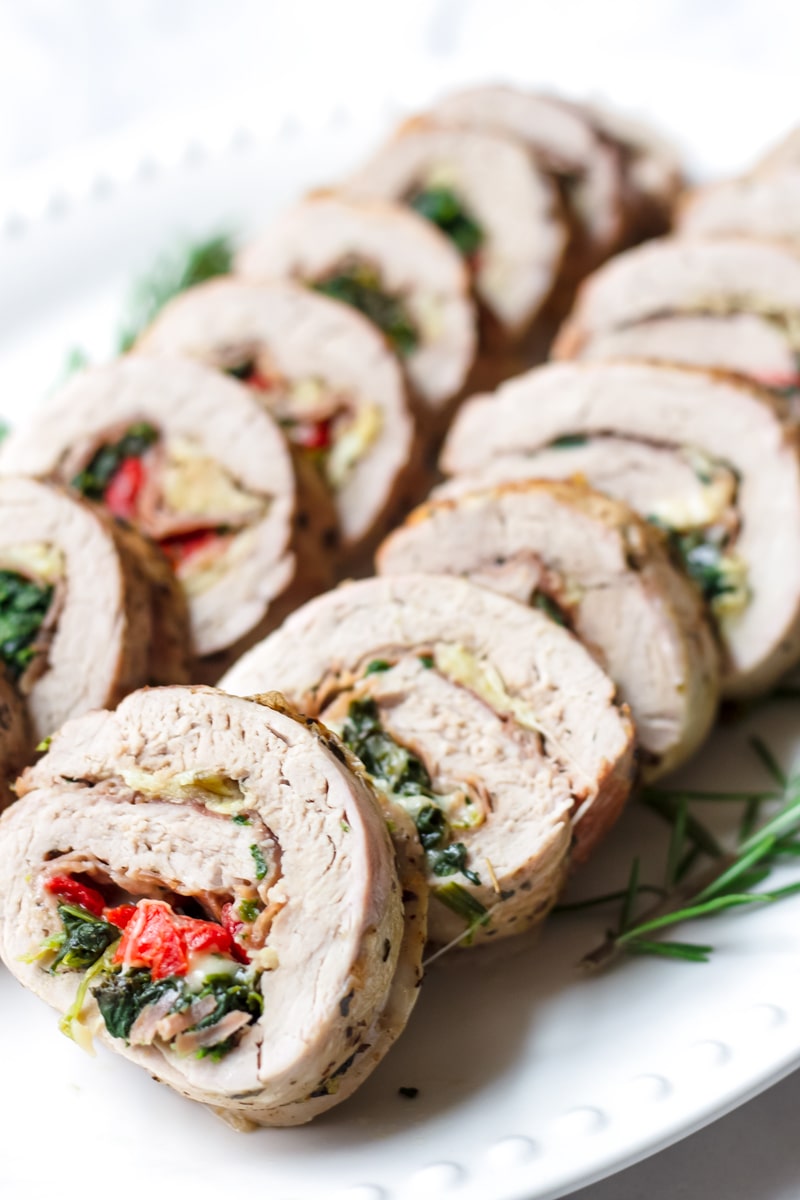 What's in This Easy Stuffed Pork Tenderloin?
There are so many ingredients you can stuff this pork tenderloin with. I chose spinach, prosciutto, roasted bell peppers, and shredded mozzarella. Oh, and roasted garlic. Yup, that's right! I roasted a head of garlic, squeezed out the roasted cloves, and turned it into a paste. And then…you guessed it…I spread the roasted garlic paste on the pork, and let me tell you, it adds depth of flavor.
What to Serve this Stuffed Pork Tenderloin with?
Lucky for you, I have the best side dishes for this. Here is what I'd recommend:
I hope you make this soon, especially for the holidays! Happy cooking.
And don't forget to pin this recipe 🙂
Kitchen Tips
Make sure you pound the pork to about 1/2 thick, or a little less than that. You want it to be large enough to roll up.
Don't add too much filling, or it will be hard to roll up.
For the frozen spinach, squeeze out all liquid.
Special equipment: kitchen twine.
If you try my recipe, use #cookingformysoul on Instagram! Follow me on Pinterest, Instagram, Facebook for the latest fun updates and recipes!
Stuffed Pork Tenderloin
Stuffed Pork Tenderloin is a showstopper! This one is stuffed with spinach, prosciutto, roasted red bell peppers, mozzarella, and roasted garlic.
Ingredients
1

head

whole garlic (for roasting)

-

(don't peel)

3

pounds

pork tenderloin

-

(each comes with 2 tenderloins, usually)

Italian seasoning

Salt and pepper

8

slices

prosciutto

5

oz

frozen spinach

-

(thawed and liquid squeezed)

1/2

cup

roasted bell peppers

-

(chopped and extra liquid removed)

1/2 to 1

cup

shredded mozzarella cheese
Instructions
Preheat oven to 425 degrees F. Follow directions on how to roast garlic. This should take about 40 minutes. When roasted, remove from oven and squeeze out all the garlic cloves and make a paste with a fork.

Meanwhile, butterfly the pork tenderloin: using a sharp knife, make a vertical cut lengthwise (from the thinner edge or side), but not all the way through. Stop at about 1 inch from the other end. Open it up like a book. Cover it with a plastic wrap, and pound it to a little less than 1/2 inch thick.

Generously season both sides of the pork tenderloin with salt, pepper, and Italian seasoning to taste

Spread one side of the pork tenderloin with roasted garlic paste. Layer prosciutto. Then layer spinach, bell peppers and cheese on one half of the pork tenderloin (this will make rolling easier and less of a mess).

Tightly roll the prepared pork tenderloin. Tie with kitchen twine. I cut 6 strings of kitchen twine and tied it across the pork.

Heat some olive oil on a large skillet to medium heat. Brown all sides, about 8 minutes total.

Transfer to a baking pan and cover with aluminum foil. Roast at 425 degrees F for about 25 minutes. Then uncover and roast for another 15 minutes, or until internal temperature registers 145 degrees F.

Remove from oven. Let sit for 15 minutes before slicing.
Notes
Special equipment: kitchen twine