Slow Cooker Cuban Sandwiches are a favorite in my house! Juicy and tender slow cooked Cuban pork with ham, pickles, cheese, pickles, and mustard. A true classic! Make these Cuban sandwiches as sliders if you need to feed a crowd.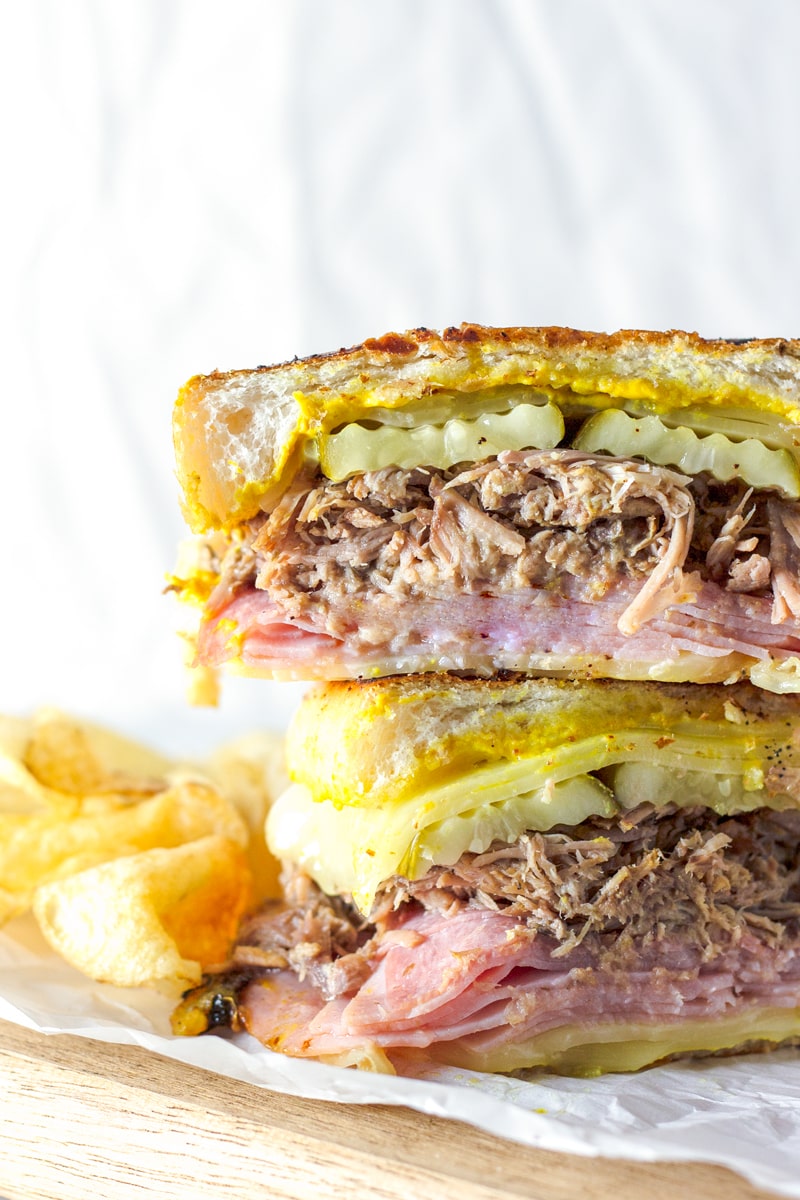 I love a good sandwich, especially when it has pulled pork. This slow cooked Cuban sandwich is a true favorite in my house. Both my husband and I love it, and have made it so many times that I've lost track. The Cuban pork is cooked in my slow cooker with a delicious mojo marinade until tender and juicy.
My Favorite Cuban Sandwich Recipe
My favorite Cuban sandwich recipe uses a slow cooked mojo Cuban pulled pork, and let me tell you, it is absolutely delicious and extra moist!
I've made Cuban sandwiches, or Cubanos, many ways before, and I love how this recipe is so easy – just throw the ingredients in the morning in the slow cooker, and assemble the sandwich when ready to eat later in the evening. The best part is that it's extra moist, which is a must for me when it comes to sandwiches.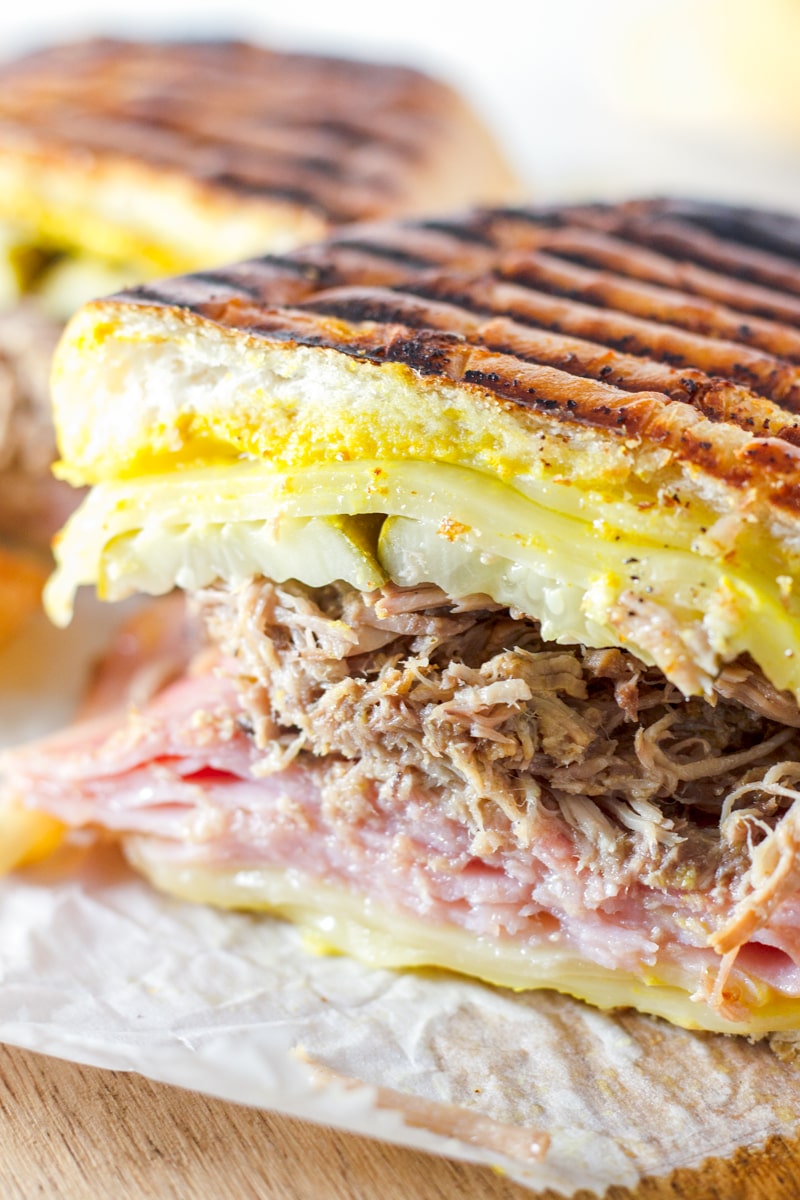 What's in a Cuban Sandwich?
Traditionally, a Cuban sandwich has the following ingredients:
Cuban bread
slow roasted pork
ham
pickles
Swiss cheese
pickle slices
mustard
I like to add genoa salami on my Cuban sandwich too. It just adds an additional layer of flavor that I love.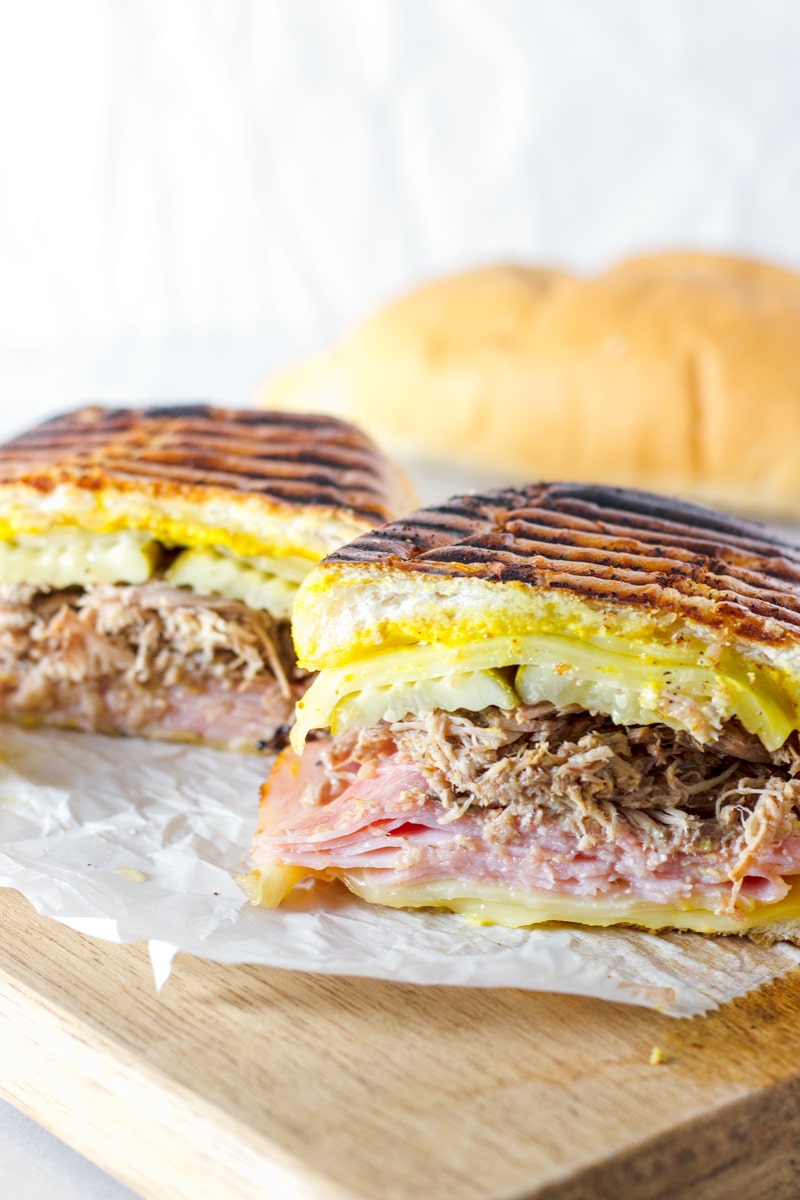 How to Make a Cuban Sandwich
Making Cuban sandwiches is really easy! For this recipe, all you need is patience as the pork cooks in a delicious mojo marinade in the slow cooker. Your house will smell like heaven while the pork is cooking…trust me!
Place mojo marinade ingredients (see recipe card) and pork shoulder/pork butt in a 6 qt large slow cooker. Be sure to poke the meat with a knife all over and cut them in chunks in order to ensure that the mojo marinade flavors penetrate through the pork. Cover and cook on LOW for 6-7 hours.
Once the meat is ready, shred it with a fork.
Slice the Cuban bread horizontally for the sandwich. Substitutions: telera roll, bolillo roll, Italian bread.
Brush the bread halves all over with a mix of melted butter and garlic powder. Why? Doing this does two things: 1) it gives the bread a crunch and a golden brown color when pressed in a panini press, and 2) adds lots of flavor.
Spread mustard on the inside of each bread half.
Assemble the sandwich: layer on Swiss cheese, ham, genoa salami, pulled pork, pickle slices, and more cheese.
Press on a panini press until golden brown and crunchy. If you prefer, you can press the sandwich on a skillet by placing something heavy on the sandwich, such as a cast iron skillet, and repeat for both sides.
I served this Cuban sandwich with potato chips, but feel free to serve with anything you'd like! Here are some ideas:
sweet potato fries or chips
plantain chips
tostones
french fries
a simple salad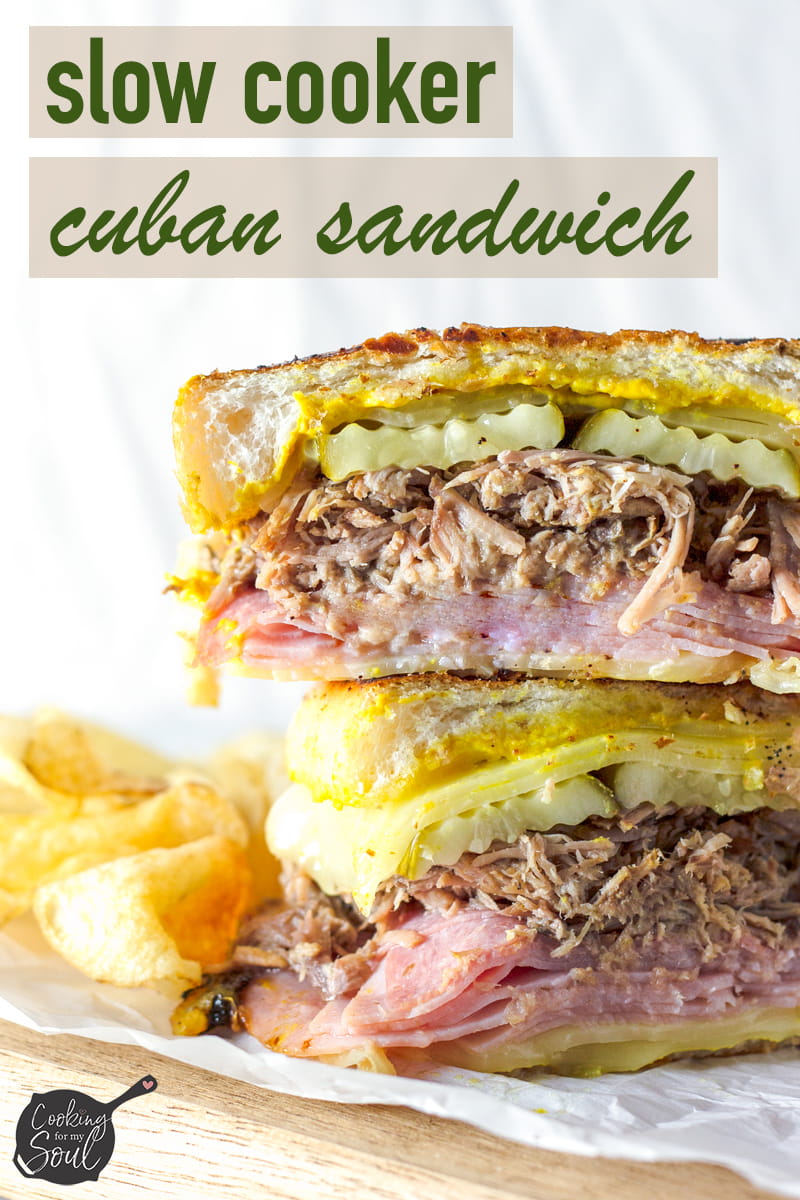 The pork is so moist and super flavorful. It's so good! This recipe will make enough for 5-6 sandwiches. You can also turn this into sliders if you want to throw a party.
For more sandwich recipes, try my Turkey Mozzarella Focaccia Sandwich. I am working on several sandwiches for the blog, so stay tuned. Remember to sign up for my email updates 🙂
And don't forget to pin this recipe: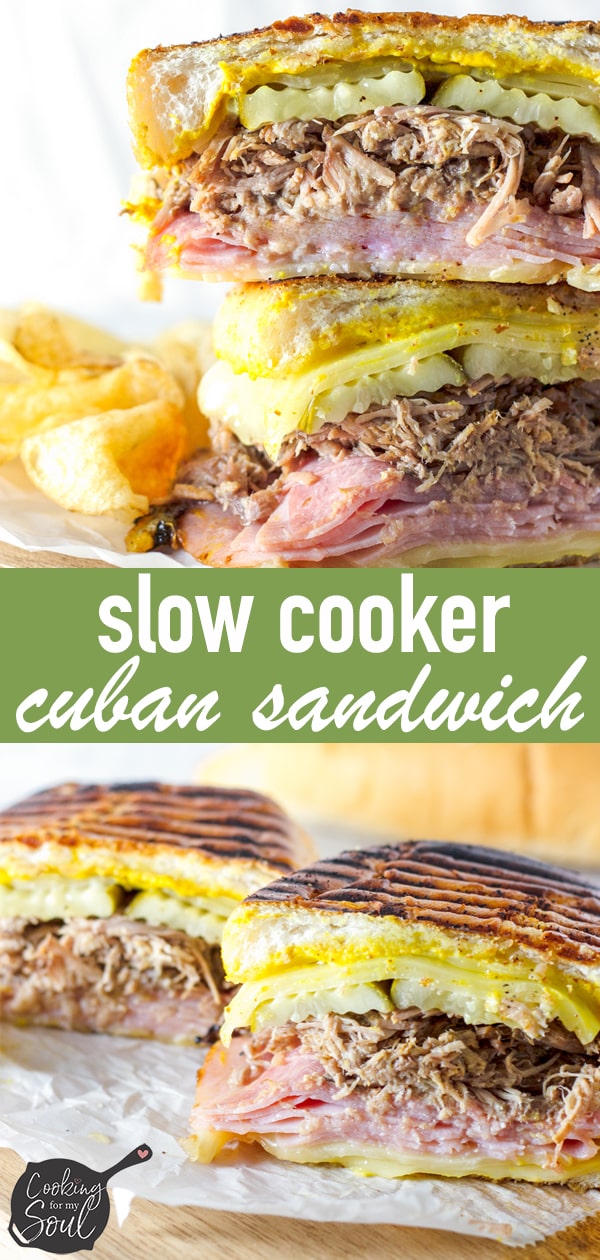 Kitchen Tips
If you can't find Cuban bread, try telera rolls, bolillo rolls, or Italian bread. Slice the bread horizontally.
Brushing the bread with melted butter plus garlic powder provides extra flavor, and most importantly, gives the bread a nice golden brown color and a crunchy texture.
Use good quality ham. I used honey ham.
If you try my recipe, use #cookingformysoul on Instagram! Follow me on Pinterest, Instagram, Facebook for the latest fun updates and recipes!
Slow Cooker Cuban Sandwich
My favorite Slow Cooker Cuban Sandwich recipe! The pork is made in the slow cooker with a flavorful mojo marinade. Each layer of this sandwich is packed with delicious ingredients that will blow you about.

Ingredients
Cuban Mojo Pulled Pork
4

lbs

pork shoulder/pork butt

Juice of 2 oranges

Juice of 1 1/2 limes

4

cloves

garlic, minced

2

teaspoons

ground cumin

2

teaspoons

dried oregano

1/4

teaspoon

red pepper flakes

2

bay leaves

3/4

tablespoon

Kosher salt

1

teaspoon

freshly ground black pepper

2

tablespoons

olive oil
Sandwich
6

Cuban rolls, sliced open

-

(you can also use telera or bolillo rolls, or Italian bread)

24

slices

Swiss cheese

18

slices

honey ham

12

slices

pickles

Mustard

4

tablespoons

unsalted butter

1/2

teaspoons

garlic powder

24

slices

Genoa salami

-

(optional)
Instructions
Poke the pork shoulder all over with a knife. Cut the pork shoulder into large chunks and place in a large slow cooker.

Add all the Mojo marinade ingredients to the slow cooker and mix well to combine. Cook on LOW for about 6-7 hours until tender.

When ready, shred the meat using a fork.

In the microwave oven, melt butter and garlic powder, and brush the bread all over with it.

Assemble the sandwich: For each sandwich, spread mustard on the bottom half, layer on 2 slices cheese cheese, 3 slices of honey ham, 4 slices salami (if using), pulled pork, 2 pickle slices, and 2 more slices Swiss cheese. Spread the inside of the top bread half with mustard and top the sandwich. Place sandwich on a hot panini press until golden brown.

Serve with your favorite side. I served these sandwiches with chips.