Brownie sundaes are so quick and easy to make, yet so impressive and scrumptious! I am making these super easy brownie sundaes for a romantic Valentine's Day dessert. Although, I would eat this any other day…it's that good and easy!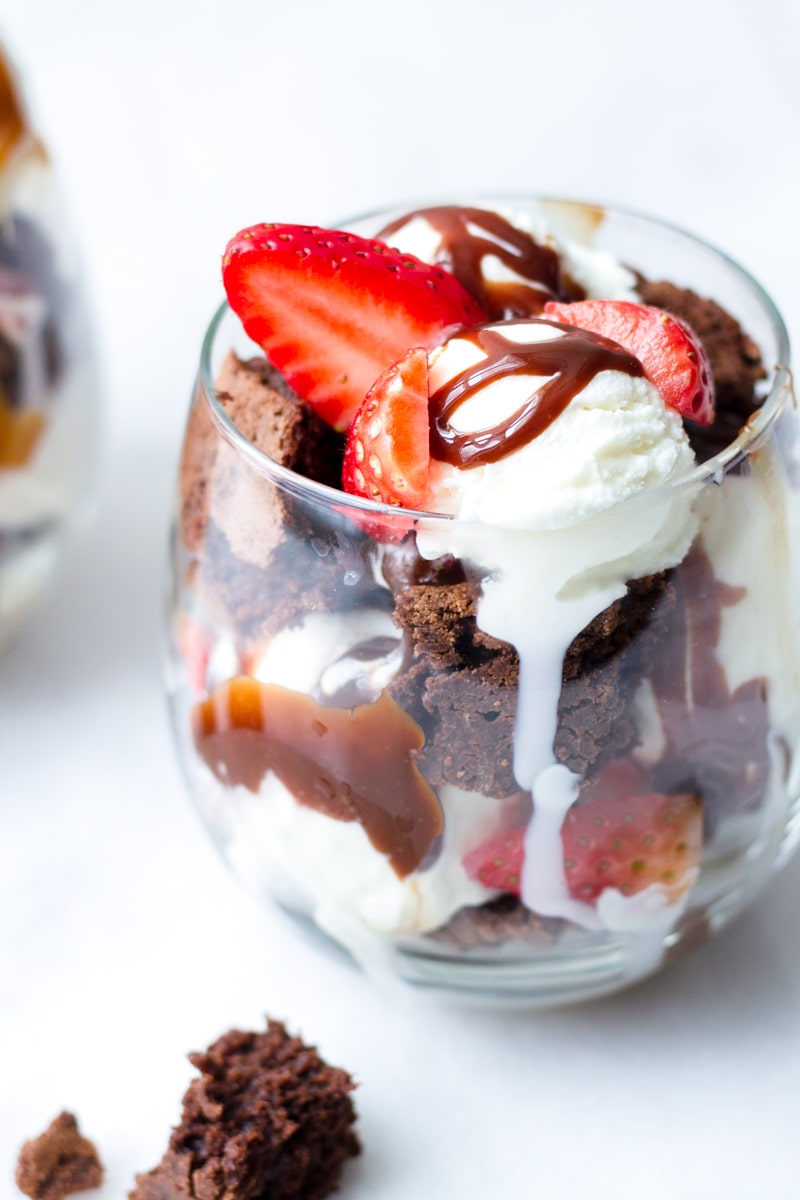 I love making quick and easy desserts, especially if it involves brownies and ice cream. Say those two words, and I'm in! This easy brownie sundae recipe idea came as I was trying to figure how to make an elegant and thoughtful dessert for Valentine's Day without having to spend hours in the kitchen. After all, this day is all about spending quality time with your significant other.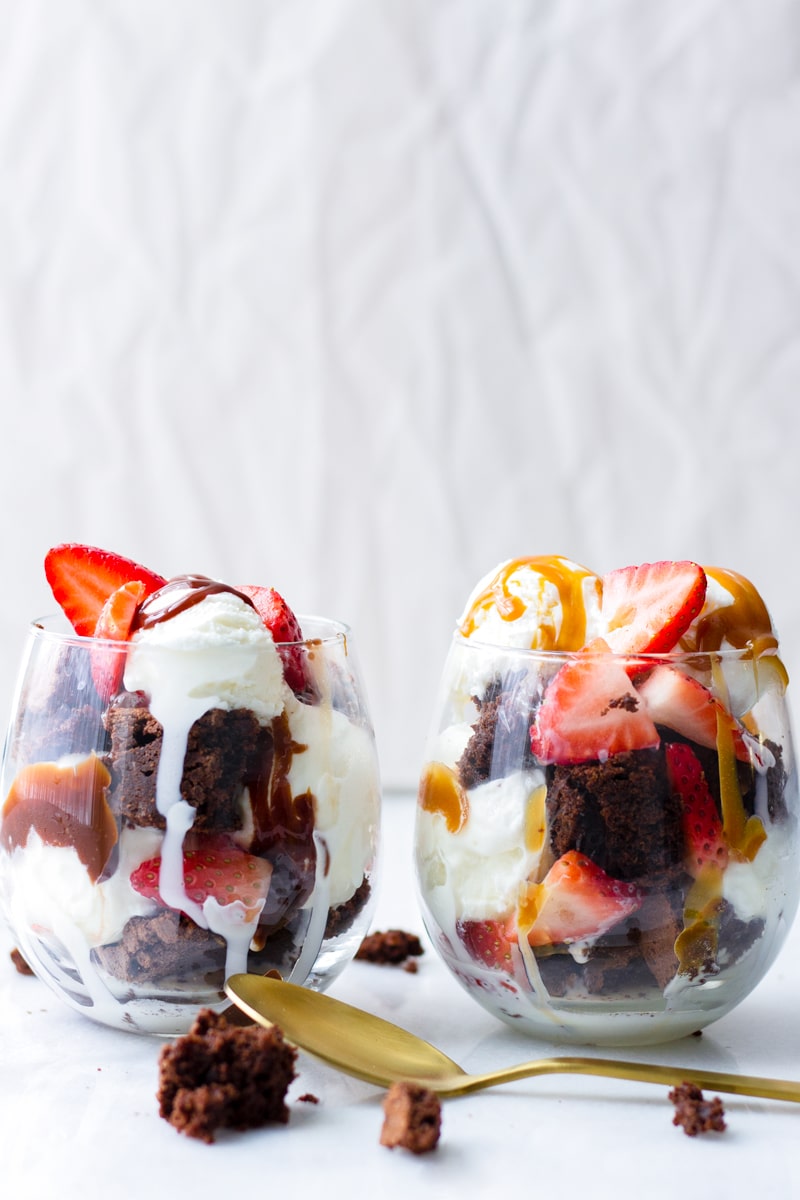 How to Make Super Easy Brownie Sundaes
This shortcut brownie sundae recipe is very simple, with only 5 ingredients:
quality store-bought brownies (or you can make my favorite brownies ahead)
your favorite ice cream
hot fudge
caramel
sliced strawberries
It comes together in 10 minutes or less! All you have to do is pick up the ingredients at your local store and assemble these beautiful caramel or hot fudge brownie sundaes.
Here's how to make a brownie sundae: break the brownies into small pieces, and place them in a see-through bowl or wide glass, then add a few scoops of ice cream and hot fudge or caramel. Repeat to make another layer, and top with more chocolate fudge and caramel, and strawberry slices. That's all!
If you're a little more ambitious, you can definitely make my favorite brownie recipe. Nothing beats homemade brownies, but I'll admit that these brownies I got at my local store were excellent!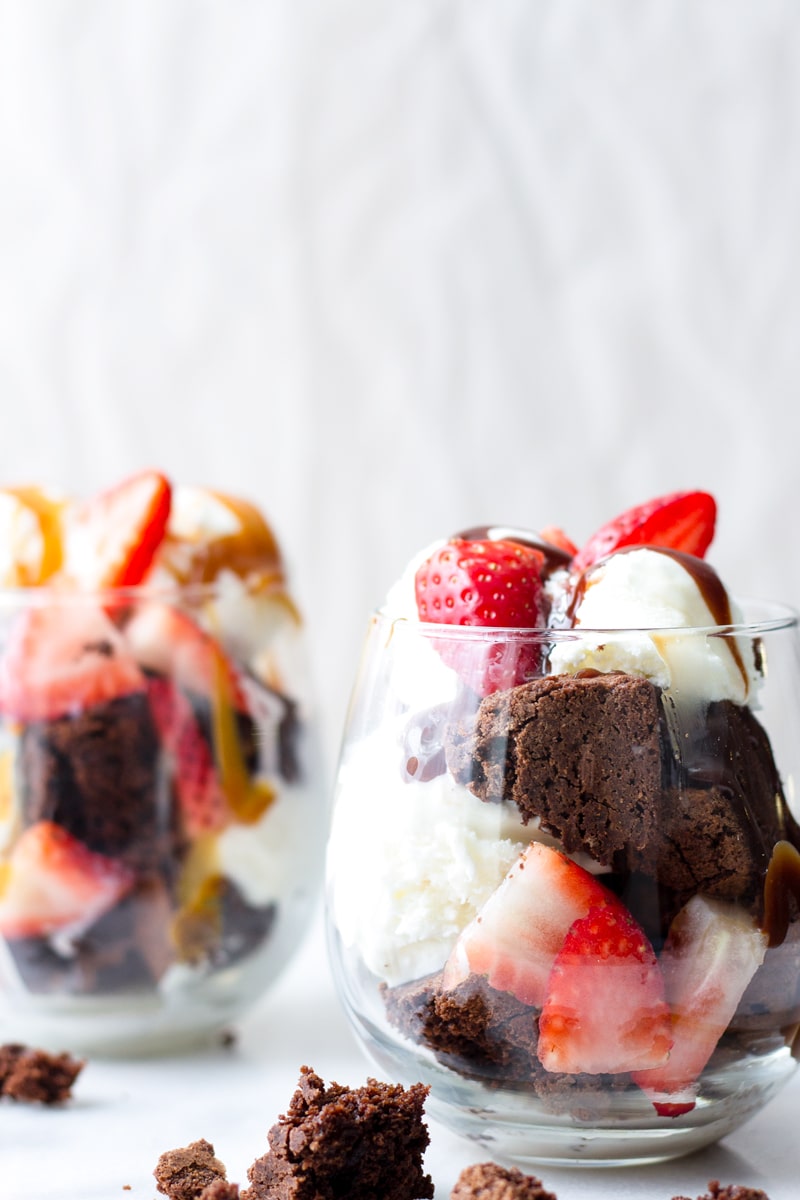 More Brownie Sundae Ideas
These brownie sundae recipe is very customizable! I made hot fudge brownie sundaes for my husband, and caramel brownie sundaes for myself. But you can certainly make these brownie sundaes totally yours. Here are some ideas:
Swap the ice cream flavors. Try these ice cream flavors: caramel, cheesecake, strawberry, neapolitan, chocolate
Add nuts! Try crushed peanuts, pecans, or almonds
Use strawberry sauce

Even More Brownie Sundae Toppings
I know, the list goes on…if you want to take it a step further, feel free to totally change it up with your toppings of choice. The whole point of this brownie sundae recipe is that it's easy and quick, and customizing it with your favorite toppings shouldn't make it any harder.
Here are my favorite toppings:
funfetti (yassss!)
mini chocolate chips
blueberries or other diced fruit
crushed pretzels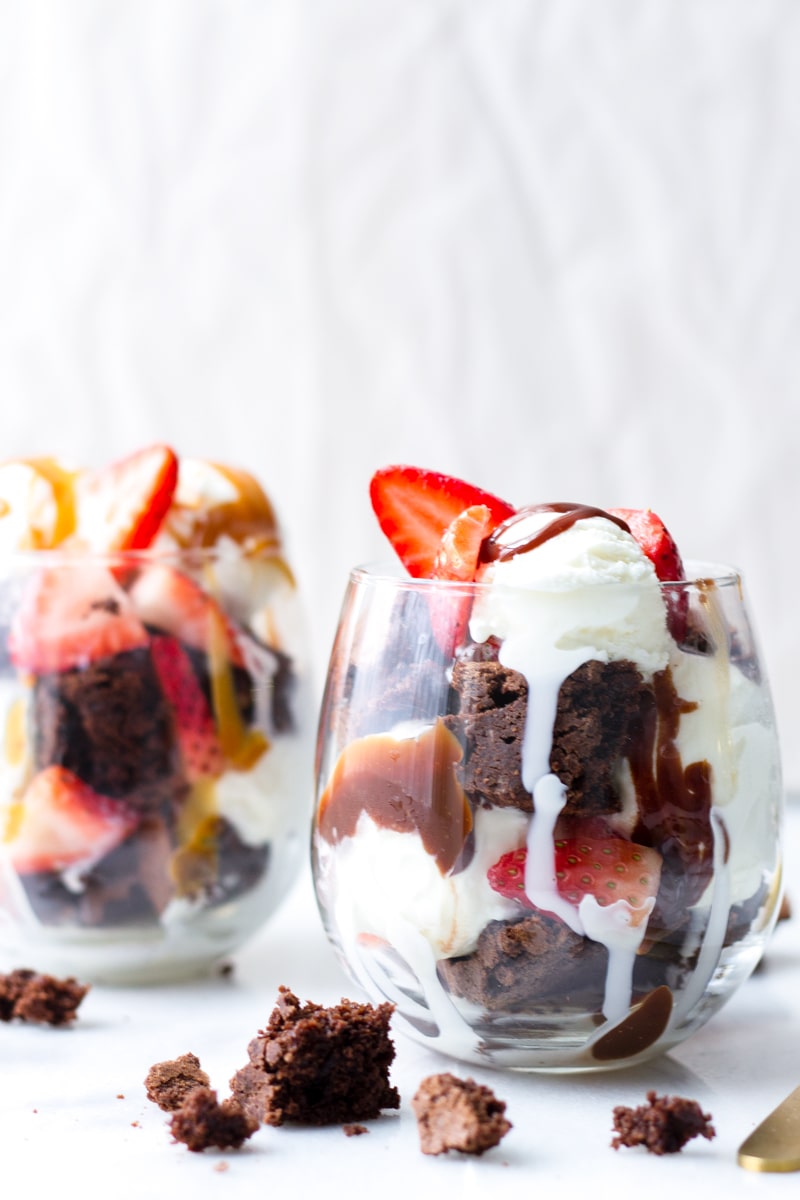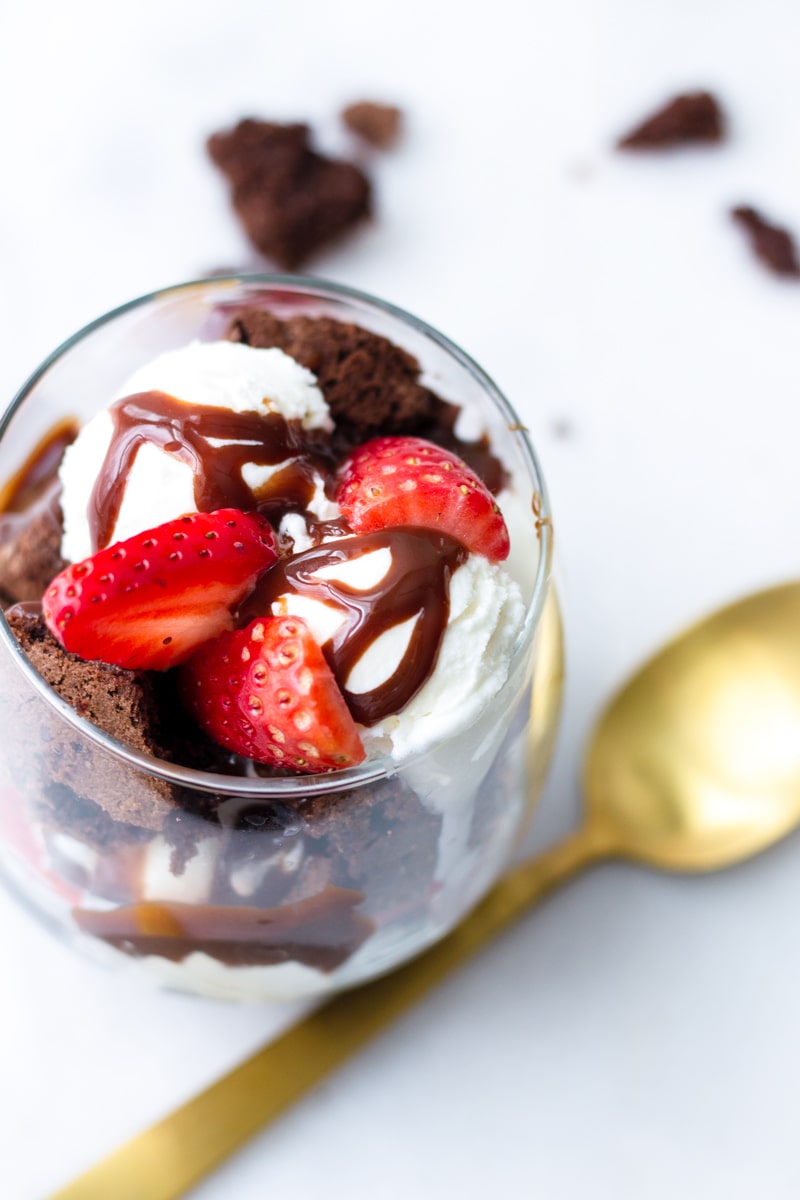 As you can see, these brownie ice cream sundaes are just that easy to make, and highly customizable too.
I made these caramel and chocolate brownie sundaes a few days ago, and it was a hit. I'll be making these for Valentine's Day, along with my Easy Chicken Parmesan for the main course.
I hope you like this easy brownie dessert! Thank you for reading, and please comment below. I'd love to hear about how you customized your awesome brownie sundaes 🙂
For other awesome desserts, check out the following: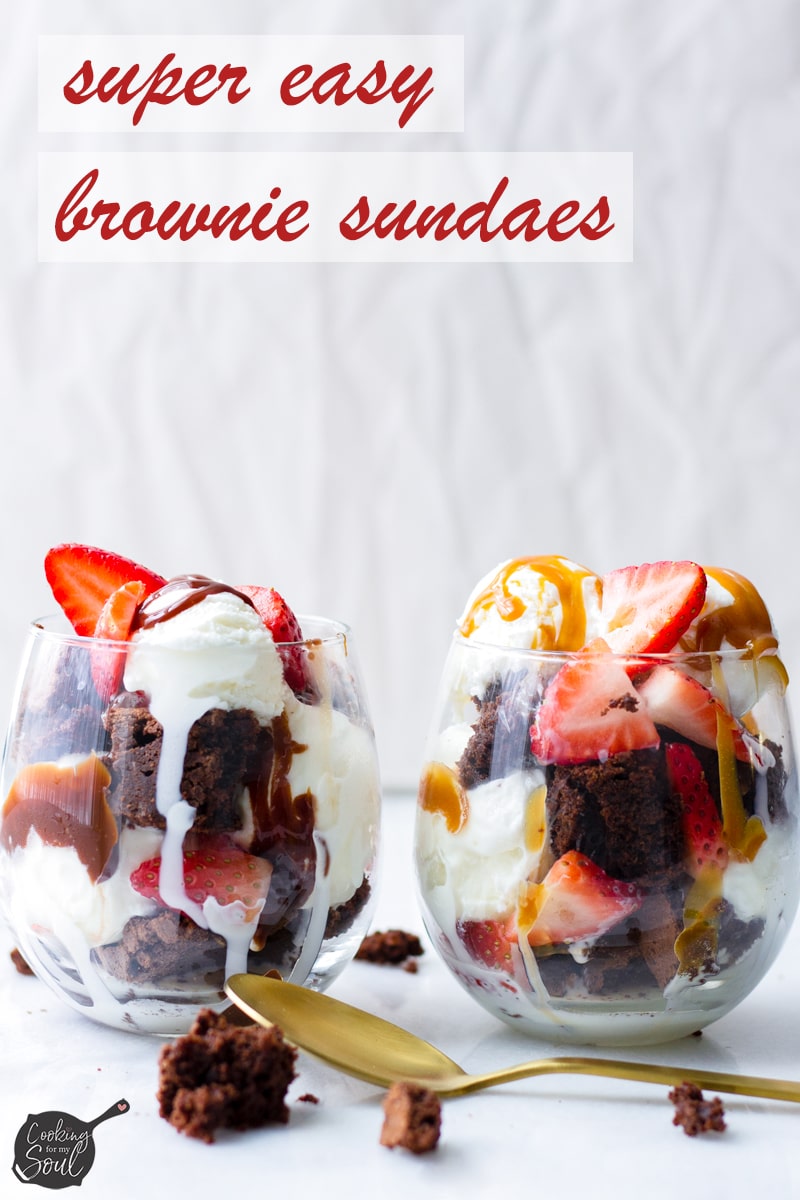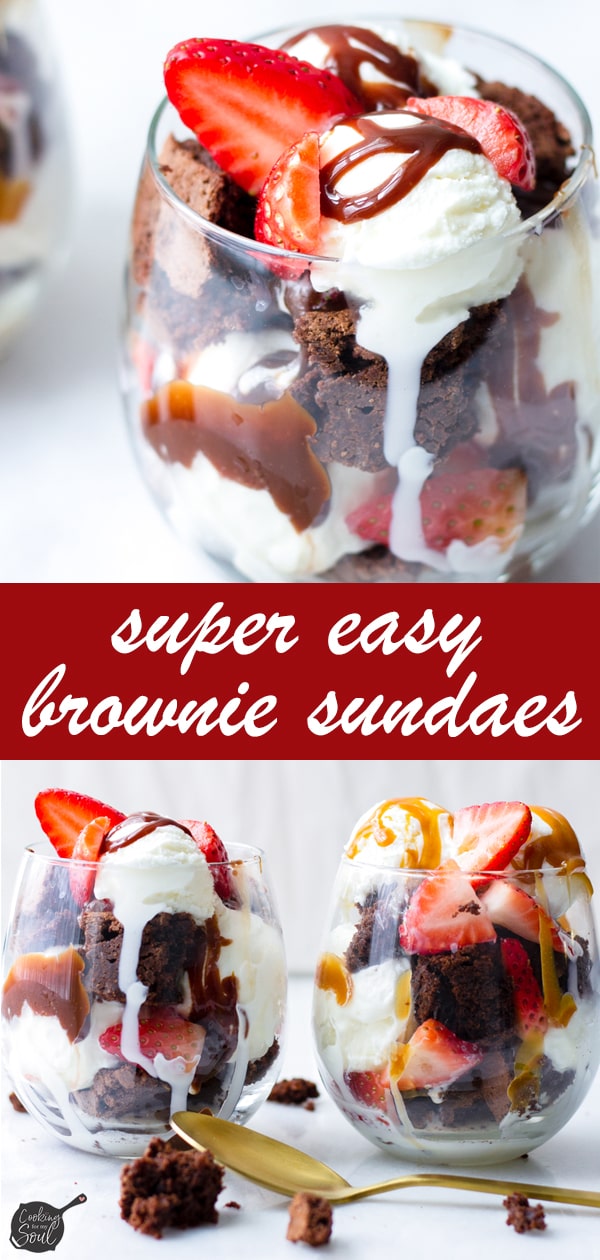 Kitchen Tips
Use a see-through glass for a beautiful presentation. Preferably one with a wide bottom.
Warm up the caramel and fudge sauce. It will make it easier to drizzle and even more delicious.
I'd recommend using a small/medium cookie scoop for easy release.
If you try my recipe, use #cookingformysoul on Instagram! Follow me on Pinterest, Instagram, Facebook for the latest fun updates and recipes!
Brownie Sundaes
Super easy caramel or fudge brownie sundaes! They come together in 10 minutes or less, and you can get all the ingredients at your local store. Perfect for an elegant and easy brownie dessert.
Ingredients
2

big squares

your favorite brownies

Hot fudge

-

I used Sanders brand hot fudge sauce

Warm caramel Sauce

-

I used Sanders brand caramel sauce

Your favorite vanilla ice cream

-

or any other flavor

Sliced strawberries
Instructions
Break the brownies apart into small pieces. You can use good quality store-bought brownies or make my Perfect Brownies recipe.

Divide up some of the brownie pieces into 2 wide serving glasses, on the bottom layer. Add a few drizzles of hot fudge or warm caramel sauce, or both.

Add a 2-3 slices of strawberry. Then, add a 2 small scoops of ice cream.

Top with more brownie pieces, more sauce, strawberry slices, and more ice cream. Then finish it off with a few more drizzles of fudge and/or caramel sauce and strawberry slices.
Notes
For a beautiful presentation, use a see-through glass. I used a wine glass.
For the small ice cream scoops, I used a cookie scoop.
Disclaimer: Nutritional values (per serving) are approximates only.
Nutrition
Serving:
1
serving
|
Calories:
802
kcal
|
Carbohydrates:
59
g
|
Protein:
6
g
|
Fat:
16
g
|
Saturated Fat:
10
g
|
Polyunsaturated Fat:
1
g
|
Monounsaturated Fat:
5
g
|
Cholesterol:
58
mg
|
Sodium:
242
mg
|
Potassium:
389
mg
|
Fiber:
2
g
|
Sugar:
36
g
|
Vitamin A:
578
IU
|
Vitamin C:
22
mg
|
Calcium:
195
mg
|
Iron:
1
mg