I love these crispy herb roasted potatoes because they are so tender, crispy, and garlicky. Roasted to perfection with fresh rosemary, thyme, and garlic. One of my favorite roasted potato side dishes!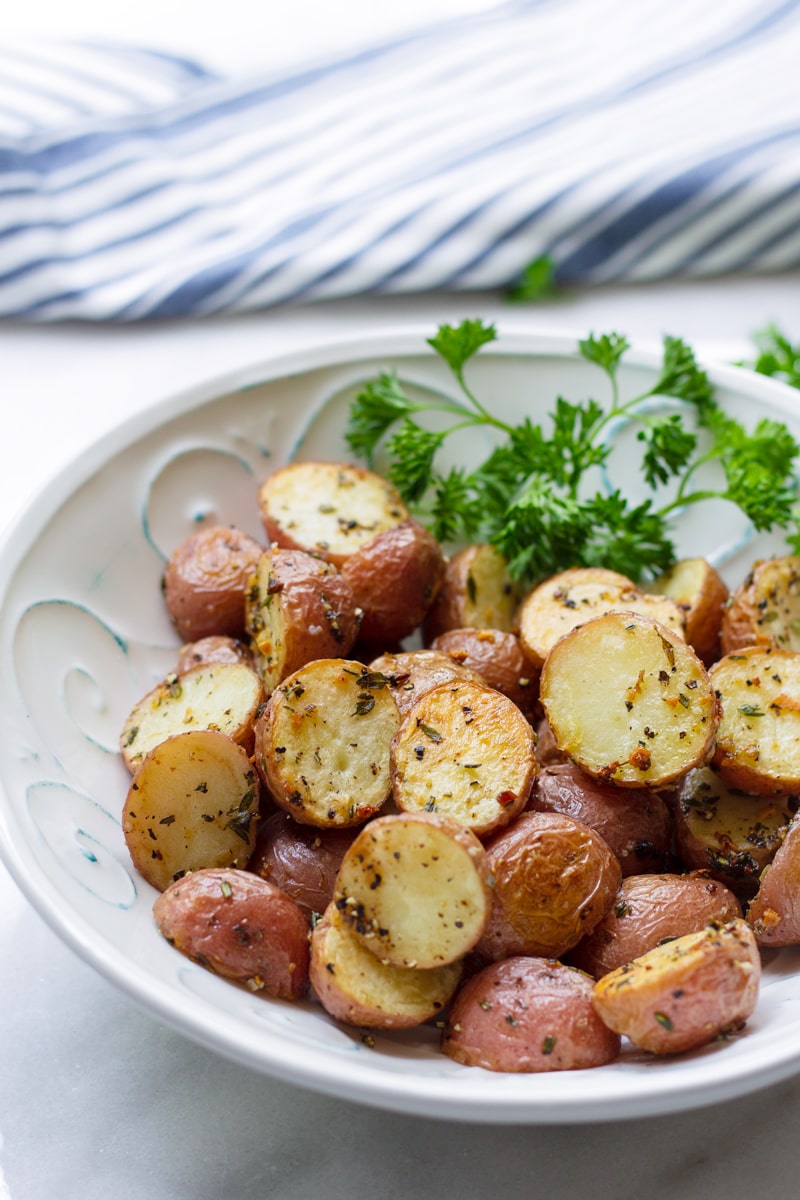 These crispy herb roasted potatoes are so so soo good! Cute petite potatoes, fresh rosemary, thyme, and garlic…tossed with extra virgin olive oil, salt, and pepper. It's a very easy way to transform simple ingredients into a super delicious side dish.
I like to serve these garlic herb potatoes with grilled chicken or salmon. It's like the perfect pairing! I used rosemary and thyme, but you can certainly use any herbs you like.
Roasting veggies the right way is a skill all home cooks should have. I mean, EVERYONE loves roasted veggies. So tender, crispy at times, aromatic, and garlicky. It's pretty much the only way to cook vegetables! I'm only half joking. Keep reading to find all you need to know to make the perfect herb roasted potatoes…and pretty much any vegetable!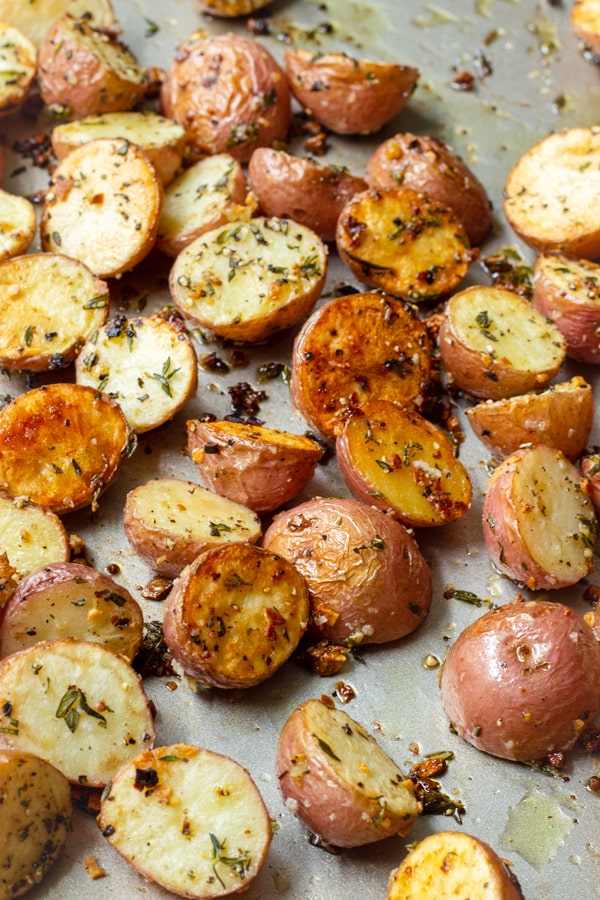 Roasting Veggies 101
Here are a few things to keep in mind to make perfect roasted veggies:
Always use a high oven temperature: I roast veggies at 425 or 450 degrees F to get that golden brown color and slight char.
Separate veggies by cooking time: Not all veggies have the same cooking times. For example, potatoes take 25-40 minutes to roast, whereas zucchini only takes like 10-15 minutes.
Same size: Cutting your veggies to the same size ensures even cooking.
Use the right amount of oil: Oil gives veggies a golden brown color and allows them the crisp up beautifully. Use extra virgin olive oil for extra flavor!
Season well: Be generous with your favorite seasonings!
Don't overcrowd the pan (THE most important step!): Never underestimate how much space veggies need on the sheet pan! Overcrowding will result in steaming, not roasting. Nobody wants bland and mushy veggies.
Toss 'em: You should always toss or flip the veggies halfway through to ensure even cooking and proper browning.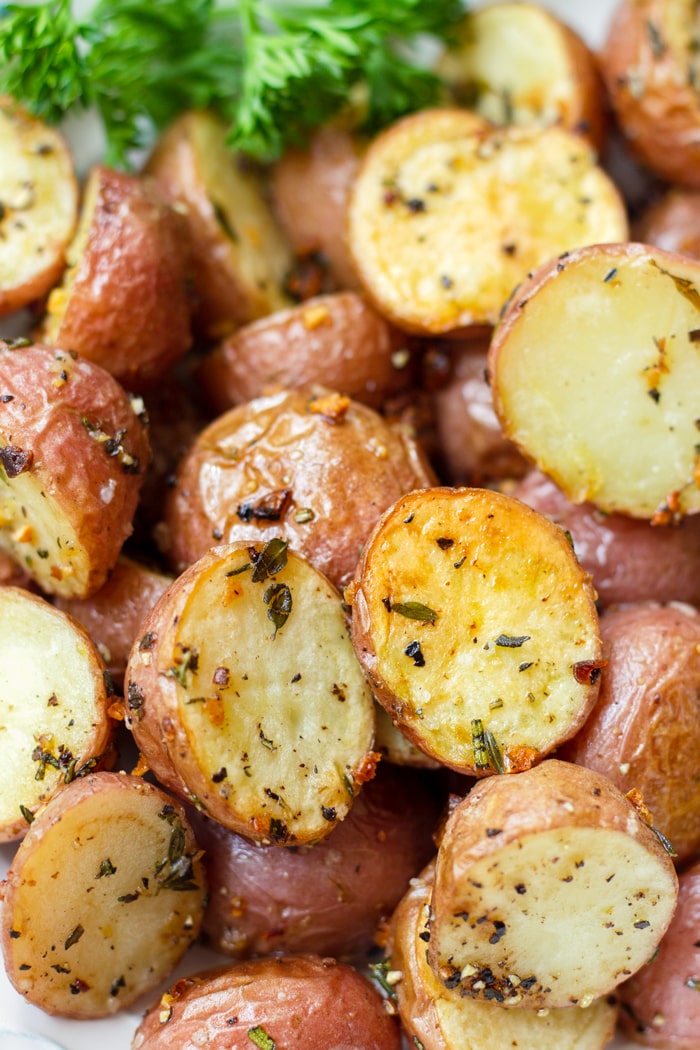 Herb Roasted Potato Ingredients
Here's what you'll need:
Potatoes: same size halves or cubes so that they cook evenly.
Extra virgin olive oil: olive oil accentuates flavors in roasted potatoes, so be sure to use good quality oil.
Minced fresh garlic: garlic makes everything better! If you don't have garlic at home, you can use garlic powder. Just don't use the pre-minced garlic that come in a jar.
Fresh herbs: I used rosemary and thyme, but you can use any herbs you want! Oregano would be a great choice. If you don't have fresh herbs, dried herbs will do.
Salt and pepper
How to Make Herb Roasted Potatoes
Only a few simple and easy steps!
Preheat oven to 425 degrees F.
Toss all ingredients on a large sheet pan: Make sure the potatoes are not overcrowded in the pan. Use 2 sheet pans if needed.
Roast and flip potatoes halfway through: For even cooking and proper browning.
That's all! So easy and simple. The herb roasted potatoes should take about 30 minutes in the oven.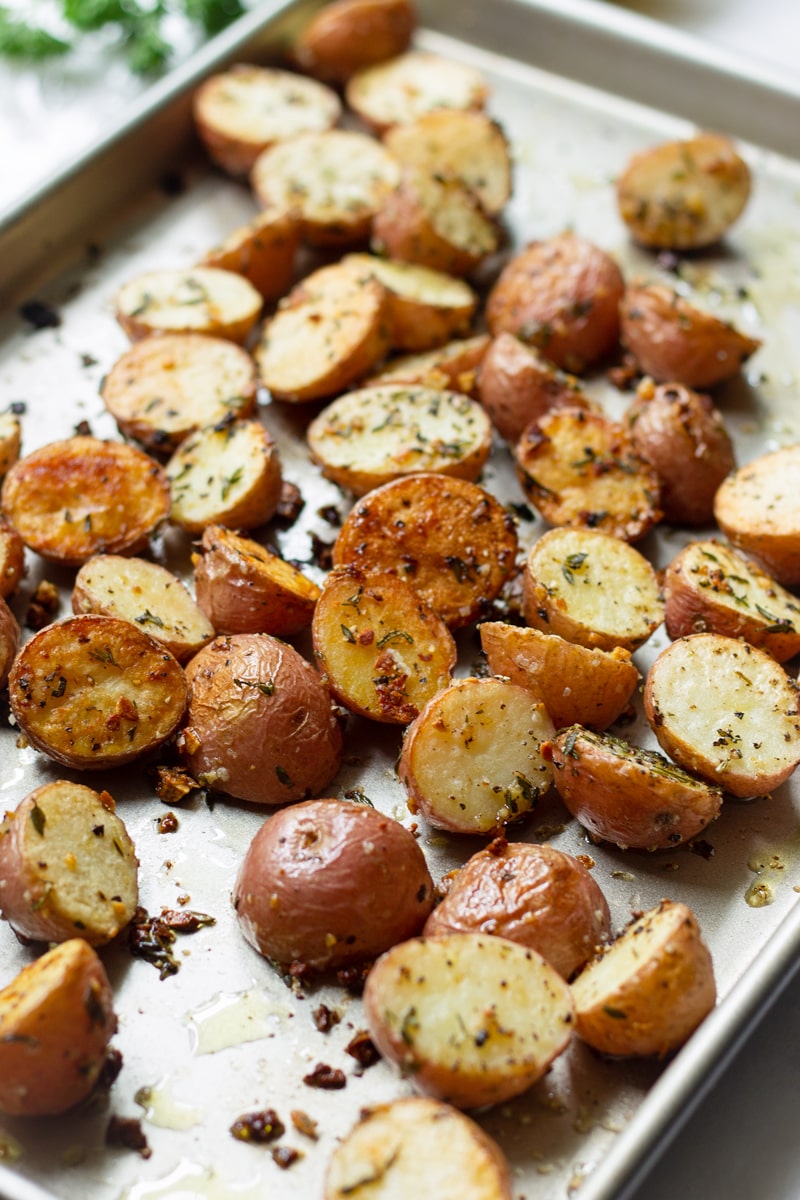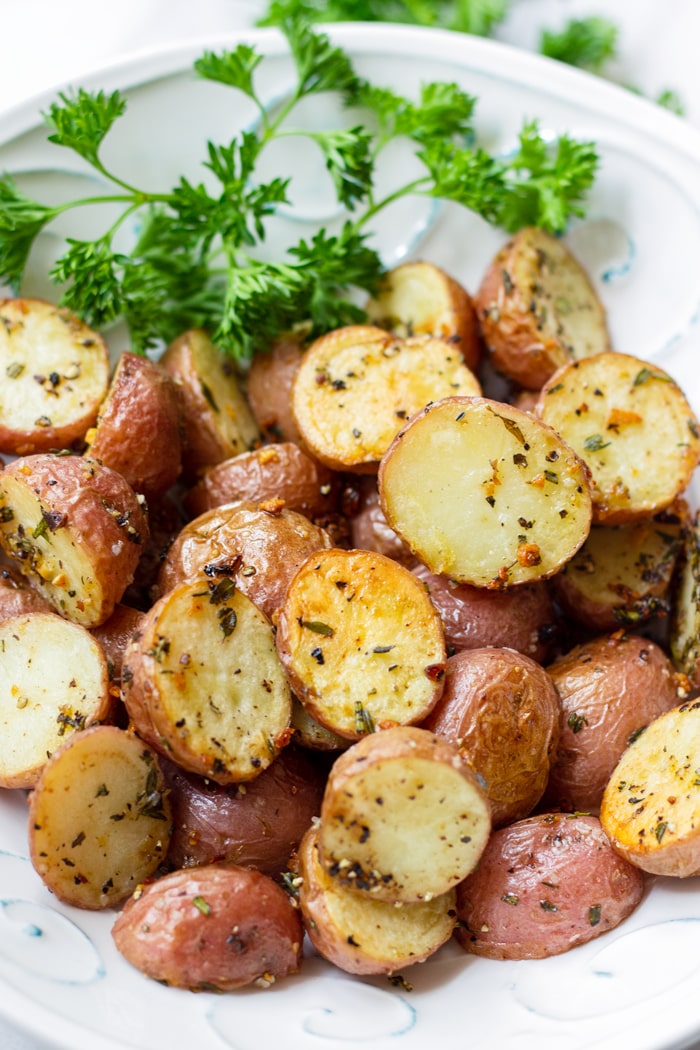 Roasting potatoes is really easy and simple! I probably make herb roasted potatoes twice a week for dinner. They just pair so well with anything, and I play with different types of herbs and potatoes. I've used fingerling potatoes and  purple potatoes…they are so good!
When I don't have much time, I use garlic powder instead of fresh garlic…and dried herbs instead of fresh herbs. Don't judge, life is busy! 🙂
More roasted potatoes and veggies recipes:
Thank you for reading, and please don't forget to pin this recipe. Much appreciated!

Perfectly Roasted Potatoes
Make sure the potatoes are cut to the same size for even cooking.
Use the right amount of oil and toss well to coat: You want the potatoes to be evenly coated, and not swimming in a pool of oil.
Do NOT overcrowd the pan: Probably the most important step! Giving the potatoes space to roast (and not steam) is crucial for getting that crispy crust and golden brown color.
Flip the potatoes halfway through or, better yet, when you see a golden brown crust forming at the bottom. If it needs more time to brown, wait a bit longer before flipping.
If you try my recipe, use #cookingformysoul on Instagram! Follow me on Pinterest, Instagram, Facebook for the latest fun updates and recipes!
Crispy Herb Roasted Potatoes
These herb roasted potatoes are roasted to perfection for that crispy exterior, tender center, and golden brown color. Tossed with rosemary, thyme, garlic, salt, pepper, and olive oil.
Ingredients
3

pounds

petite potatoes, washed and halved

¼

cup

olive oil

4

cloves

garlic, minced

1

teaspoon

fresh rosemary, minced

1 ½

teaspoons

fresh thyme, minced

Salt and pepper to taste
Instructions
Preheat oven to 425 degrees F.

On a large sheet pan, toss the potatoes with olive oil, minced garlic, fresh rosemary, fresh thyme, and salt and pepper to taste. Place the potatoes cut side down. If the pan gets two crowded, use 2 pans.

Roast for about 25-30 minutes, flipping halfway through or when a golden brown crust forms on the flat side. If not browned enough, wait a little longer before flipping. Roast until tender and golden brown. Enjoy!
Notes
Equipment: 1 or 2 large sheet pan
If using dried herbs instead of fresh, use only half the amount listed. Dried herbs are much stronger and potent that fresh herbs.
If using garlic powder instead of fresh garlic, use 1/2 to 1 teaspoon.
Use good extra virgin olive oil. Olive oil gives roasted potatoes great flavor.
Avoid pre-minced garlic that comes in a jar.
Disclaimer: Nutritional values (per serving) are approximates only.
Nutrition
Calories:
258
kcal
|
Carbohydrates:
40
g
|
Protein:
5
g
|
Fat:
9
g
|
Saturated Fat:
1
g
|
Polyunsaturated Fat:
1
g
|
Monounsaturated Fat:
7
g
|
Sodium:
14
mg
|
Potassium:
965
mg
|
Fiber:
5
g
|
Sugar:
2
g
|
Vitamin A:
15
IU
|
Vitamin C:
45
mg
|
Calcium:
36
mg
|
Iron:
2
mg