Everybody needs a great classic egg salad recipe, and this one is my favorite! I add freshly chopped spinach to my egg salad for freshness, color, and texture. It's easy, creamy, and delicious!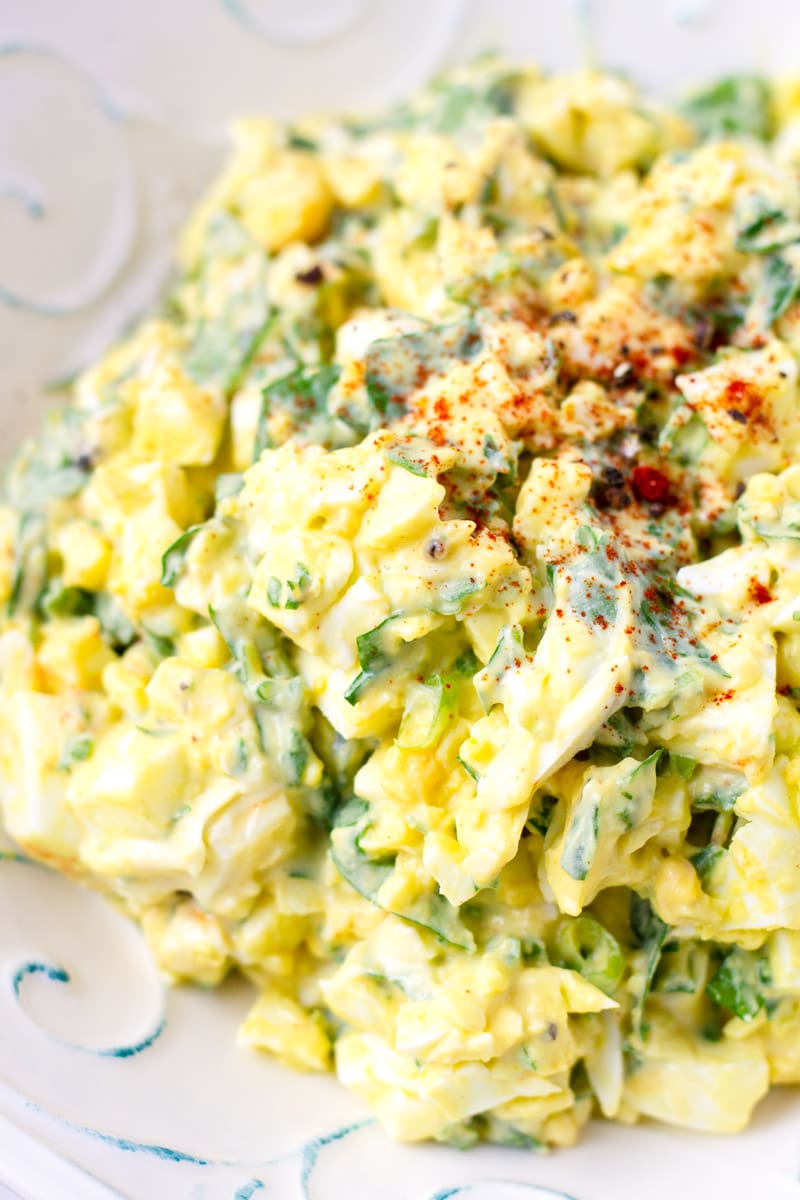 Egg salad is one of my favorite things to eat, especially egg salad sandwiches. I love the creaminess and the flavor. To mix it up a bit, I added chopped spinach!
My favorite ingredient in this egg salad is mayo. Mayo makes egg salads taste amazing, especially when you combine it with dijon mustard and paprika. Yes, I know, I know…a lot of people love mayo, and a lot of people love it. Clearly I love it!
This egg salad recipe takes about 20 minutes to make, so it's really easy. Let's get started!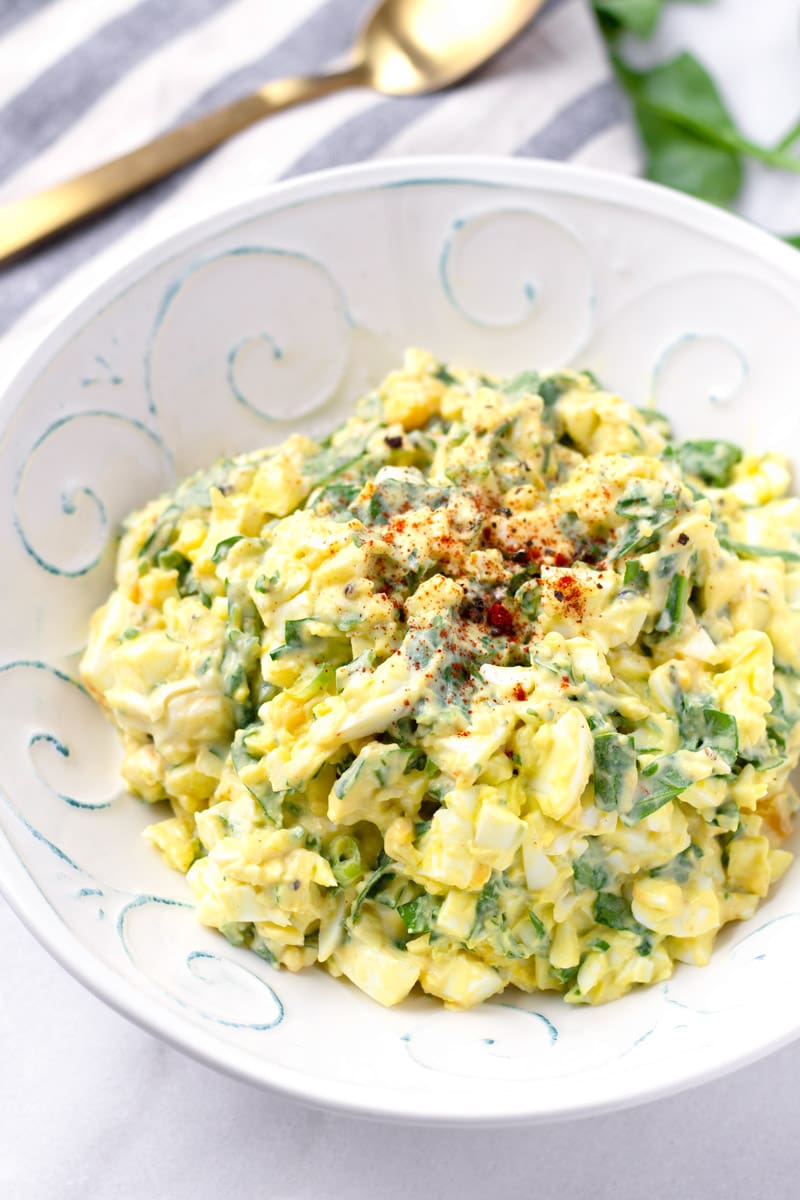 Classic Egg Salad with Spinach Ingredients
The ingredient list is pretty simple:
Eggs: you'll need about 8 large eggs for 4 people
Mayonnaise: Use real mayonnaise, not Miracle Whip.
Dijon mustard: It will add flavor.
Scallions: For flavor!
Fresh spinach: For freshness, texture, and color.
Smoked paprika: Not only does it add nice color, but also adds an amazing smoky flavor.
Fresh lemon juice: To "wake up" the flavors.
Salt and pepper
I love adding spinach to my egg salads because it adds so much freshness, color, and texture. Plus, it kinda makes it healthier…….right?
Other greens I like to add to egg salads are microgreens or parsley.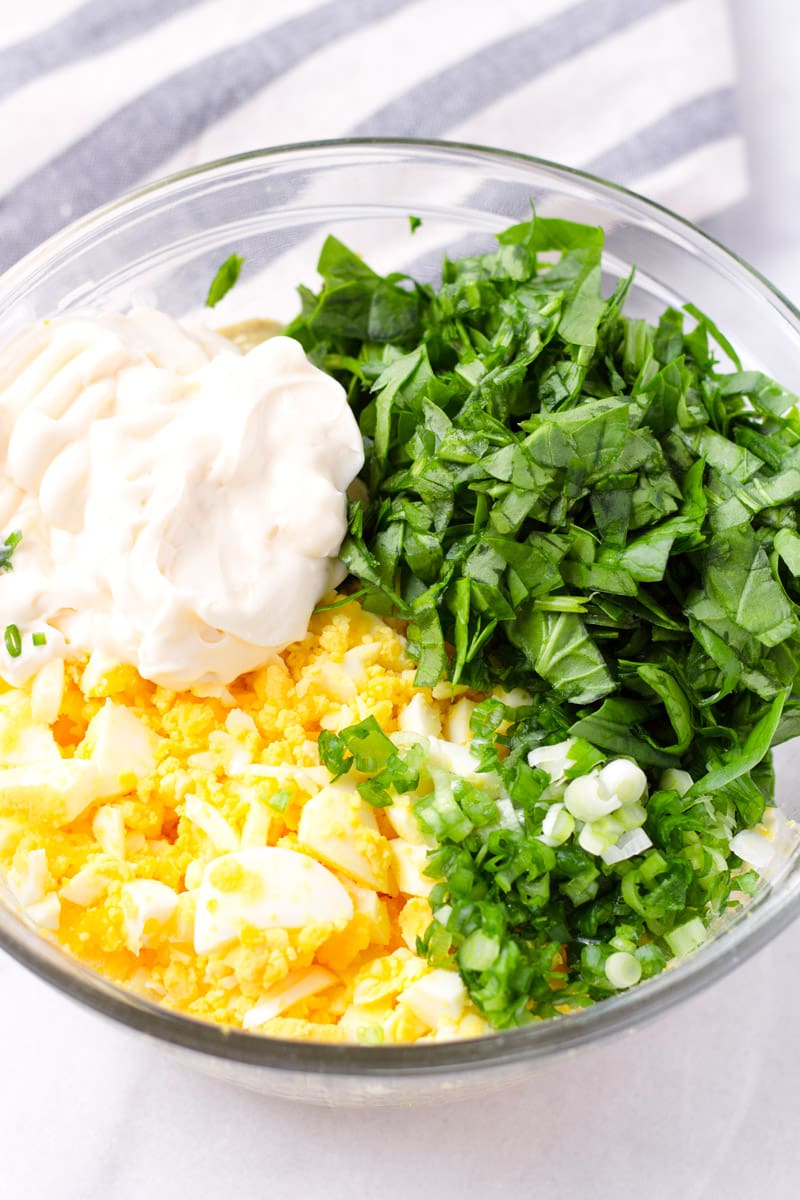 How to Hard-Boil Eggs
Boiling eggs is so easy! Basically, you simmer the eggs for 2 minutes and then let them sit in hot water (heat off), covered, for 12 minutes. Yup, that's it!
In a saucepan large enough to fit 8 eggs in one single layer, bring water to a boil (enough to fully cover the eggs). Try not to stack the eggs.
Carefully lower the eggs with a spoon, making sure not to crack them. Simmer for 2 minutes. Then, turn off heat and let them sit in the hot water, covered, for 12 minutes.
To test, run an egg under water, peel, and slice to check the yolks. If it's cooked to your liking, peel the remaining eggs.
For egg salad, the egg yolks should look like this: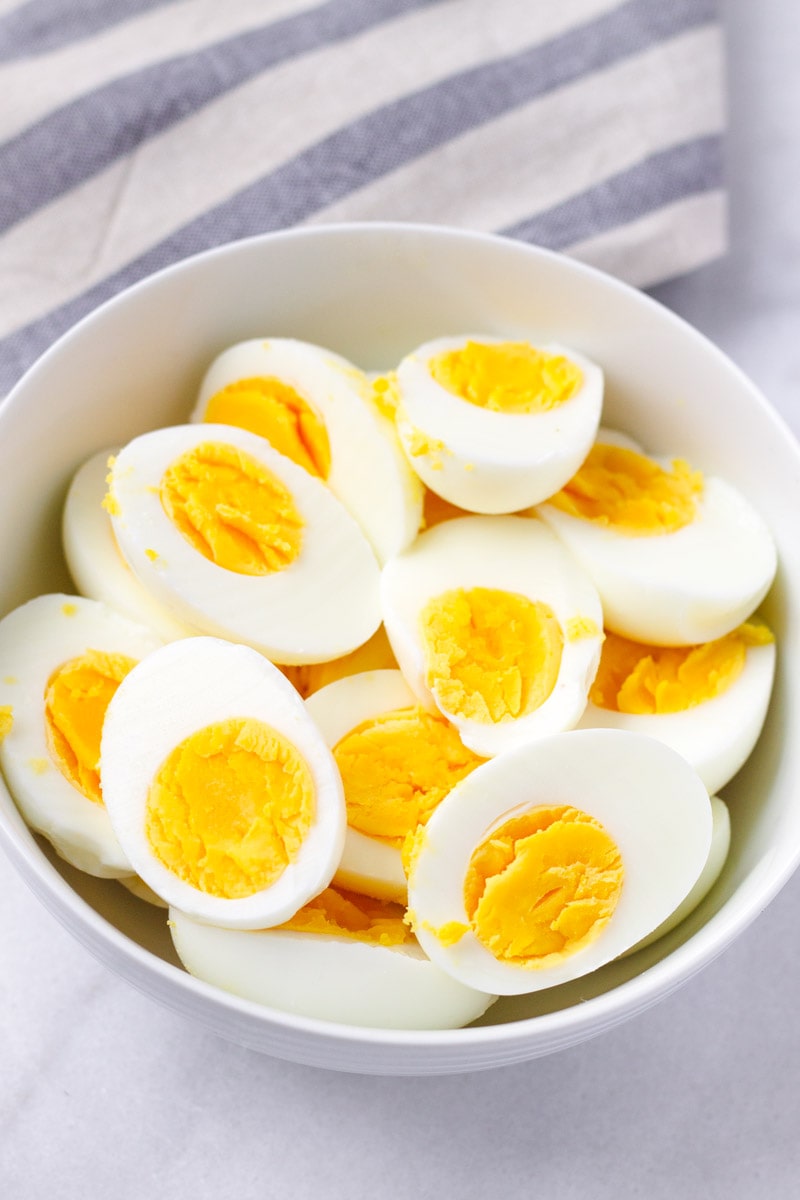 Let's Make It!
Alright, so you got your ingredients and learned how to hard-boil eggs. Now what?!
Easy-peasy! Making this classic egg salad consists of two parts:
Cook and prepare the eggs: Follow the directions for how to hard-boil eggs. Once the eggs are ready, peel and chop them up.
Mix everything together! Everything goes into one bowl and mixed together.
That's all! Takes about 20 minutes from start to finish.
Making an Egg Salad Sandwich
Egg salad sandwiches are one of my favorite things to eat for lunch, and the type of bread you choose makes a huge difference. Ideally, the bread should be very soft. That's the key.
Here are my top bread choices, in no particular order:
Sandwich bread: white, whole wheat, oat, buttermilk, etc.
Croissants
Brioche
If you want to, you can add lettuce, greens, and tomatoes to the sandwich. So yummy!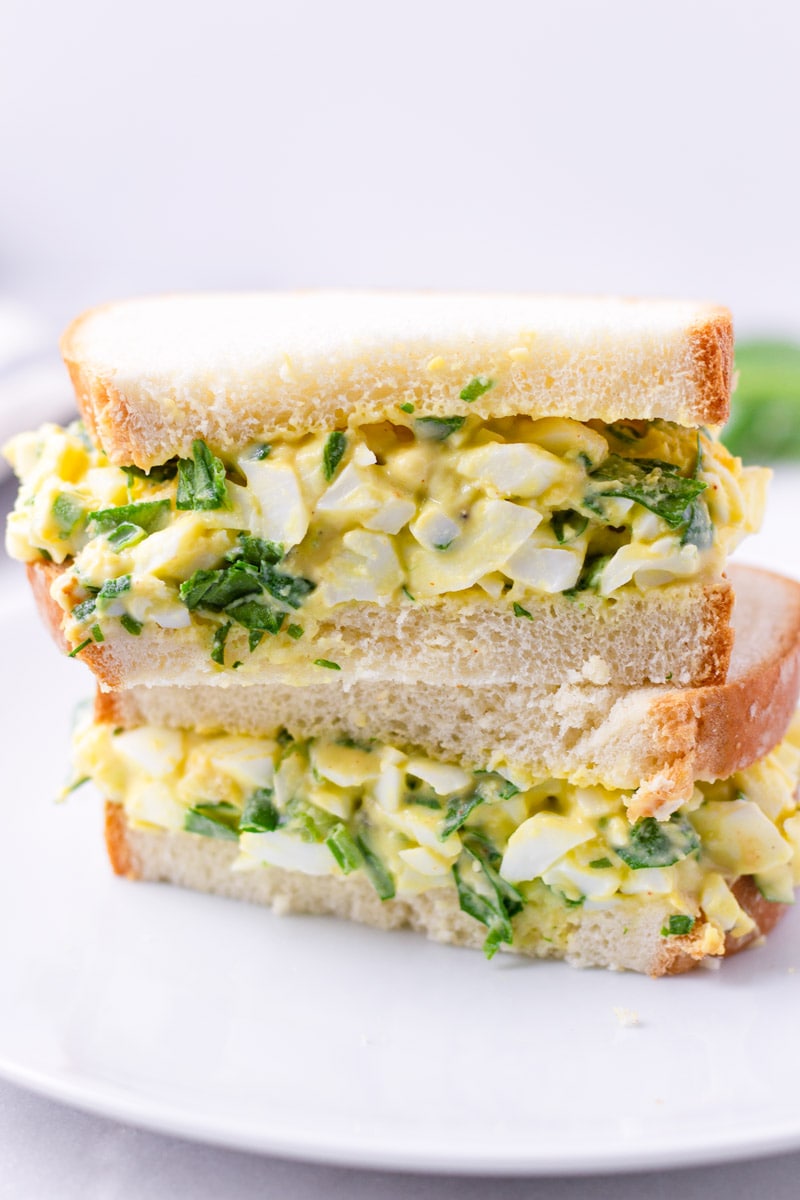 Classic recipes are sometimes the best. I love recipe twists and all that, but when it comes to egg salad, classic is the way to go. The creamy texture and the taste are eggcellent!
That's it! I hope you like this recipe. It's one of my favorites.
More amazing lunch recipe ideas: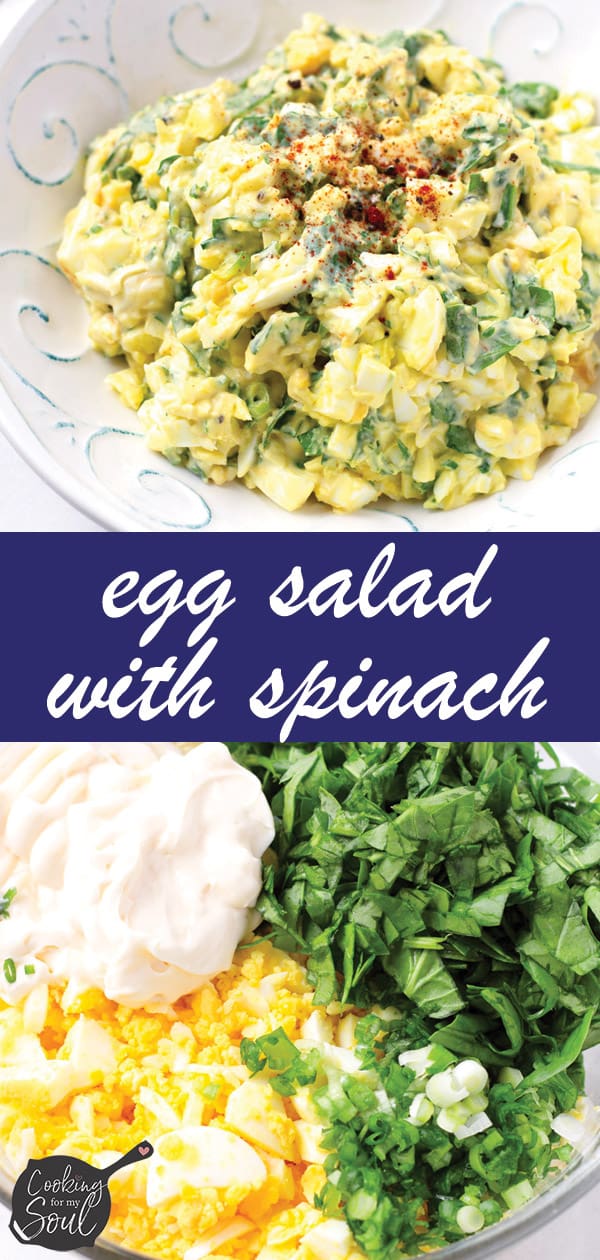 Tips for Success
If you're not sure if the eggs are done, peel one and cut it to check. If you follow the instructions, you should get the right yolk consistency. If you want to be on the safe side, let the eggs sit in the hot water (pot covered!) for an additional 1-2 more minutes.
Be sure to use fresh spinach! Frozen spinach would make the egg salad watery.
If you try my recipe, use #cookingformysoul on Instagram! Follow me on Pinterest, Instagram, Facebook for the latest fun updates and recipes!
Classic Egg Salad with Spinach
Classic recipes are the best! This easy classic egg salad with fresh spinach is perfect for lunch or for potlucks. It comes together in 20 minutes or less. It's creamy and delicious!
Ingredients
8

large eggs

½

cup

mayonnaise

-

plus more as needed

1 ½

teaspoons

dijon mustard

¼

cup

finely chopped scallions

¼

teaspoon

smoked paprika

1

cup

fresh baby spinach leaves, chopped

1 to 2

teaspoons

fresh lemon juice, or to taste

Salt and pepper to taste
Instructions
Hard-boil the eggs: In a saucepan with a lid, bring water to a boil (enough to cover the eggs). Carefully add the eggs with a spoon. Lower heat and simmer for 2 minutes, covered. Then turn off heat and let the eggs sit in the hot water for 12 minutes, covered. Once ready, run them under cold water, peel, and chop them.

Assemble: Mix the prepared eggs with the rest of the ingredients until evenly combined. Adjust seasoning if needed. Serve and enjoy!
Notes
Storing: egg salad will be good for about 2 days if refrigerated in an airtight container. Egg salad does not freeze well.
Greens: Aside from spinach, other great options are microgreens, sprouts, and parsley.
Substitutes for mayo: Honestly, mayo makes egg salad amazing. However, if you really want to use something else, try mashed avocado. Try not to use Greek yogurt - eggs and yogurt don't really go well together in my opinion.
Disclaimer: Nutritional values (per serving) are approximates only.
Nutrition
Serving:
1
serving
|
Calories:
322
kcal
|
Carbohydrates:
2
g
|
Protein:
12
g
|
Fat:
29
g
|
Saturated Fat:
6
g
|
Polyunsaturated Fat:
14
g
|
Monounsaturated Fat:
8
g
|
Trans Fat:
1
g
|
Cholesterol:
339
mg
|
Sodium:
331
mg
|
Potassium:
193
mg
|
Fiber:
1
g
|
Sugar:
1
g
|
Vitamin A:
1322
IU
|
Vitamin C:
4
mg
|
Calcium:
65
mg
|
Iron:
2
mg