These flavorful slow cooker tacos al pastor are tender, delicious, and perfect for an amazing dinner at home. Imagine tender and melt-in-your-mouth al pastor pork cooked in a flavorful Mexican adobo and fresh pineapples. So yummy!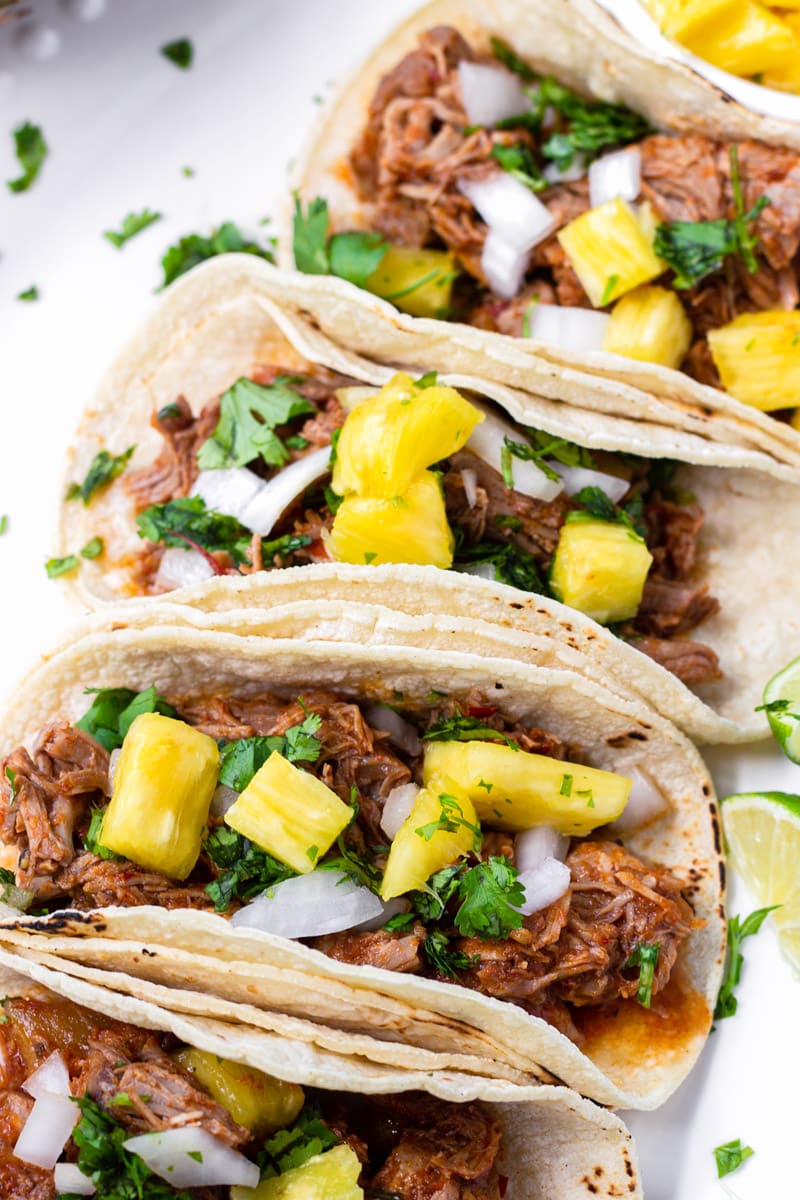 My husband and I love tacos al pastor…so much that we literally get them every time we go to our favorite Mexican restaurant in town. Every single time. They are just so flavorful…savory, sweet, and a bit spicy all at the same time!
I made these slow cooker tacos al pastor at home and words can't even convey how delicious they are. Seriously. And I'm very very excited to share this easy slow cooker tacos al pastor recipe with you today. I'm sure you'll love it!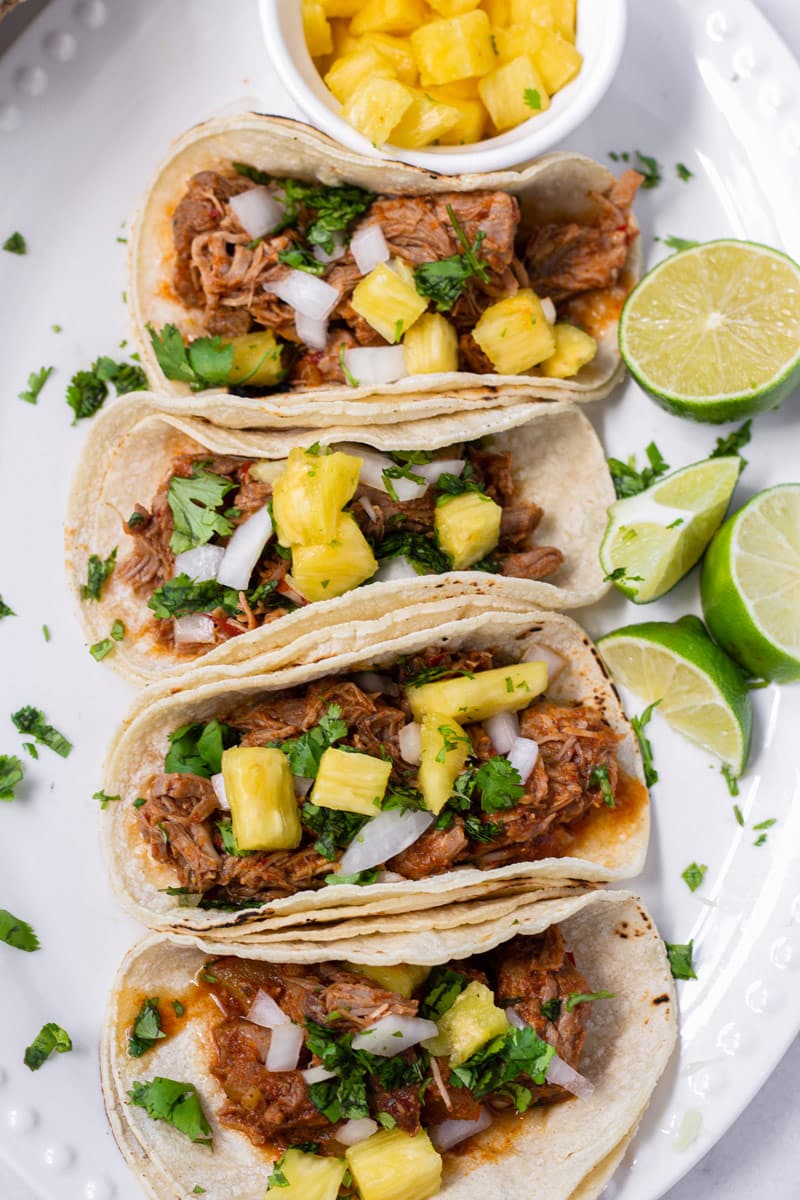 What Are Tacos Al Pastor?
Pork al pastor style is marinated in a combination of Mexican chiles, spices, and pineapple.
Traditionally, the marinated pork is cut into very thin slices and stacked up against something that looks like a vertical rotisserie. It is then slow-roasted for a few hours. It is pretty amazing! If you go to a Mexican or taco restaurant next time, try to find one. They are pretty cool!
Because I don't have a vertical rotisserie at my house, I make it in the slow cooker. You don't get that char that's typical in the traditional al pastor meat, but you sure get flavor-packed and super tender meat!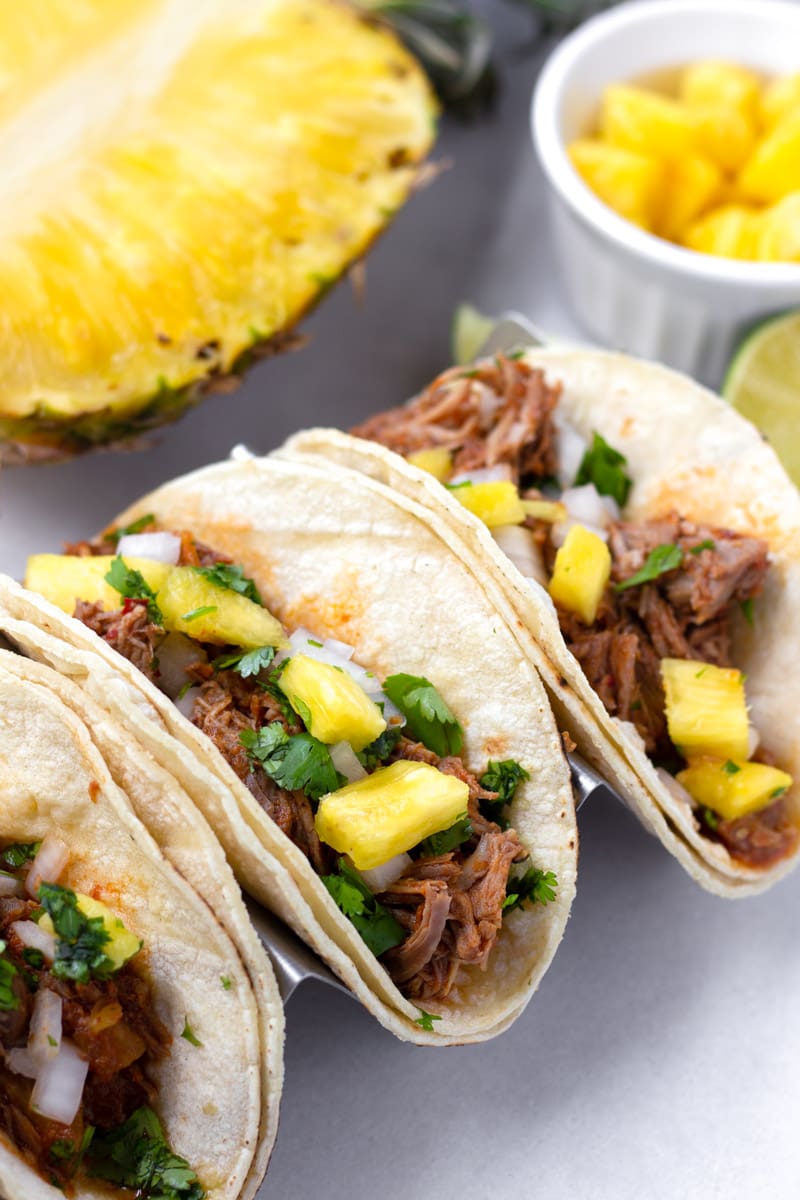 Slow Cooker Tacos al Pastor Ingredients
Not a short ingredient list here, but I promise you that every single one will make an AMAZING dinner that everyone will love.
For the marinade, you'll need:
Dried ancho and guajillo chiles: You'll rehydrate them in simmering water.
Chipotles in adobo sauce: For more flavor and a slight kick!
Fresh pineapple: You'll need about 3 cups of diced pineapple (about 1 whole pineapple). The fresh pineapple will add flavor and a little bit of sweetness to the marinade.
Garlic and onions: These are the aromatics that will add tons of flavor.
Spices: paprika, oregano, cumin.
Fresh orange juice: You'll need about 1/2 cup freshly squeezed orange juice, from 1-2 oranges.
Canned pineapple juice: Get good quality juice.
Salt and pepper
For the meat, you'll need:
4-5 pounds of pork shoulder: Cut these into 2 inch chunks for even cooking.
For the taco assembly:
Corn tortillas
Cilantro
Diced pineapples, fresh!
Chopped white onions
Lime edges
Other (optional): diced tomatoes, avocado, sliced radishes…anything you'd like!
If you can't find the ancho and guajillo chiles at your local grocery store, you can always purchase them online or at a Mexican grocery store.
Great ingredients make great meals, and this ingredient list looks pretty darn good to me!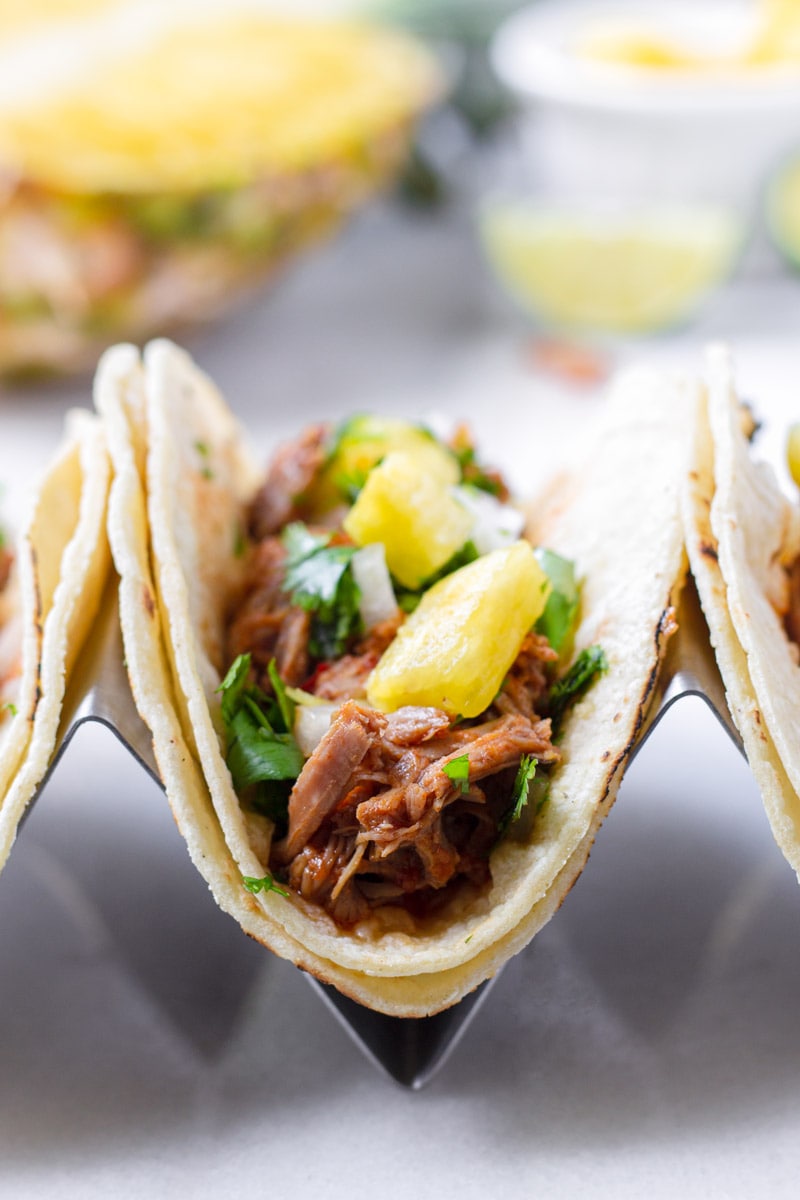 Making the Al Pastor Marinade
Before throwing everything into the slow cooker, you'll need to make the al pastor marinade. There are 2 main steps:
Rehydrate the ancho and guajillo peppers: De-seed them first if you want to minimize the spiciness level, and simmer them in water for about 10 minutes.
Blend or process: Combine the the rehydrated peppers with the rest of the marinade ingredients until you get a red marinade. Taste the marinade and adjust the seasoning as needed.
The marinade will be poured all over the pork and slow cooked until perfection.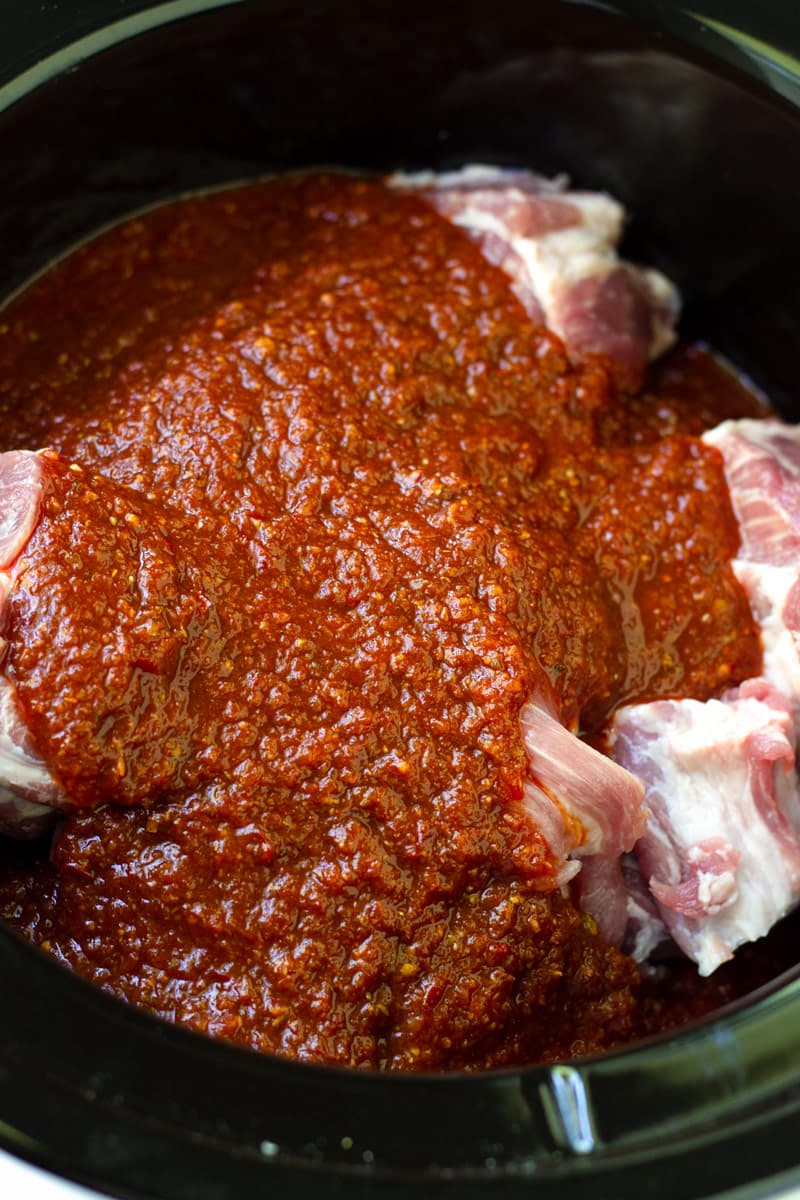 Slow Cooking the al Pastor Pork
After the marinade is made, all you need to do is combine the pork with the marinade and slow cook it for about 8 hours on LOW. If you're running short on time, you can also cook it on HIGH for 4 hours.
20 minutes before the cooking time is up, shred the meat with 2 forks and return to the slow cooker to finish cooking.
A few tips for extra flavor:
Cut the pork into 2 inch pieces for even cooking and for better flavor penetration.
Cut slits in the meat to allow the marinade to penetrate.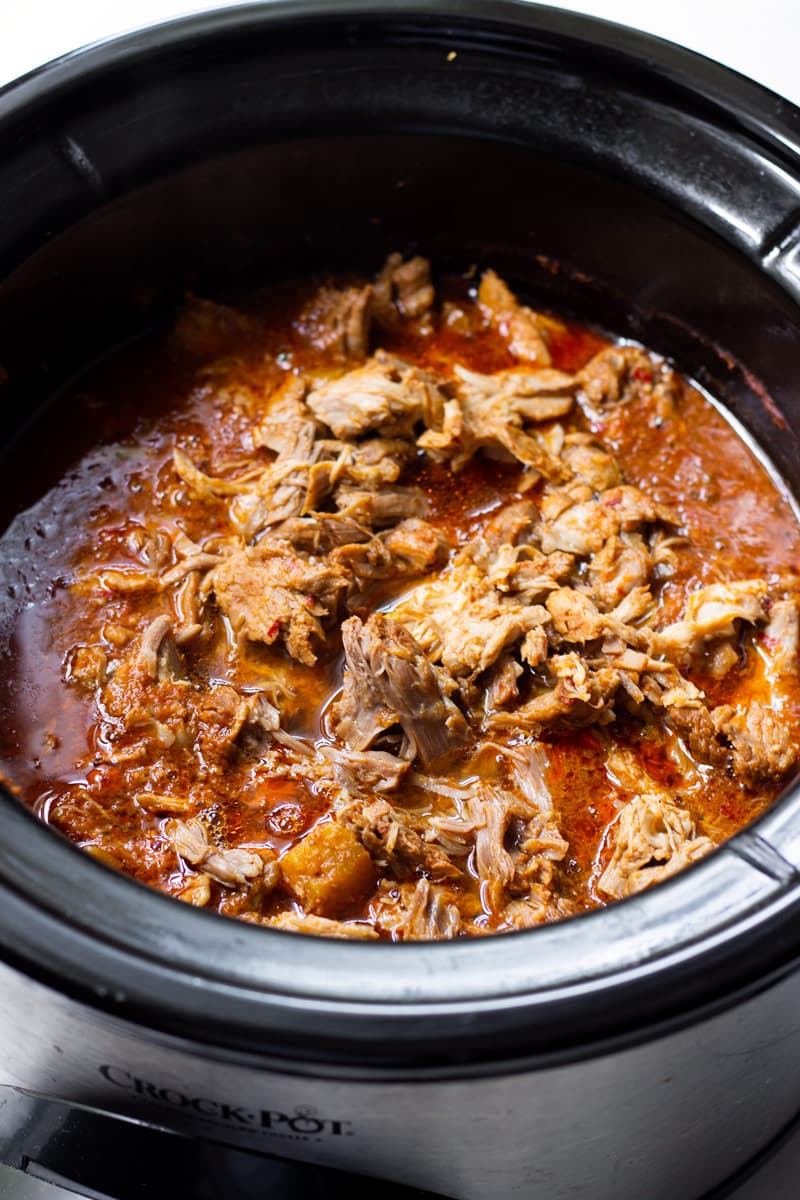 Assembling the Tacos
After a few hours, your house will start smelling divine. That's the great thing about slow cooking. Heat up the corn tortillas first in order to soften them. There are several ways to do so:
Over open flame: if you have a gas stove, place each tortilla over open flame for a few seconds and flip with tongs.
Microwave: place tortillas in between damp paper towel and microwave for about 30-50 seconds.
If needed, keep the tortillas warm by wrapping them with aluminum foil or placing them in slightly warm oven.
To assemble, top 2 corn tortillas (layer them) with some shredded meat, diced pineapples, onions, and cilantro. Serve with lime wedges.
Throw a DIY Taco Party!
I've always wanted to throw a taco part. To be honest, I don't know what I'm even waiting for!
These slow cooker tacos al pastor are perfect for a DIY taco party for a few reasons:
The meat can stay warm and tender in the slow cooker for hours. Nobody likes cold tacos!
It's the perfect opportunity to whip as many toppings as you'd like. Aside from the toppings in the recipe card, try: pico de gallo, avocado, sliced radishes, salsa, or queso fresco.
And last but not least, it's a great make-ahead recipe! For make-ahead tips, see the section below.
To build a DIY taco bar, just set up your slow cooker with the meat (WARM setting) followed by tortillas. Then just arrange all the toppings, and there ya have it!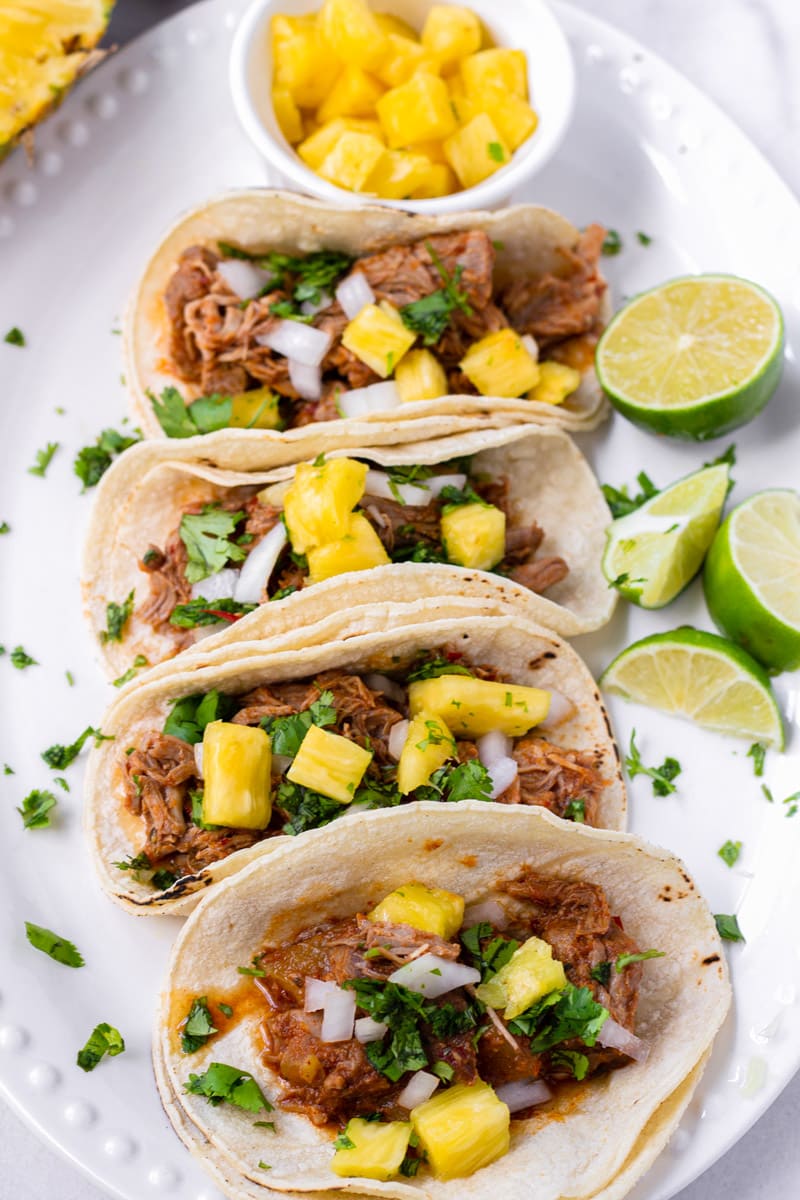 Make Ahead Tips
Like I mentioned above, this is a great make ahead recipe. Aside from the pork, which needs to cook for a few hours, the toppings can be easily prepped ahead of time too. The only thing that may need to be done right before serving  would the warming up that tortillas, but that's easy peasy.
Marinade: The marinade can be made the day before and stored in the refrigerator.
Al pastor meat: Start the slow cooker about 8 hours, if cooking on LOW setting, prior to dinner or lunch time. Or 4 hours if cooking on the HIGH setting.
Toppings: All toppings can be prepared and refrigerated in containers the day before.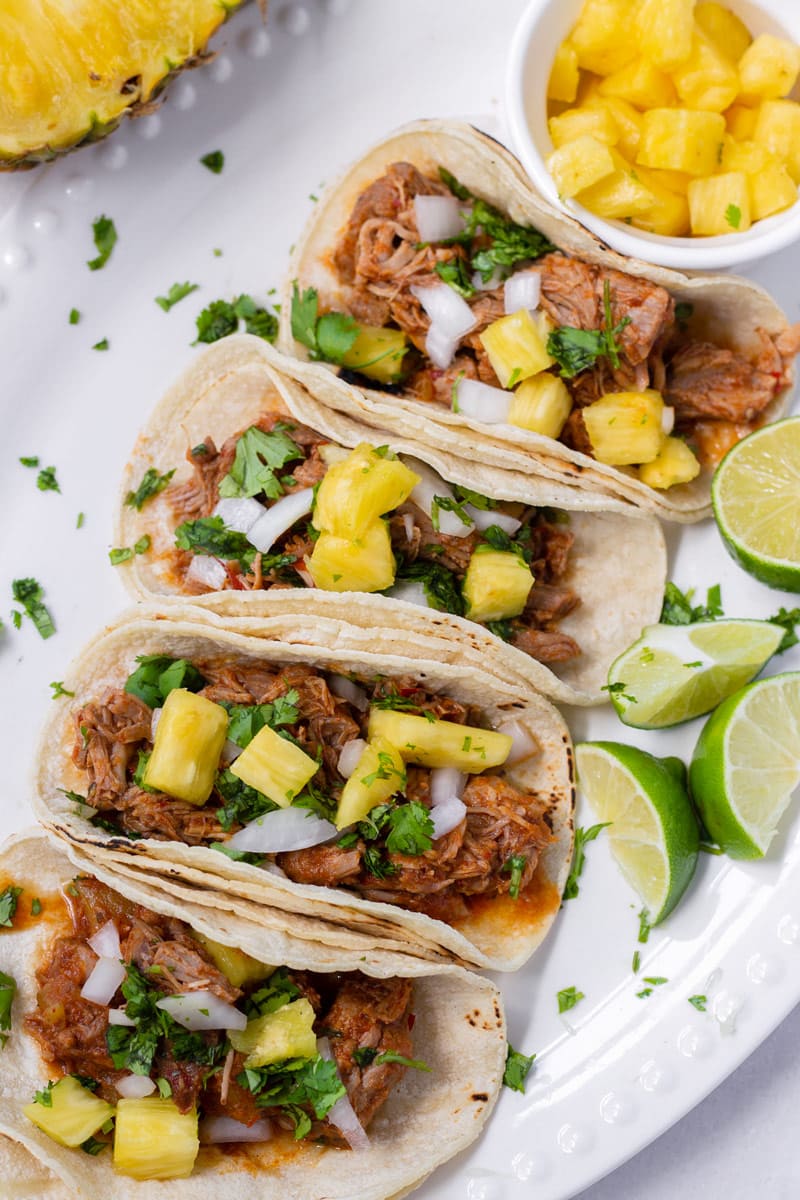 That's it! Super easy recipe. These tacos will make your house smell amazing, and if you're throwing a party, I'm pretty sure everyone will be impressed.
This easy al pastor tacos recipe is a favorite in our house. We absolutely love the flavor and how tender the pork is, and hope you'll love it too!
For a full menu, I've compiled my favorite Mexican drinks, appetizers, and dessert ideas that you can serve along with these al pastor tacos:
Thank you so much for reading! Please be sure to subscribe to my email list for more delicious recipes!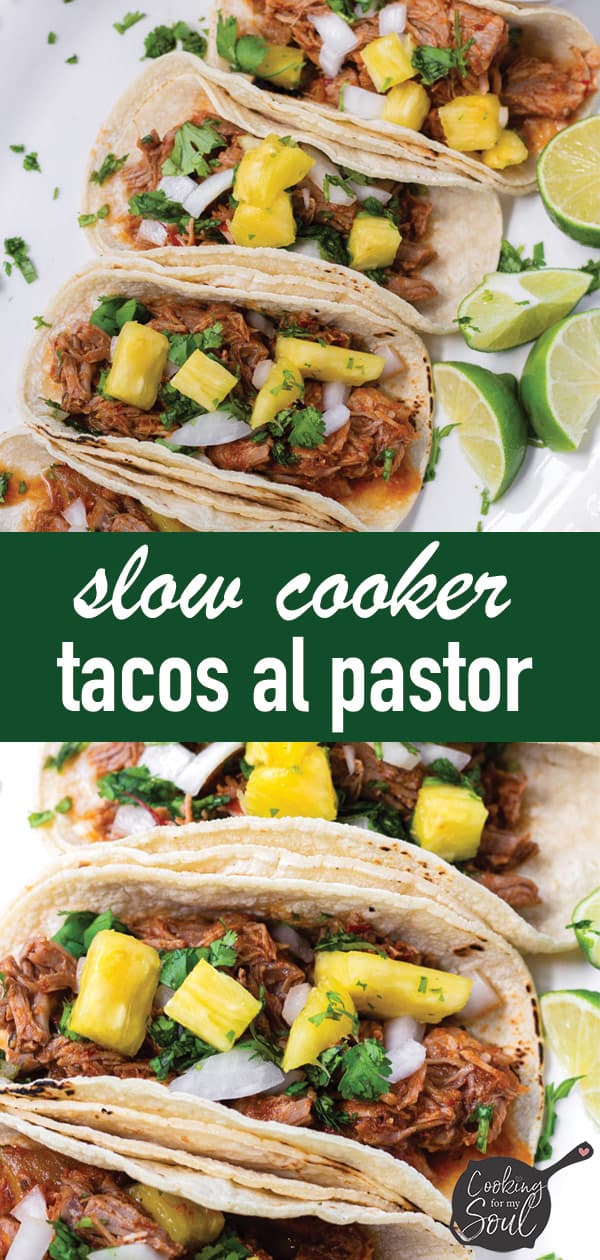 Tips for Success
Taste the marinade before adding it to the pork. Everyone has different tastes, and this is the perfect time to add more salt, pepper, or spices if needed.
Serve on warm tortillas! It makes a huge difference.
If you try my recipe, use #cookingformysoul on Instagram! Follow me on Pinterest, Instagram, Facebook for the latest fun updates and recipes!
Slow Cooker Tacos Al Pastor
These delicious slow cooker cooker tacos al pastor are tender, flavor-packed, and very easy to make. Made with a homemade al pastor marinade, pork, and fresh pineapples. They are also a great make-ahead dinner option.
Ingredients
1

medium ancho chili pepper

-

(de-seeded and stems removed)

2

medium guajillo chili peppers

-

(de-seeded and stems removed)

2

chipotle peppers in adobo sauce

-

(they come in little cans)

3

cups

diced fresh pineapple

6

cloves

garlic, minced

1

medium yellow onion, diced

1/2

cup

freshly squeezed orange juice

1/2

cup

canned pineapple juice

1

tablespoon

dried oregano

1 1/2

teaspoons

ground cumin

1 1/2

teaspoons

smoked paprika

1

tablespoon

Kosher salt, plus more as needed

1

teaspoon

freshly ground black pepper

4 to 5

pounds

boneless pork shoulder

-

(excess fat trimmed and cut into 2 inch chunks)
Taco Assembly
Corn tortillas

-

(enough for about 10 people)

Finely chopped cilantro for garnish

Diced white onions for garnish

Diced fresh pineapple for garnish

Lime wedges for serving
Instructions
Bring 3 cups of water to a boil. Add the ancho chile and guajillo chili peppers, and bring down to a simmer. Simmer for 10 minutes, until softened and rehydrated. Remove the chiles from the water and set aside.

To a food processor or blender, add the the softened and rehydrated chili peppers, 1 cup of the diced pineapple, chipotles in adobo sauce, garlic, onion, orange juice, and pineapple juice. Process until you get a smooth marinade. Then, add dried oregano, cumin, paprika, salt, and pepper and pulse a few more times to combine. Taste and adjust the seasoning if needed.

Poke the pork all over with a fork to allow the flavor to penetrate better.

Slow cook: Into a large slow cooker, add the pork, the marinade, and the remaining 2 cups of diced pineapples. Mix to combine. Cook on HIGH for 4 hours or LOW for 8 hours. 20 minutes before it's done, transfer the meat to a large plate and shred with a fork. Return the meat to the slow cooker to finish cooking, until the cooking time is up.

Assemble the tacos: Serve the meat on warmed up tortillas, and top with cilantro, diced onions, diced pineapples. Serve with lime wedges. Enjoy!
Notes
Special equipment: a large slow cooker, food processor or blender, tongs.
Make-ahead tips: The marinade can be made 1 day ahead of time and stored in the refrigerator until ready to use. The toppings can also be prepped 1 day ahead of time and stored in containers in the refrigerator.
The al pastor marinade: Marinades are all about flavor, so be sure to taste it and adjust the seasoning. Feel free to add more spices or chili peppers.
Additional topping ideas: sliced radishes, avocado, diced tomatoes or pico de gallo, salsa, crumbled quest fresco.