I'm always testing chicken recipes, and this grilled Huli Huli chicken is definitely a winner! It's the perfect balance between savory and sweet thanks to the amazing flavor-packed Huli Huli marinade.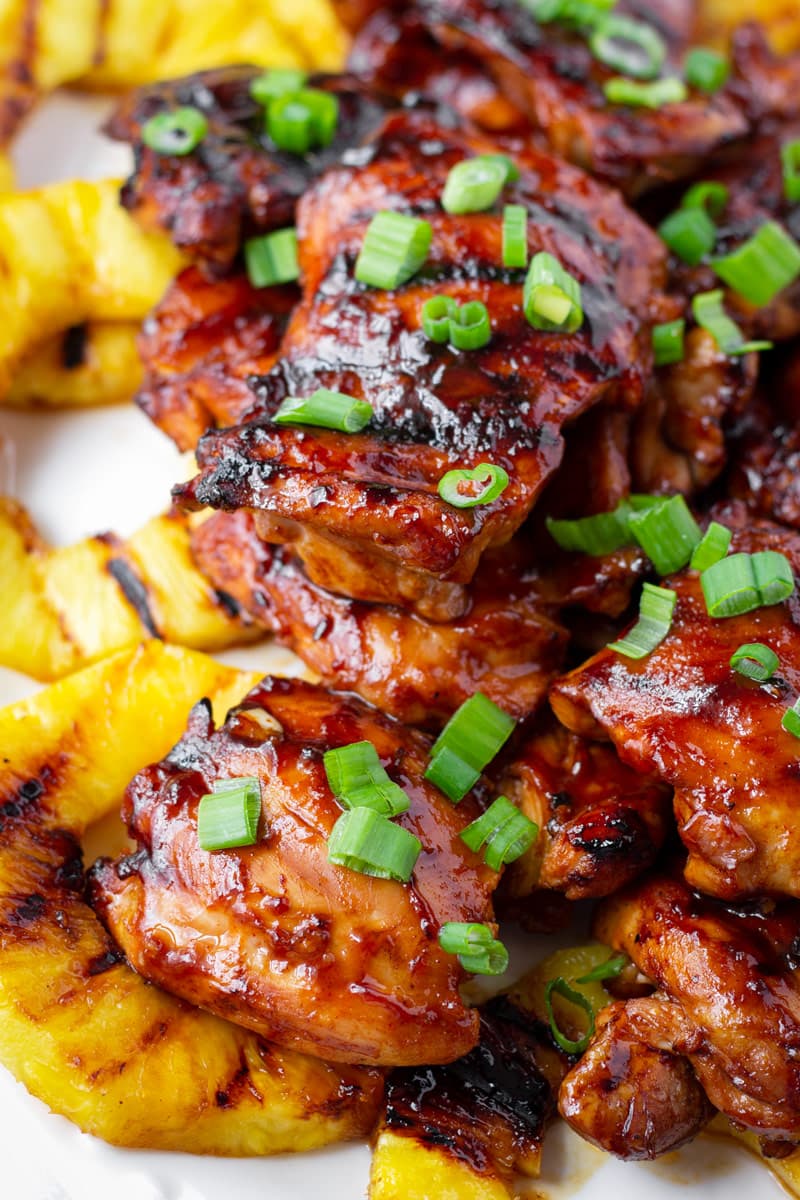 This Huli Huli chicken is the perfect dinner! Imagine this: flavorful marinated chicken thighs grilled until perfection and served with grilled caramelized pineapple. I mean…I'm literally drooling just thinking about it!
We love eating chicken in my family. It's just so versatile, and marinades are always great for chicken not only because of flavor but also because they tenderize the chicken. So let me show you how to make it!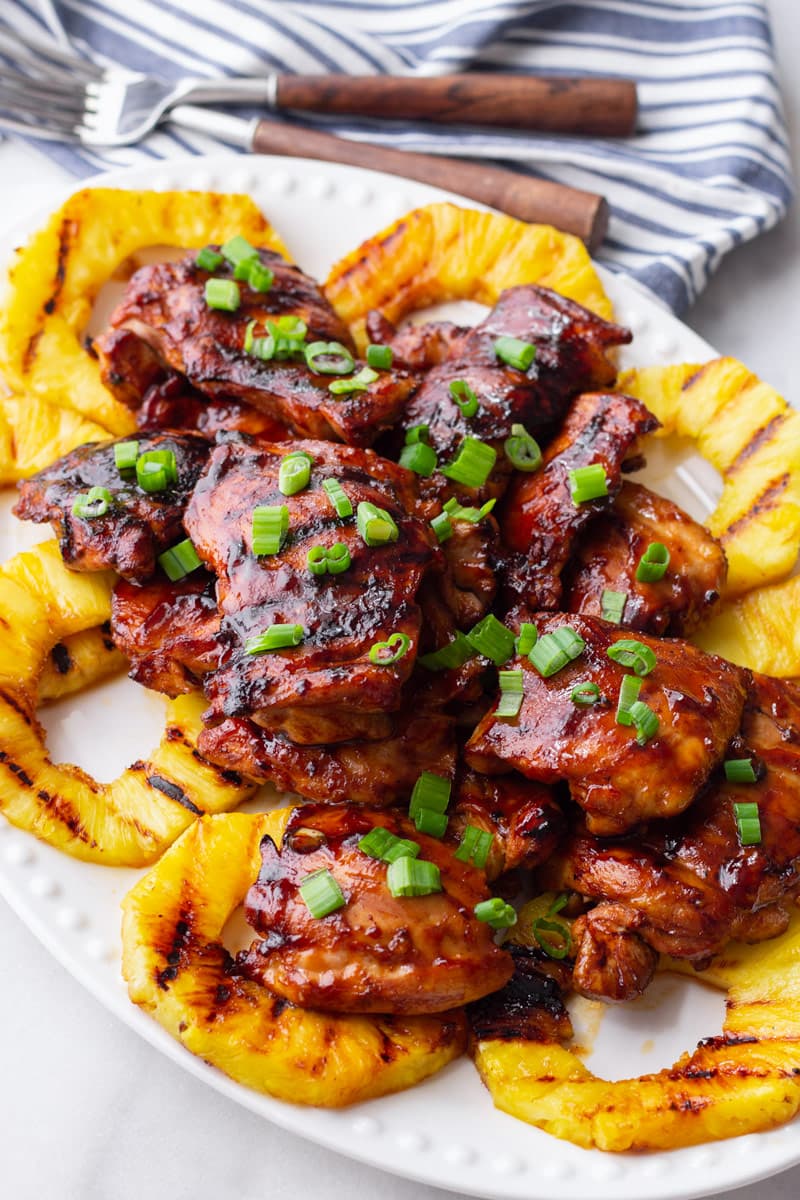 The Huli Huli Chicken Marinade
First things first: the marinade!
Marinades concentrate tons of flavor. This Huli Huli chicken marinade is made of:
Brown Sugar: Adds sweetness that will balance out the saltiness from the soy sauce.
Ketchup: Adds some sweetness and flavor.
Canned pineapple juice: Use canned pineapple since fresh pineapple juice contains an enzyme that breaks down meat and turns it into mush.
Soy sauce: The savory component
Freshly grated ginger: For freshness and a slight ginger-y kick.
Minced garlic: Flavor!
Smoked paprika: For color and flavor.
Worcestershire sauce: More flavor!!
Apple cider vinegar: This will add a nice layer of acidity to balance out all the flavors. It will also tenderize the chicken.
Ground black pepper
You'll need the marinate the chicken for at least 4 hours, or preferably overnight. This step will allow all the flavors to penetrate and make it extra delicious.
I'd recommend marinating the chicken in a large Ziploc bag. Ziploc bags are great for marinating meat because they keep everything fully coated in the marinade.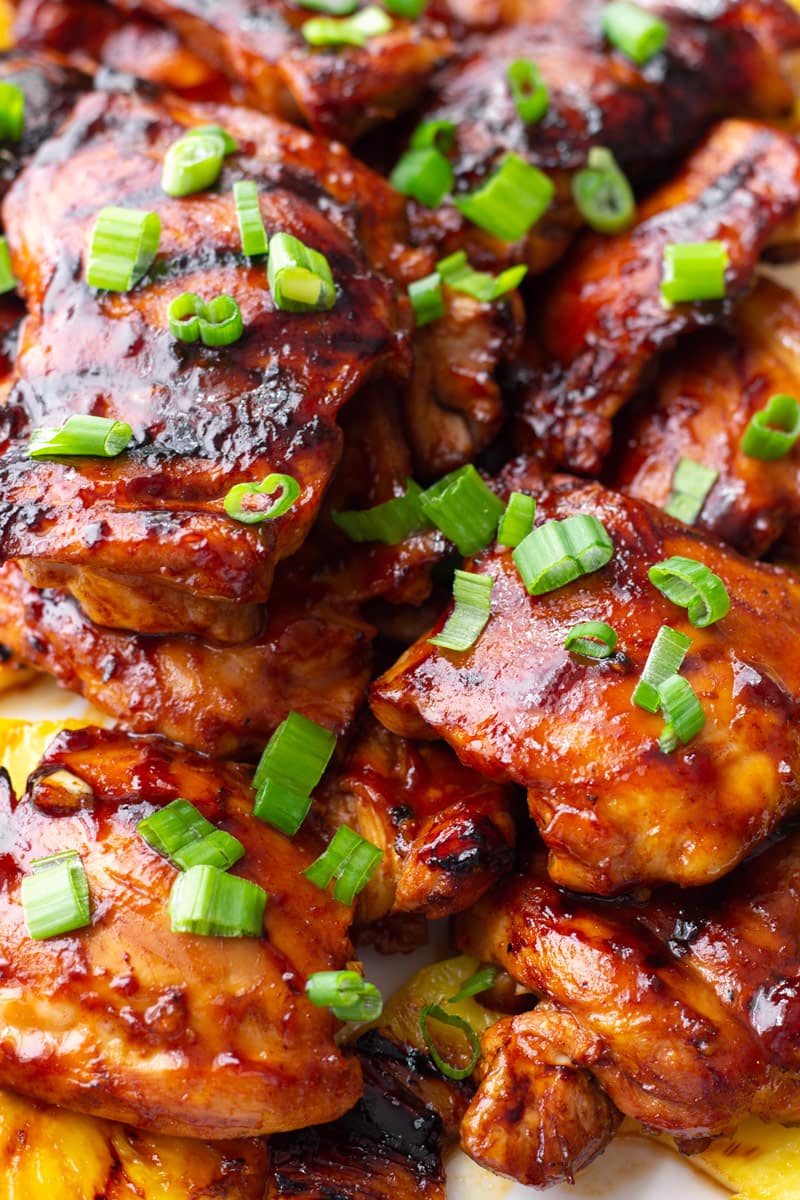 Let's Make It!
This is a really easy Huli Huli chicken recipe. Plus, it's a great make-ahead option since you have to let the chicken marinate for a few hours or overnight anyway.
There are three parts to this recipe:
Make the marinade and let the chicken marinate for at least 4 hours or, preferably, overnight. Remember to set aside some marinade for brushing later.
Cook the chicken! I like to cook it on my grill, but pan-seared would work too. For extra flavor, brush the chicken with the reserved marinade.
Grill some pineapple! It will take it to the next level.
To serve, arrange on a platter and garnish with sliced green onions, cilantro, parsley, or anything you'd like. I thought green onions went really well with the flavors.
Per usual, you can find the specific ingredient quantities and instructions in the recipe card below.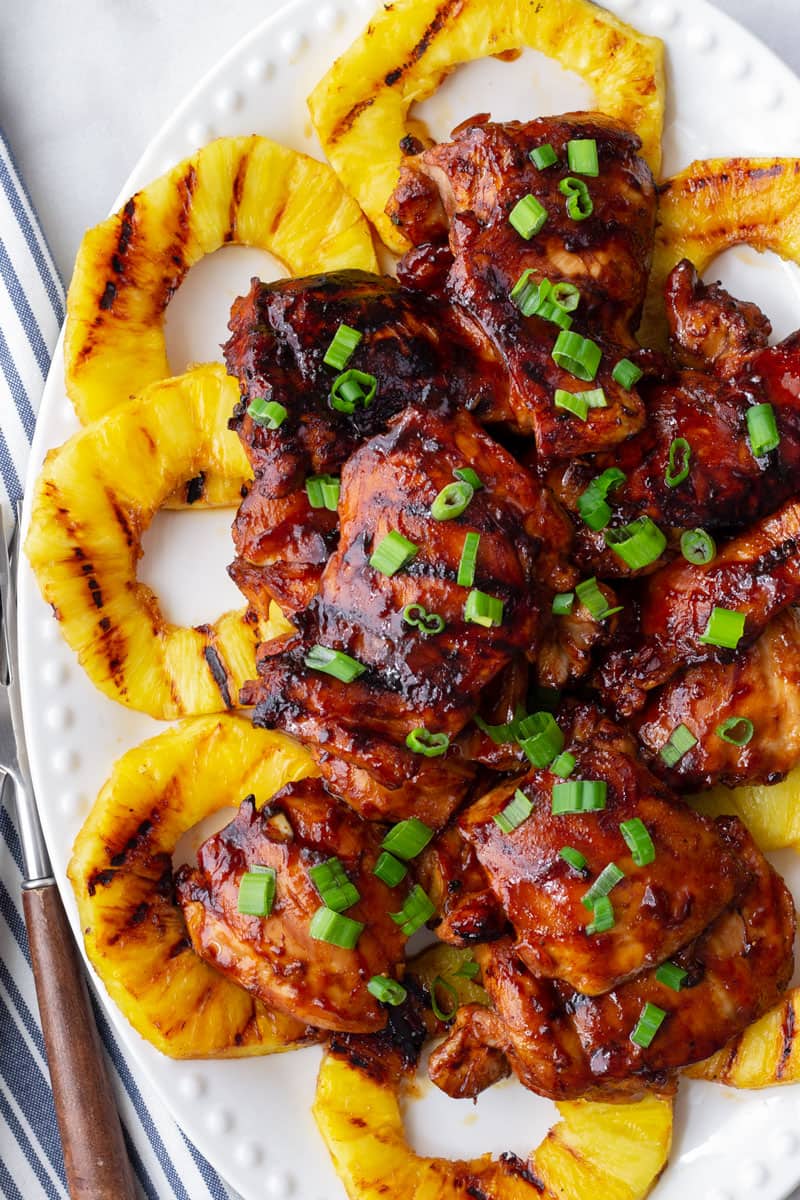 Don't Have an Outdoor Grill? No Problem!
The great thing about this chicken recipe is that you don't necessarily have to have an outdoor grill.
Here are some options:
Pan-sear it: Do it in batches so that the pan is not overcrowded. Overcrowding a pan will cause the chicken to steam instead.
Use a stove-top grill pan or an electric griddle: I'd highly recommend this option to get those beautiful grill marks!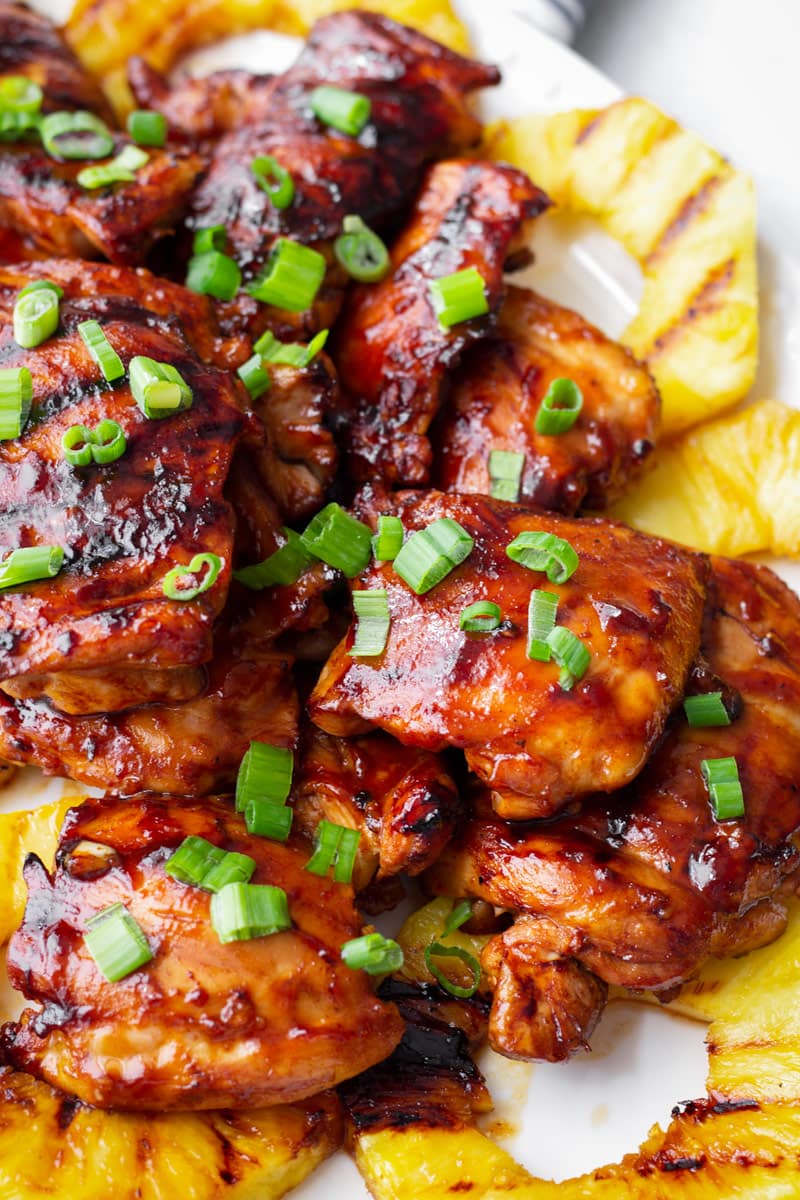 What to Serve this Huli Huli Chicken With
Sides always make entrees so much better. I love to serve Huli Huli chicken with a simple coconut jasmine rice. It's fragrant, tender, and pairs very well with the Hawaiian flavors of the chicken.
Other great options are: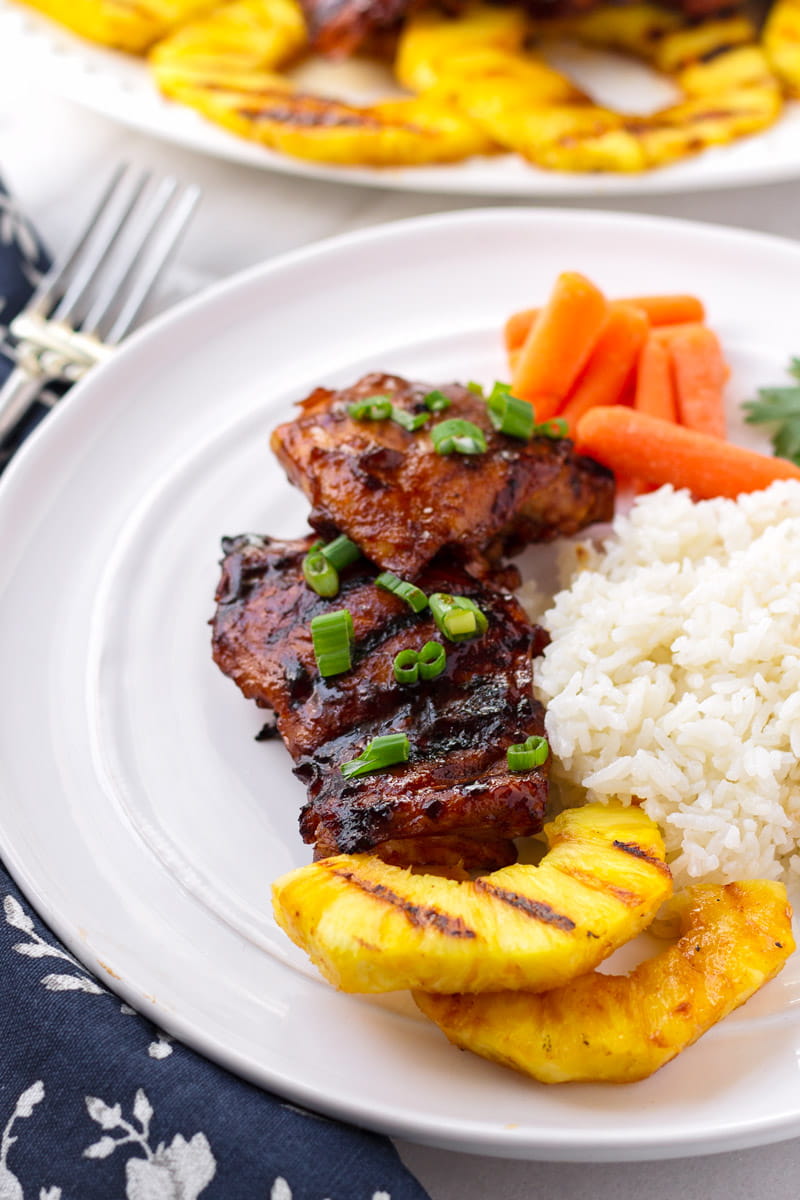 Alright, friends! That's it, a super easy chicken recipe that everyone will love. It's a great make-ahead option too. Just marinade it the night before, and throw everything on the grill when ready to cook.
Thank you for reading! I hope you like this Huli Huli chicken as much as I do.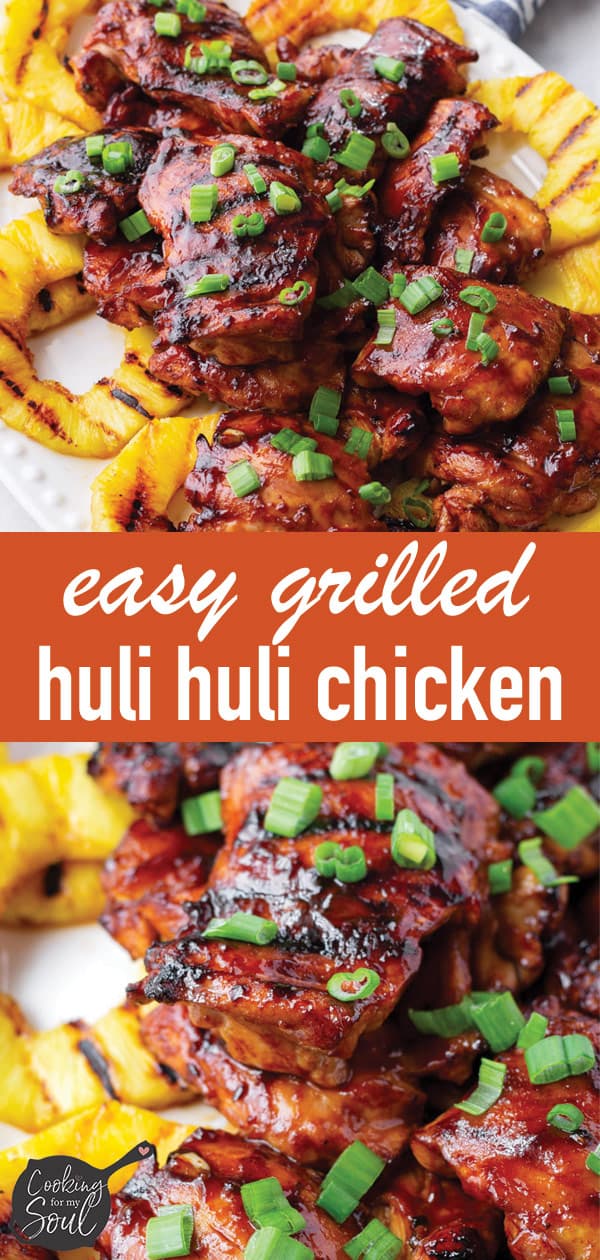 Tips for Success
Use a Ziplock bag to marinate the chicken. This will ensure that the chicken is fully coated with the marinade throughout.
Remember to reserve about 1/2 – 3/4 cup of the marinade for brushing later. So don't put it with the raw chicken.
Sometimes, chicken thighs can be tough to cook evenly, so get an oven pre-heated at 400 degrees F, and if needed, finish cooking the chicken in the oven for a few minutes.
Feel free to use chicken breast instead of chicken thighs.
If you try my recipe, use #cookingformysoul on Instagram! Follow me on Pinterest, Instagram, Facebook for the latest fun updates and recipes!
Grilled Huli Huli Chicken
This easy and flavor-packed Huli Huli chicken is the perfect make-ahead dinner. Marinated overnight and grilled until perfection. It's savory, sweet, and so delicious!
Ingredients
1/2

cup

brown sugar, packed

-

(plus more for sprinkling over pineapple)

1/2

cup

ketchup

1

cup

canned pineapple juice

1/2

cup

soy sauce

1

teaspoon

smoked paprika

2

tablespoons

Worcestershire sauce

2

tablespoons

apple cider vinegar

1/2

teaspoon

ground black pepper

1/2

teaspoon

grated fresh ginger

4

cloves

garlic, minced

3-4

pounds

boneless chicken thighs

Fresh pineapple slices

Olive oil for grill pan

Sliced green onions

-

(for garnish)
Instructions
In a large bowl, mix the sugar, ketchup, pineapple juice, soy sauce, paprika, Worcestershire sauce, apple cider vinegar, and ground black pepper until evenly combined.

Transfer 1/2 cup of this marinade to a small container and store in the fridge (you will use this to brush the chicken later on). Transfer the rest of the marinade to a large Ziploc bag and mix in the minced garlic and ginger. Add the chicken thighs to the marinade in the Ziploc bag. Seal the bag, making sure the chicken is coated evenly by the marinade. Refrigerate for at least 4 hours or preferably overnight.

After at least 4 hours or overnight, remove the chicken from the fridge and let it sit on the counter for about 20-30 minutes. Meanwhile, get a grill preheated. Sprinkle some brown sugar over pineapple slices, and grill on both sides until they get nice grill marks. Set aside.

Cook the chicken: Get the grill preheated and brush with some olive oil. Discard marinade and grill chicken thighs for about 6-8 minutes per side or until cooked through. During the last 2 minutes, brush with reserved marinade. Tip: Sometimes chicken thighs can be hard to cook through properly depending on how thick they are. So, if needed, finish cooking the chicken in a 400F oven for 10-12 minutes.

Serve the chicken with the grilled pineapple and garnish with green onions. Enjoy!
Notes
Special equipment: outdoor grill or indoor grill pan, brush, tongs.
I'd recommend using a Ziploc bag to marinate the chicken. This will ensure that the chicken is fully coated with the marinade.
Sometimes chicken thighs can be tricky to cook depending on how thick or even they are. If needed, finish cooking the chicken in a 400F oven for about 10-12 minutes on a sheet pan or something.