Loaded potato skins are a big hit in my house, especially when served with BBQ ribs or steak. These amazing loaded baked potato skins are filled with cheddar cheese, bacon, sour cream, and scallions. A true classic!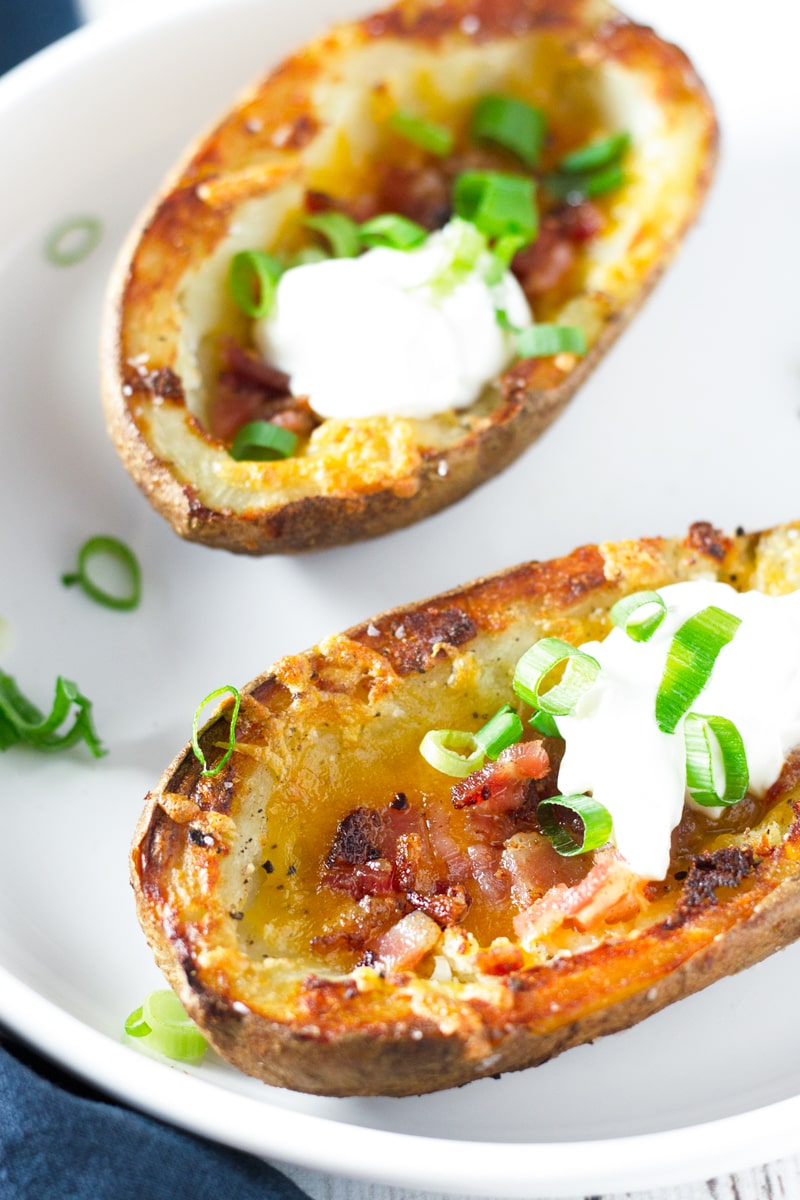 Loaded baked potato skins are universally loved, so I had to make my own! The other day I made some amazing slow cooker BBQ ribs, and the first thing that came to mind was, "I need to make potato skins too!"…the most delicious homemade baked potato skins ever.
If you're not serving these as a side dish, like I did, you can serve these as appetizers too. Potato skin appetizers are always a big hit, especially if you're throwing a party.
Cheese and bacon potato skins are my definitely my first choice, but you can add any toppings you want. See more ideas below!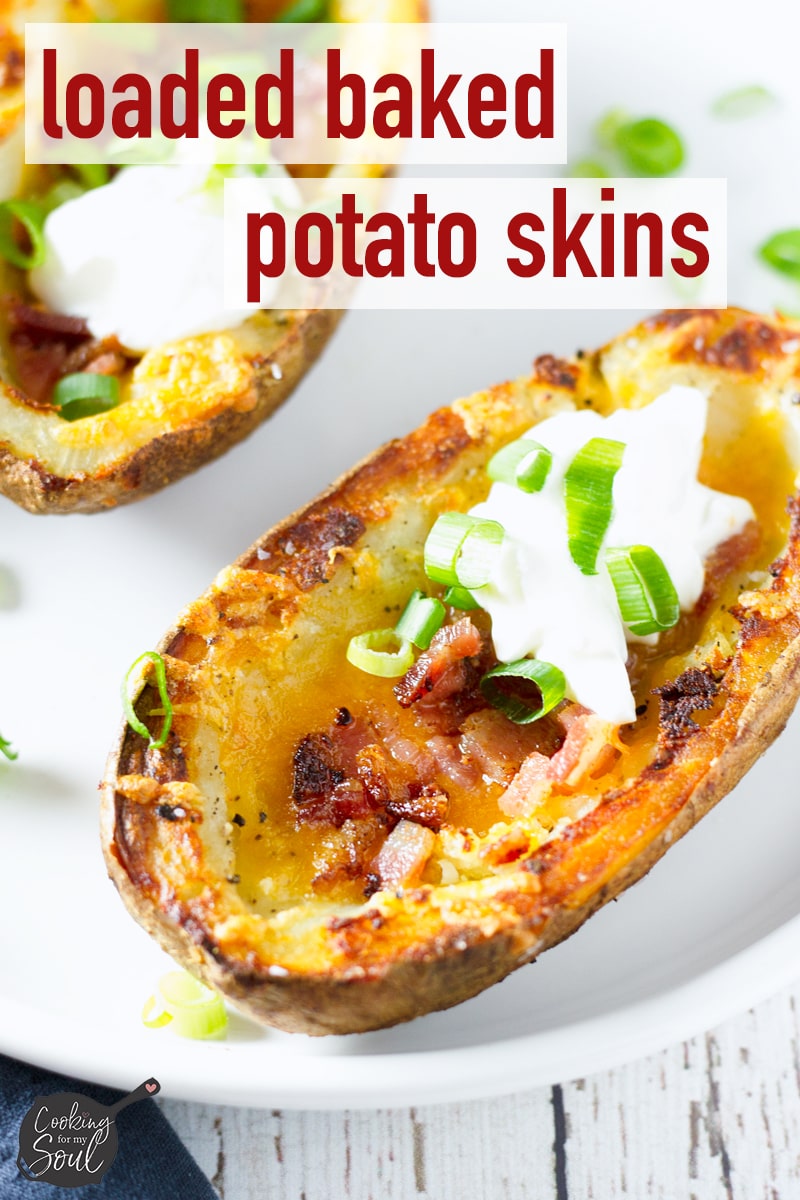 How to Make Baked Potato Skins
These crispy baked potato skins are ultra delicious and a great accompaniment for your all-American dinner. I served these with slow cooked BBQ ribs and it was the best thing ever.
Bake the russet potatoes: scrub the potatoes clean and pat dry. Pierce all over with a fork, and rub with olive oil. Bake at 400 degrees F for about 1 hours. Let cool slightly.
Cut the potatoes in half, and scoop out the potato, leaving about 1/4 inch intact.
Brush the potato skins all over with olive oil, and season with salt and pepper. Layer on a large sheet pan, on a single layer, flat side down.
Increase oven temperature to 450 degrees F. Bake about 8-10 minutes, and then flip them over and bake for another 10 minutes.
Top each potato skin with cheese and bacon. Return to oven and bake for 2-3 minutes, until melted.
Serve the potato skins with sour cream and chives or scallions.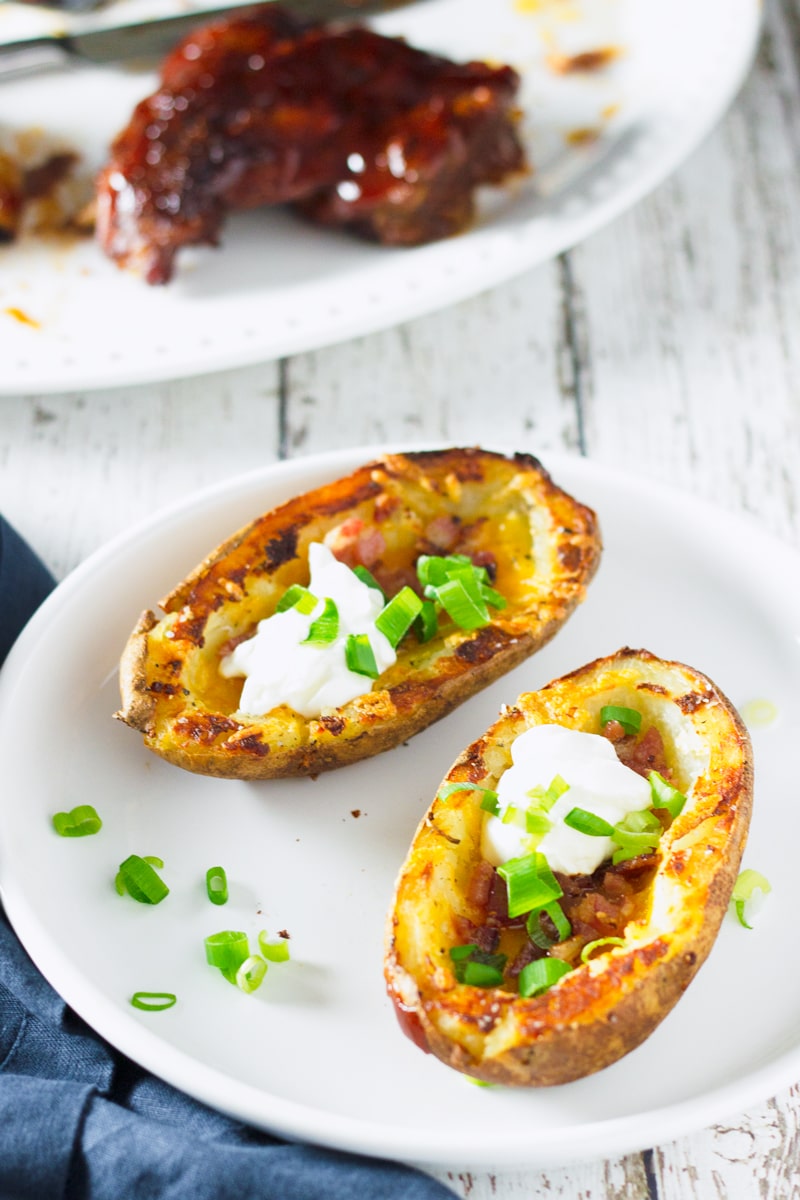 Tips for Prepping Potato Skins Ahead
This recipe for potato skins with cheese and bacon is a true classic and the definition of comfort. Baking the potatoes can take a long time, but you can bake the potatoes ahead of time.
Bake the potatoes 1 day in advance and store in the refrigerator until ready to cook. When ready to cook, cut the potatoes in half and scoop out the flesh, and follow the directions starting step 3.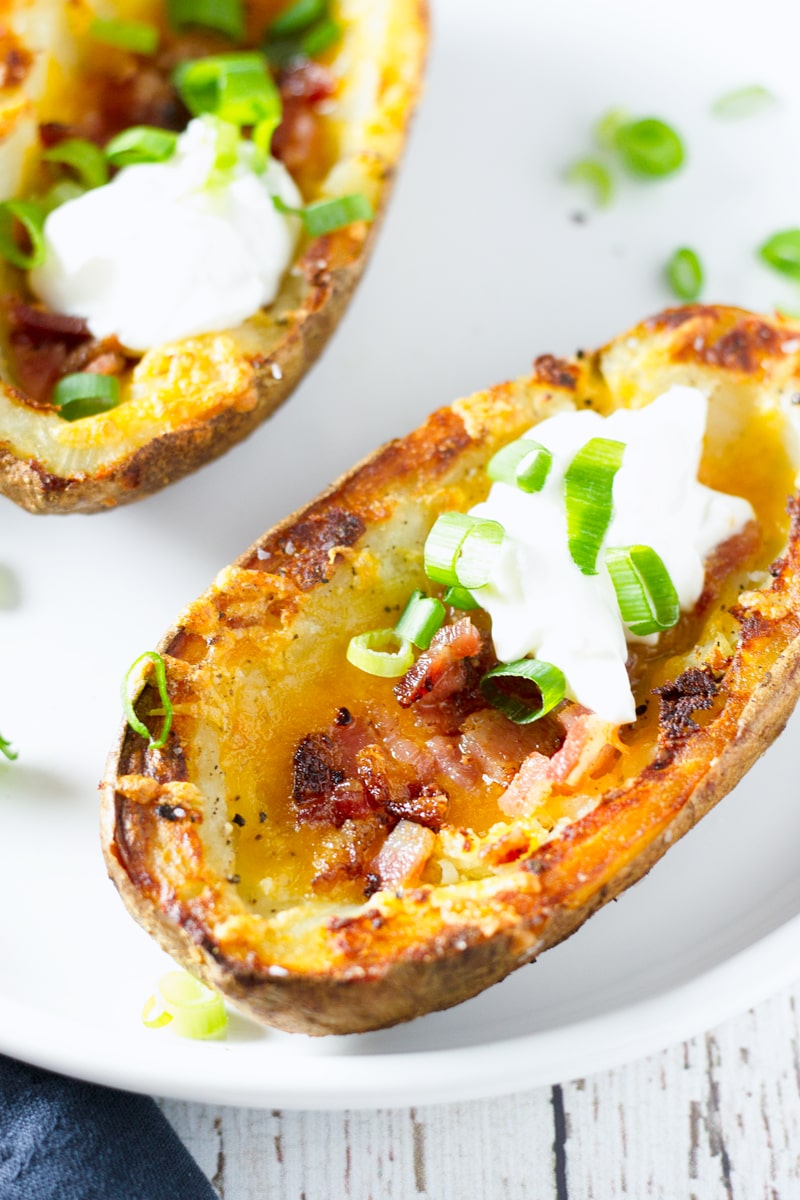 More Potato Skins Topping Ideas
Here are some other ideas for baked potato skins toppings:
broccoli and cheddar cheese
pepperoni and mozzarella cheese
prosciutto and fontina or mozzarella cheese
The list goes on, but the above are my favorite! If you have any other cool ideas, please comment below.
If you like these loaded baked potato skins recipe, you may also like:
Don't forget to pin this recipe: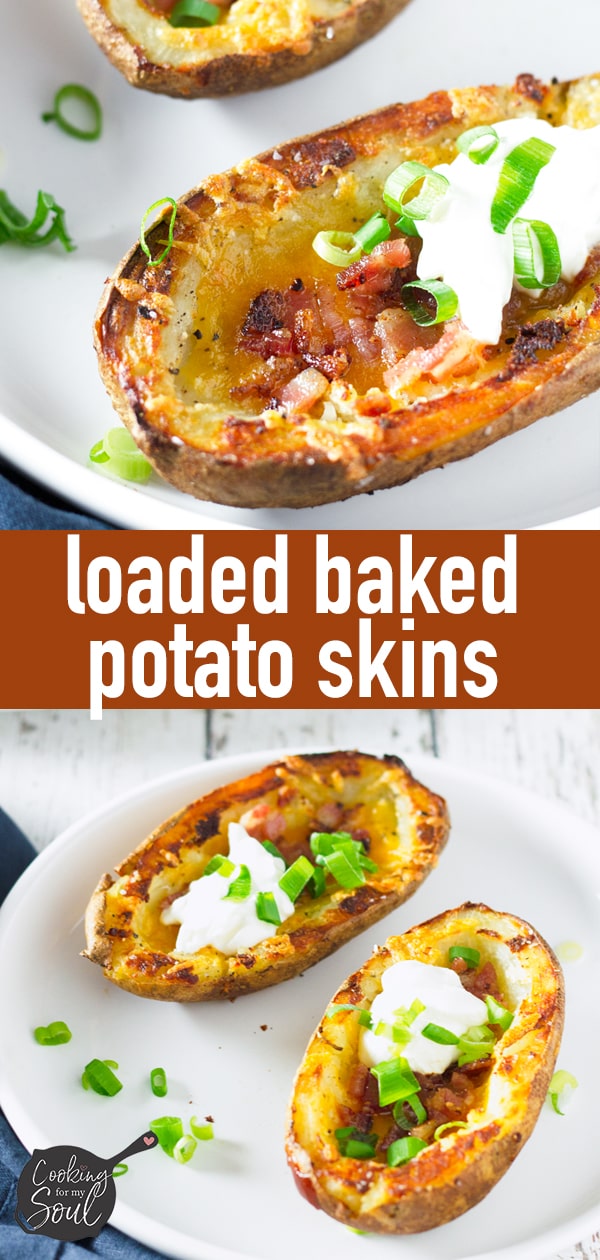 Kitchen Tips
If you prefer, bake the potatoes ahead of time. Keep the baked whole potatoes in the fridge until ready to use.
Use russet potatoes for best results.
Make my slow cooker BBQ ribs and pair with these baked potato skins!
If you try my recipe, use #cookingformysoul on Instagram! Follow me on Pinterest, Instagram, Facebook for the latest fun updates and recipes!
Loaded Baked Potato Skins
Loaded baked potato skins are an All-American favorite. Loaded with cheddar cheese and bacon, these potato skins will become your new favorite.
Ingredients
4

large russet potatoes

Olive oil

1 to 2

cups

shredded cheddar cheese

1/2 to 1

cups

crumbled cooked bacon

Salt and pepper to taste

Sour cream for serving

Chopped chives or green onions for serving
Instructions
Bake the potatoes: Preheat oven to 400 degrees F. Scrub the potatoes clean. Pierce the potatoes several times with a fork and rub all over with olive oil. Bake for about 50-60 minutes, until cooked through and tender. Let cool slightly.

Cut the potatoes in half and scoop out the flesh, leaving about 1/4 inch on the skin.

Brush the potato skins all over with olive oil, and season with salt and pepper to taste.

Line them up on a large baking sheet in a single layer. Bake again at 450 degrees F, 10 minutes per side, until slightly crispy and golden brown.

Top each half with some cheese and bacon, depending on how "loaded" you want them. Up to you. Bake for 2-3 minutes until melted, and watch carefully so they don't burn.

Serve with sour cream and scallions or chives, or any other toppings you'd like. Enjoy!