Learn how to spatchcock a chicken! Spatchcocking a whole chicken consists of splitting and flattening the chicken. This method ensures that the chicken cooks much faster than a whole chicken.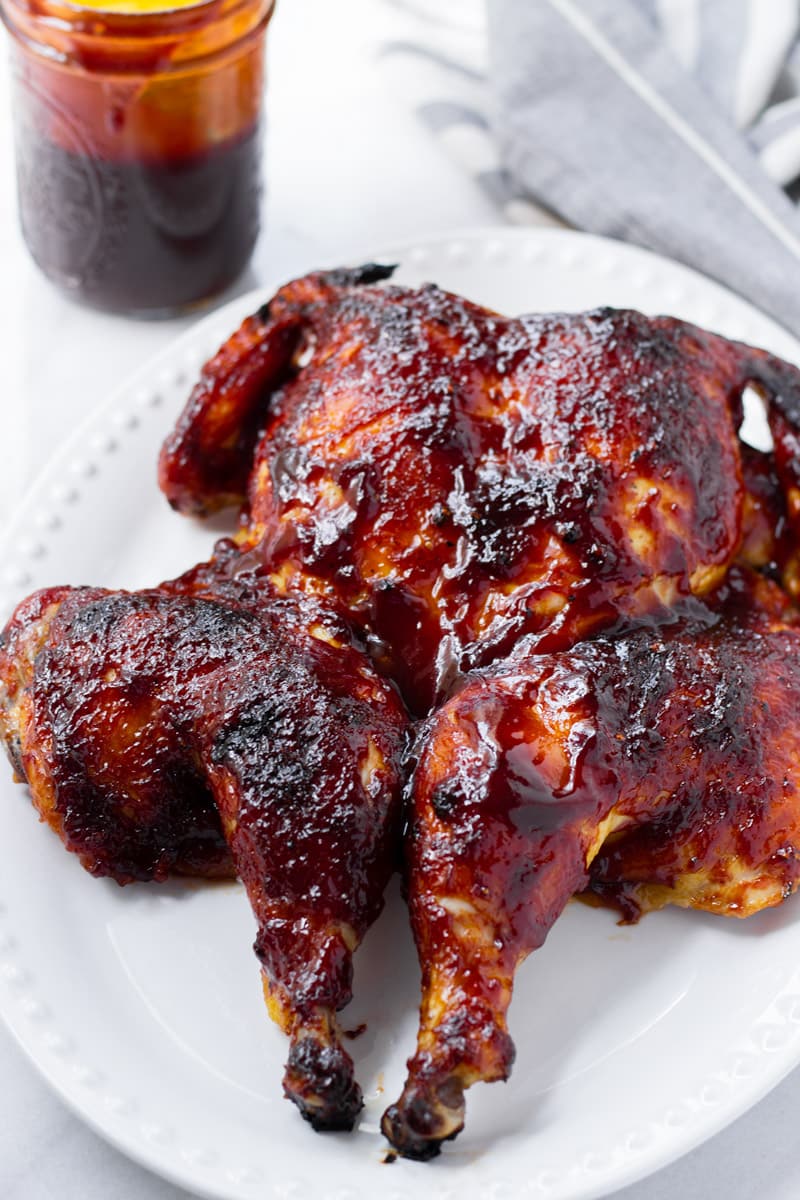 Spatchcocking is one of my favorite methods for cooking an entire chicken or even a turkey. This method consists of removing the backbone of the chicken and flattening it. That way, the chicken cooks flat, which means faster cooking times in about half the time compared to a whole roast chicken.
Here's my favorite recipe for this method: Spatchcock BBQ Chicken!
The Benefits of Spatchcocking Chicken
Here's why I love this method:
Reduced cook time: The chicken cooks in about half the time compared to a whole roast chicken.
Even cooking: When you roast a whole chicken, the breast cooks faster than the thighs do. Because a spatchcocked chicken lays flat, heat circulates more evenly, thus resulting in an evenly cooked chicken. No more overcooked chicken breast!
Crispy skin: With the skin completely exposed to heat, you'll get even crispy skin throughout, especially when roasting at a high oven temperature (400-425 degrees F).
Grill it! Ever wanted to grill an entire chicken? Well, now you can!
Step-by-Step Instructions
1. Remove the Backbone
First, remove the neck and giblets if needed. They usually come stuffed inside the cavity.
The best way to remove the backbone is by using good and strong kitchen shears. If your kitchen shears are flimsy, please be careful. With the kitchen shears, cut alongside the backbone (not the breastbone!). Also, remove any extra bones that may be sticking out.
Oh and don't throw away the backbone, and instead save it to make some delicious chicken stock.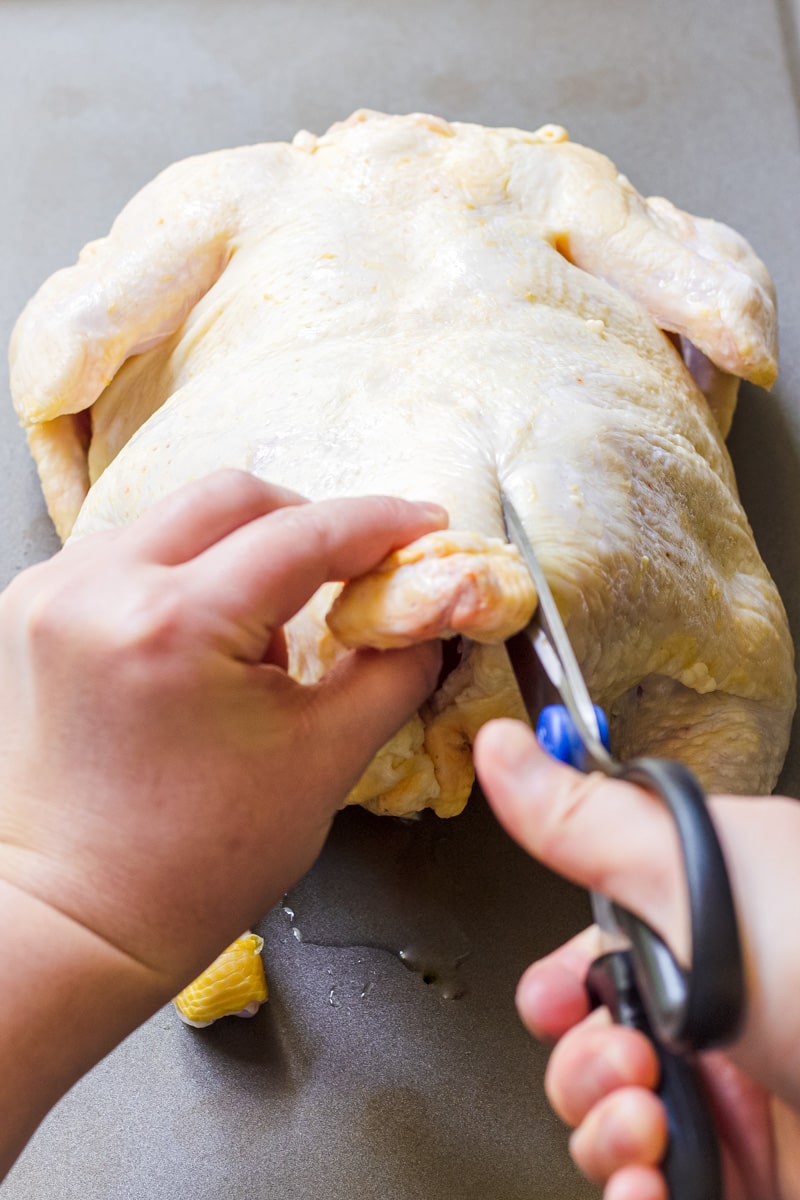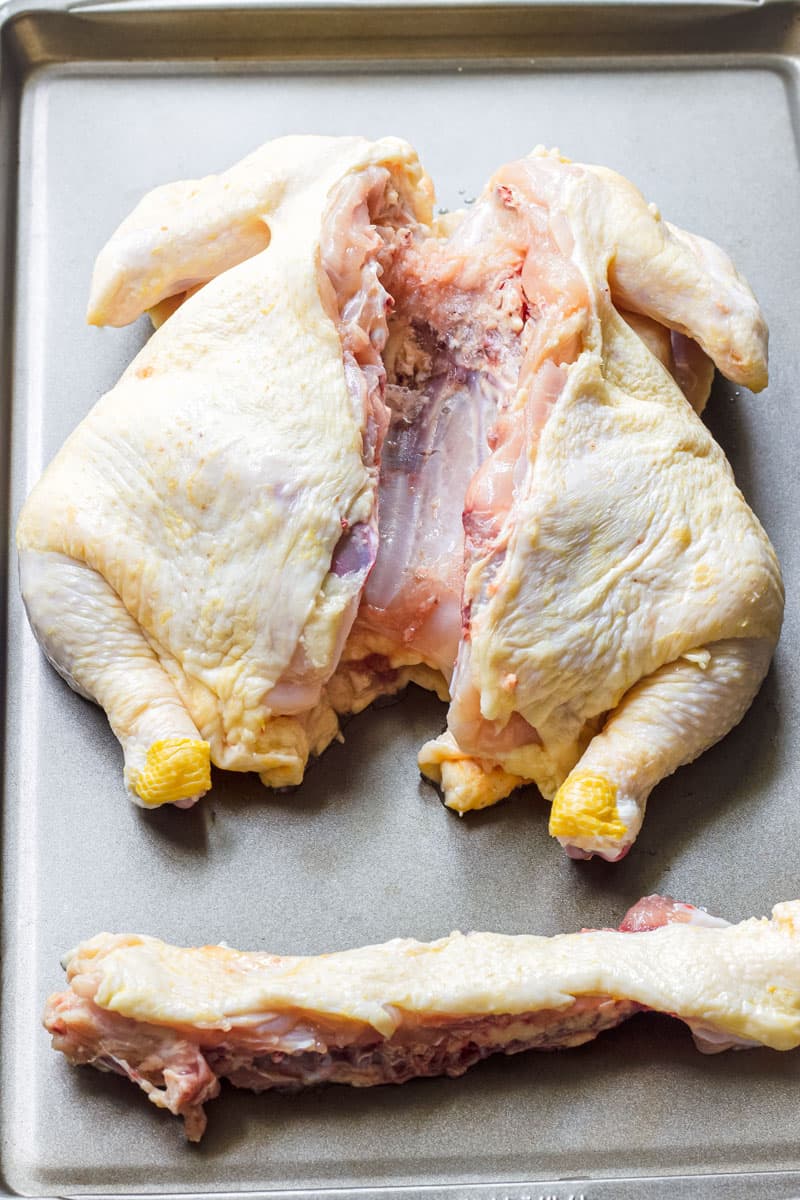 2. Flatten the Chicken
Pat the chicken dry on both sides, and then flatten it on a sheet pan or large cutting board. With the lower side of the palm of your hands, press down to flatten the chicken. It's okay to break the breastbone as you press down.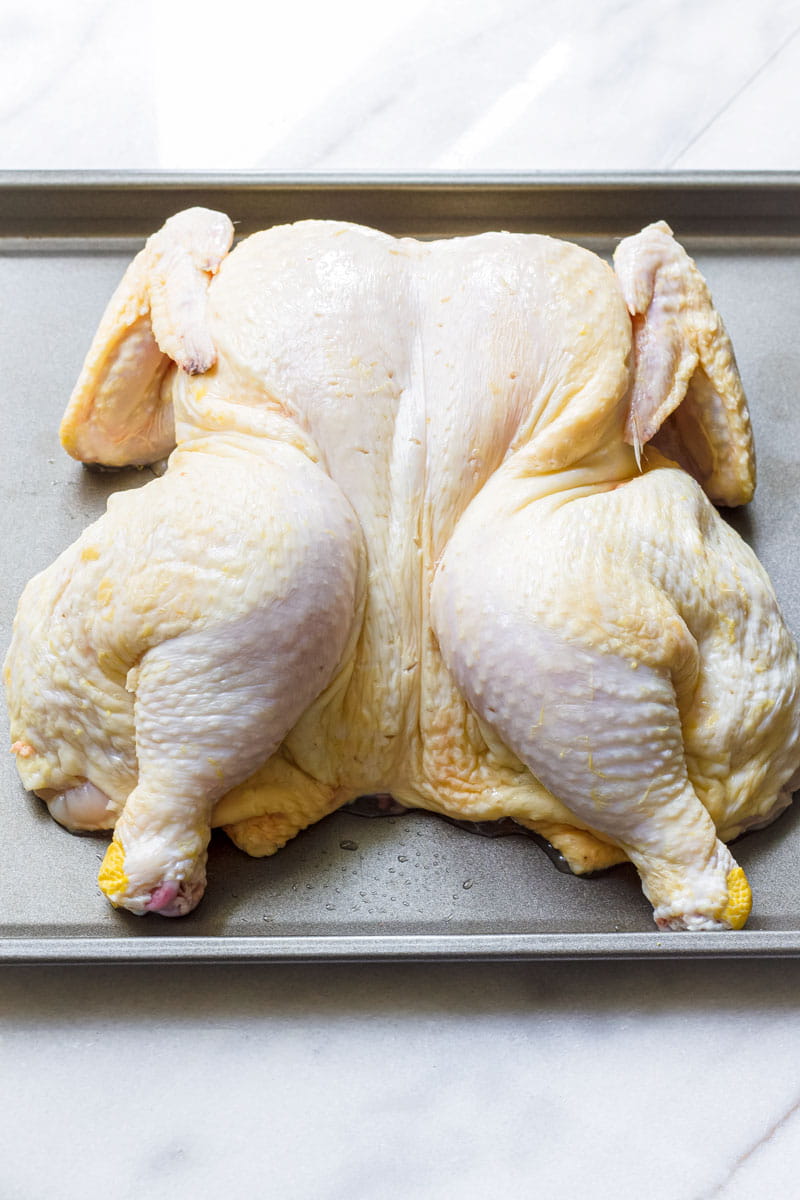 3. Remove or Tuck In the Wing Tips
The wing tips can burn very quickly in a very hot oven, especially if exposed completely. So, be sure to either clip off the wing tips or tuck them under the skin, like I did (see picture below).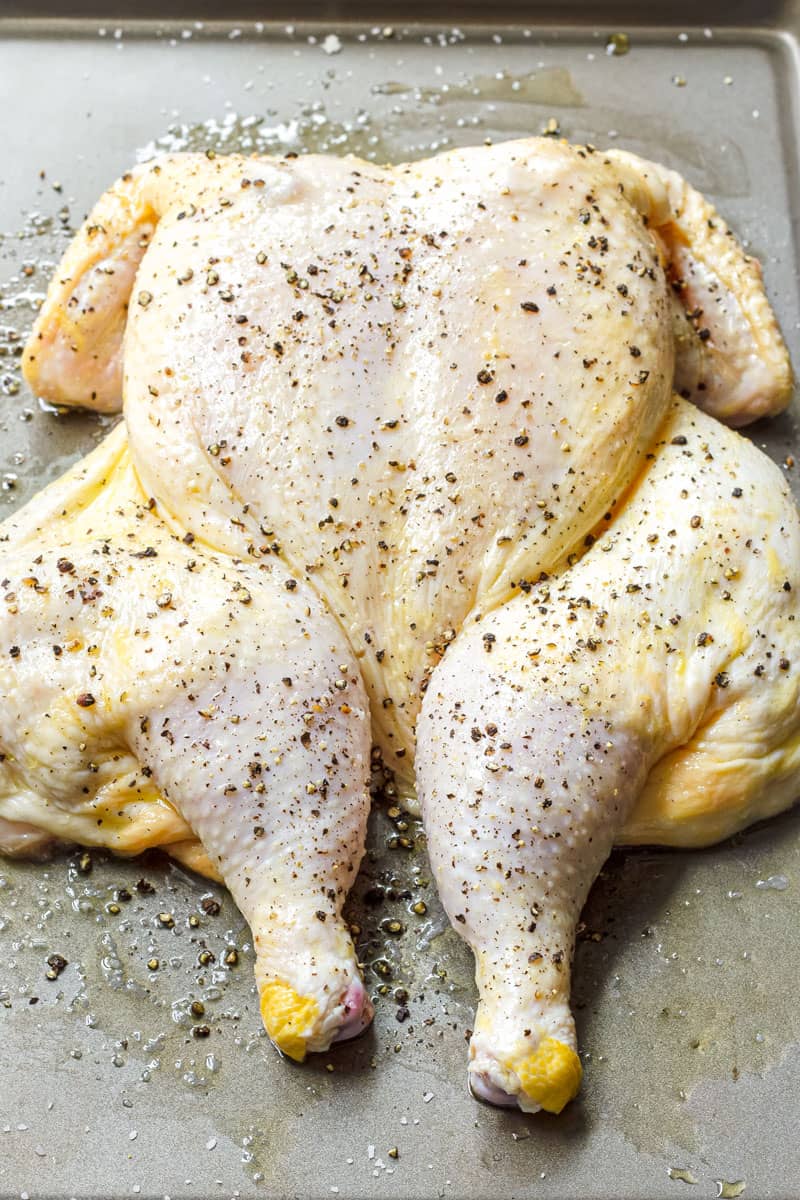 How Long to Roast a Spatchcocked Chicken
After you've prepared the chicken, all you have to do is season it! The spices, rubs, or even marinades you use will depend on the recipe. No matter what recipe you use, remember to season the chicken generously!
As for roasting time, give it about 12-13 minutes per pound. My 4.5 pound chicken took about 50-55 minutes in the oven at 425 degrees F. As always, please use a meat thermometer to check that the internal temperature inserted in the thickest part of the thighs and breasts is 165 degrees F. Using a meat thermometer is the best way to ensure that the chicken is cooked thoroughly.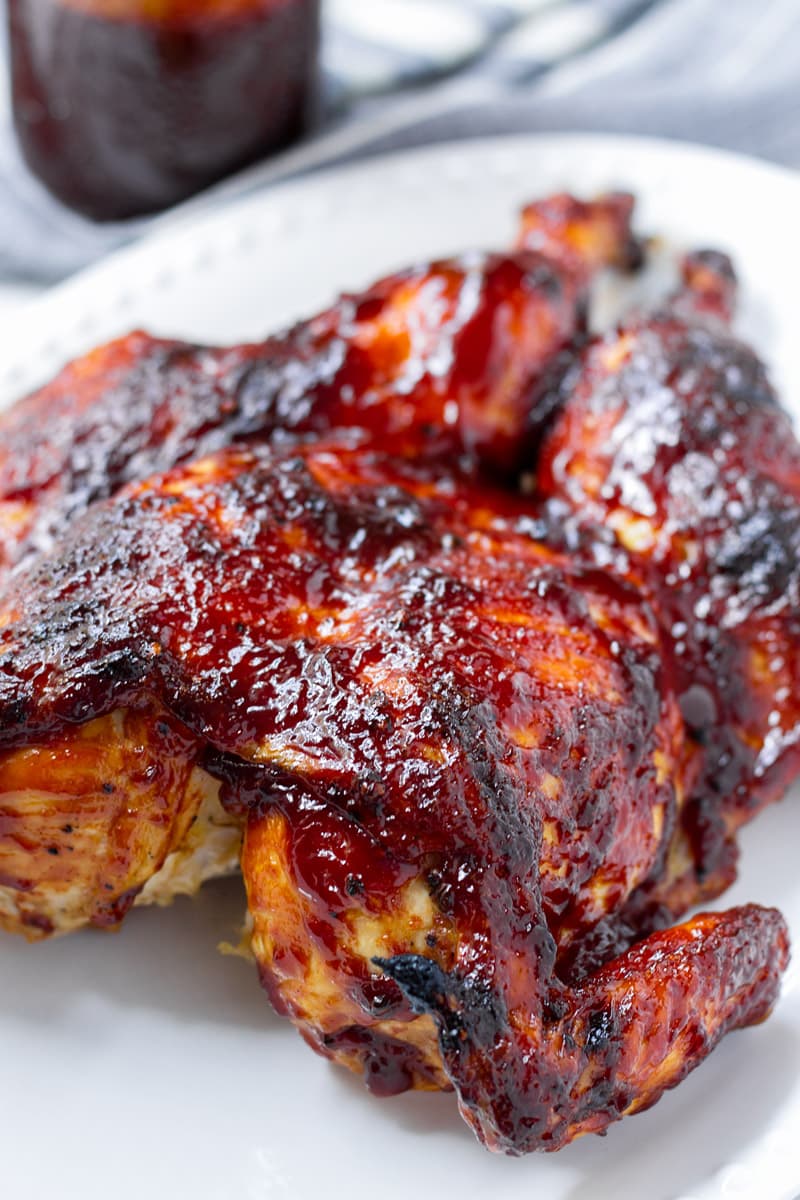 Try it out and let me go how it goes! It's certainly one of my favorite ways for roasting chicken. Fast and easy. After all, there's nothing better than a good chicken dinner!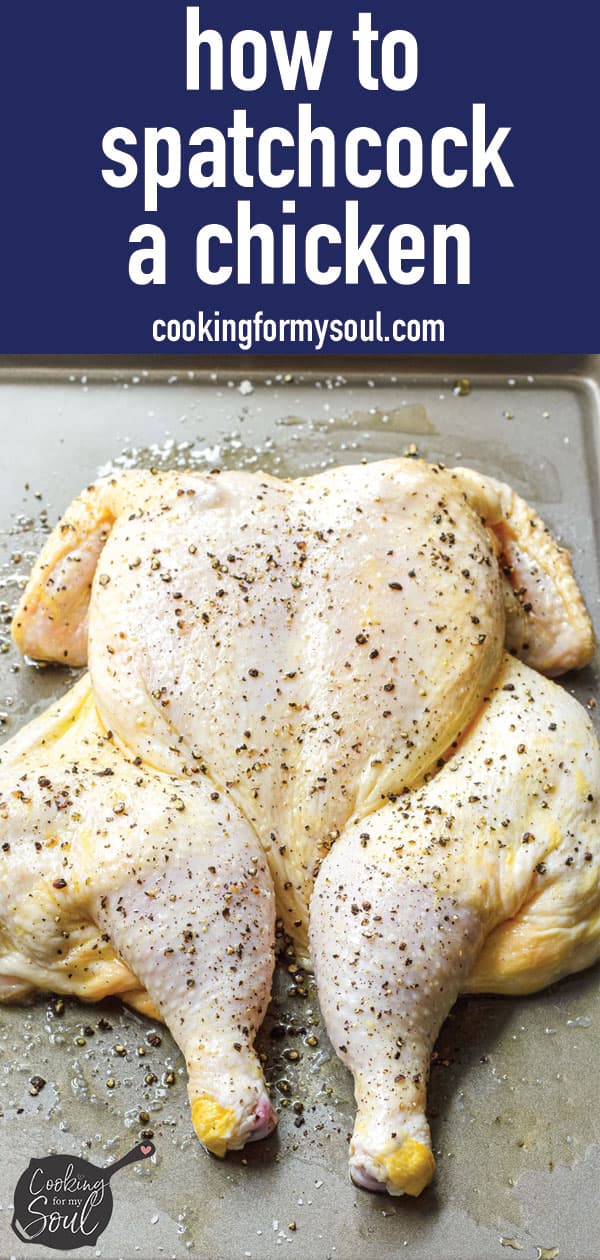 Tips for Success
Use good and strong kitchen shears. It will make it safer and easier to remove the backbone.
If desired, wear gloves.
To get extra crispy skin, pat dry the chicken thoroughly, on both sides.
Always roast in the middle rack, and use a strong sheet pan that doesn't warp in high temperature.
If you try my recipe, use #cookingformysoul on Instagram! Follow me on Pinterest, Instagram, Facebook for the latest fun updates and recipes!
Simple Spatchcocked Chicken
A simple spatchcocked chicken is always a comforting chicken dinner! Spatchcocking will help you cook a whole chicken in about half the time, and result in moist meat and crispy skin. For seasoning, use salt, pepper, and your favorite herbs.
Ingredients
1

(4-4.5 pound) whole chicken

-

(neck and giblets removed)

2

teaspoons

Kosher salt

1/2

teaspoon

freshly ground black pepper

1

teaspoon

garlic powder

1

tablespoon

fresh thyme leaves, roughly chopped

-

(or 1.5 teaspoons dried thyme or Italian seasoning)

1/2

tablespoon

fresh rosemary leaves, finely chopped

-

(or 1/4 teaspoon dried rosemary)

2

tablespoons

olive oil
Instructions
Get the oven pre-heated and ready
Preheat oven to 425 degrees F. Get the oven rack adjusted to the middle position.
Spatchcock the chicken (see step-by-step pictures above)
Using strong kitchen shears, cut alongside the backbone and remove it. Also remove any small bones sticking out. Note: you need strong kitchen shears. It will be much safer. Note 2: Discard the backbone or save it to make chicken stock.

Thoroughly pat dry the chicken on both sides. With the lower side of the palm of your hands, press down the chicken breast (skin side up) until flattened. It's okay if the breastbone cracks.

With the kitchen shears, cut off the wing tips. You can also tuck the wings under the skin.
Roast the chicken
Transfer flattened chicken to a large sheet pan, skin side up. Pat it dry thoroughly one more time (this will ensure crispy skin). Rub the chicken all over with olive oil and season with salt, pepper, garlic powder, and the herbs.

Roast for about 50-55 minutes in the middle rack. Rotate the pan halfway through. If the skin is getting too brown too quickly, tent with aluminum foil, but it most likely won't. Roast until a thermometer inserted in the thickest part of the thighs and breast reach 165 degree F. When ready, remove from oven and let the chicken rest for 10-15 minutes before serving. Enjoy!
Notes
Another great recipe for this cooking method: Spatchcock BBQ Chicken. You will love it!
Special equipment: strong kitchen shears, meat thermometer, large sheet pan.
To ensure you get crispy skin, pat the chicken dry thoroughly. Moisture is the enemy of crispiness!
Be generous with the seasoning, especially if seasoning a 4-4.5 lb bird.
Let it rest: let the chicken rest for about 10-15 minutes to allow the juices to redistribute. This step will result in moist chicken.