I love a good Hawaiian Pizza! The sweet pineapples provide a nice flavor contrast to the savory flavors, and adds so much freshness to the pizza.
I love making Hawaiian pizza at home because I can always make sure to use freshly cut pineapple for the topping. Using fresh rather than canned pineapples makes a huge difference, trust me! The pineapple, paired with the deli ham and melty mozzarella cheese all make a great combination.
You will love this cheesy, sweet and savory pizza! I included a homemade pizza dough recipe below as well if you want to make everything from scratch.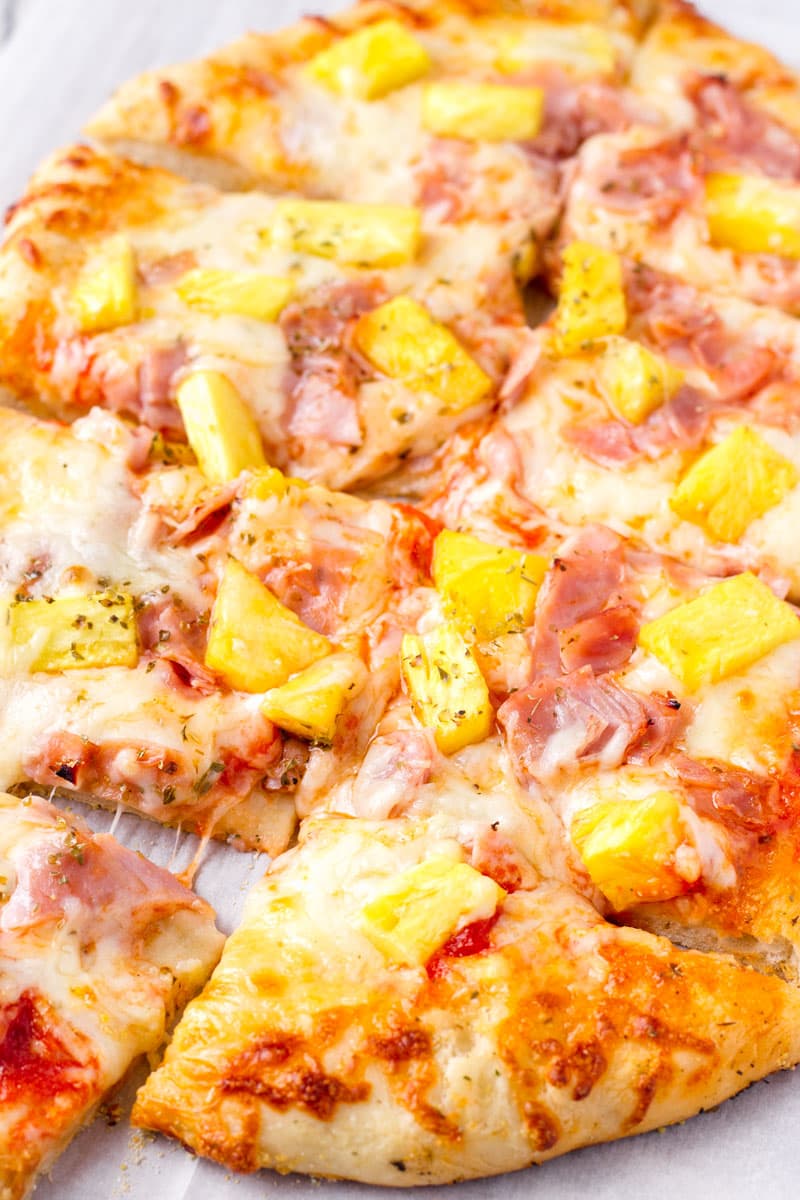 We're big fans of cheesy and bubbly Hawaiian pizza over here! The flavor contrast between the sweet pineapples and the savory ham and cheese is absolutely amazing. Today, I'm sharing my easy Hawaiian pizza recipe, including a simple homemade pizza dough recipe if you want to make everything from scratch!
I know that pineapple on pizza can be a point of disagreement among many people. I think it's a great topping, especially when you're using it fresh. It makes all the difference!
If you're a Hawaiian pizza lover, this easy recipe is for you! Cheesy, fresh, and so delicious. Read on for all the details, including my instructions on how to make your own pizza dough right at home!
Speaking of pizza, I just posted a Greek Pizza recipe recently. Be sure to check that out.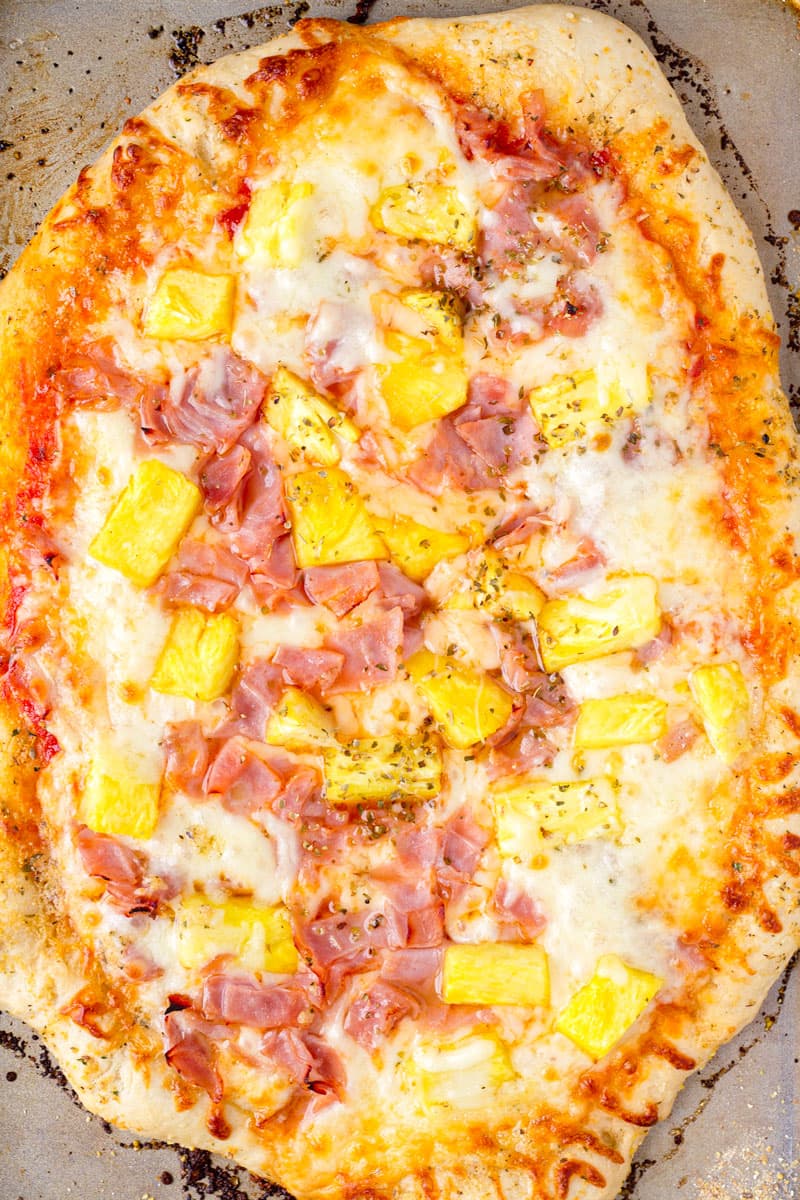 Hawaiian Pizza Toppings
There are only 3 toppings in this Hawaiian pizza:
Pineapple: I'd recommend using freshly diced pineapples. It tastes fresher and much better than anything canned or frozen! Also, be sure to thoroughly pat dry the pineapple before adding it on the pizza, otherwise the juices will pool around the cheese as it bakes, making it soggy.
Ham: Your favorite deli ham, diced.
Oregano: Dried oregano or even Italian seasoning work here.
Simple and delicious.
And then, obviously there's the pizza sauce and shredded mozzarella cheese. I also make a melted garlic butter to brush around the borders prior to baking. It really adds a lot of buttery flavors that I love on pizza. Highly recommended.
Topping Variations
Aside from those three toppings, I'd recommend the following add-ons. They all complement each other really well!
Crumbled bacon: I love bacon on this pizza! The flavors go really well with each other. Just cook a few bacon slices on a skillet and crumble it.
Sliced cooked chicken: Adding sliced grilled chicken here makes a wonderful pizza.
Fresh basil: It adds freshness and flavor!
Sliced onions: If you like onions on your pizza, feel free to add.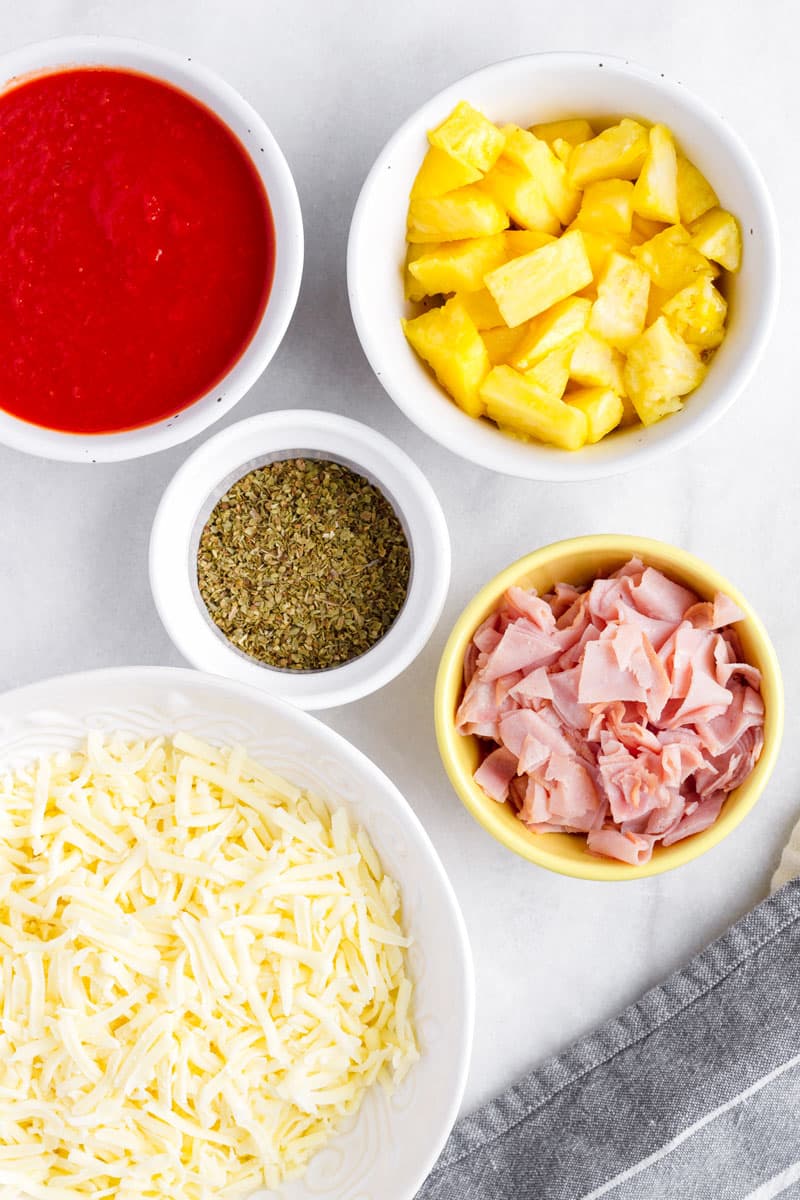 Making Your Own Pizza Dough
I'm all for making pizza dough from scratch! My pizza dough recipe is made with only a few ingredients, including bread flour and active dry yeast. You can make it in advance too if you want to prep ahead.
You can also use your favorite store-bought pizza dough for ease and simplicity.
Here's another idea: See if your local pizza store sells pizza dough. My local pizzeria makes this amazing pizza dough that I absolutely love, and they sell it for about the same price as store-bought dough. It always comes in handy during busy nights. It's also a great way to support local family-owned businesses.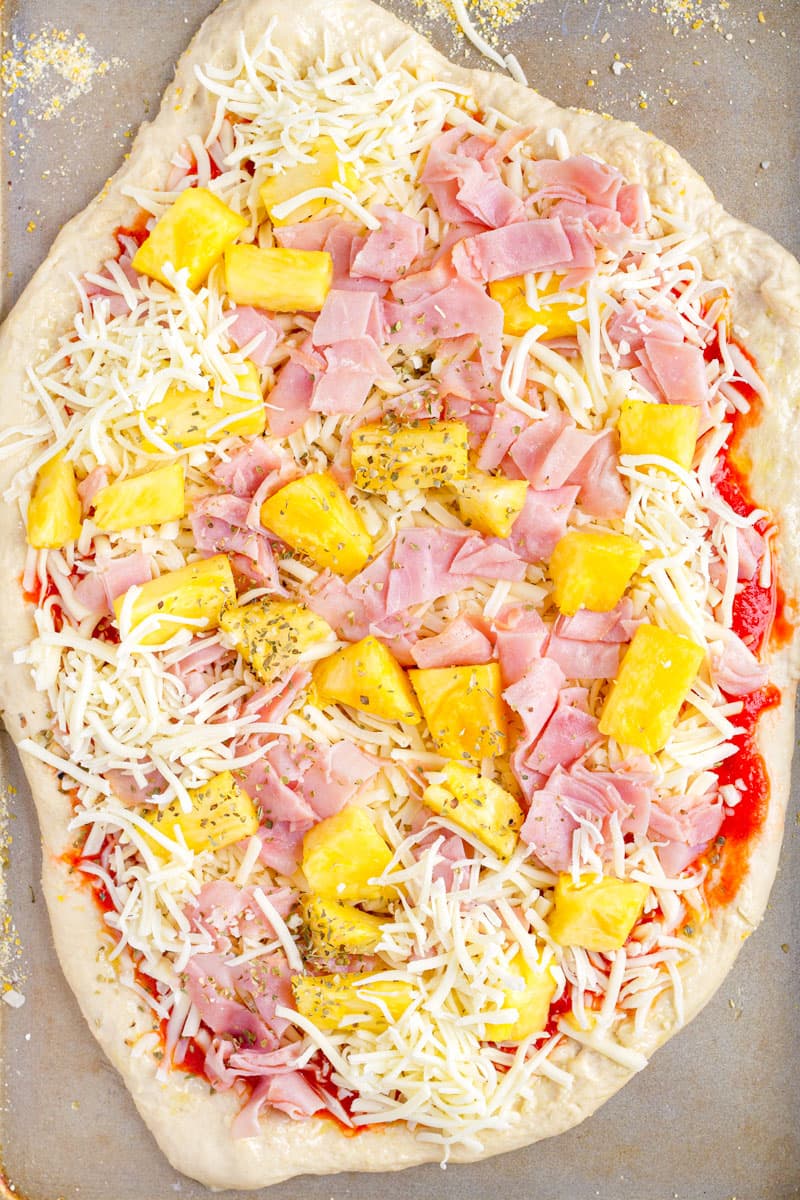 How to Prevent It from Getting Soggy
Nobody likes soggy pizza. The main reason for soggy pizza is usually the pizza sauce being absorbed into the crust as it bakes. Toppings that contain high moisture can also cause this.
The solution is simple! Before adding the pizza sauce over the dough, brush it with some olive oil. Not too much, just a thin layer. This will create a barrier between the dough and the sauce.
For this Hawaiian pizza, also be sure to thoroughly pat dry the diced pineapples right before adding them to the pizza. Pineapples contain moisture.
Another thing I like to do is pricking the dough all over with a fork. This will prevent hot air bubbles from forming underneath as the pizza bakes in the hot oven.
These are extra steps, but this ensures that your pizza won't be soggy.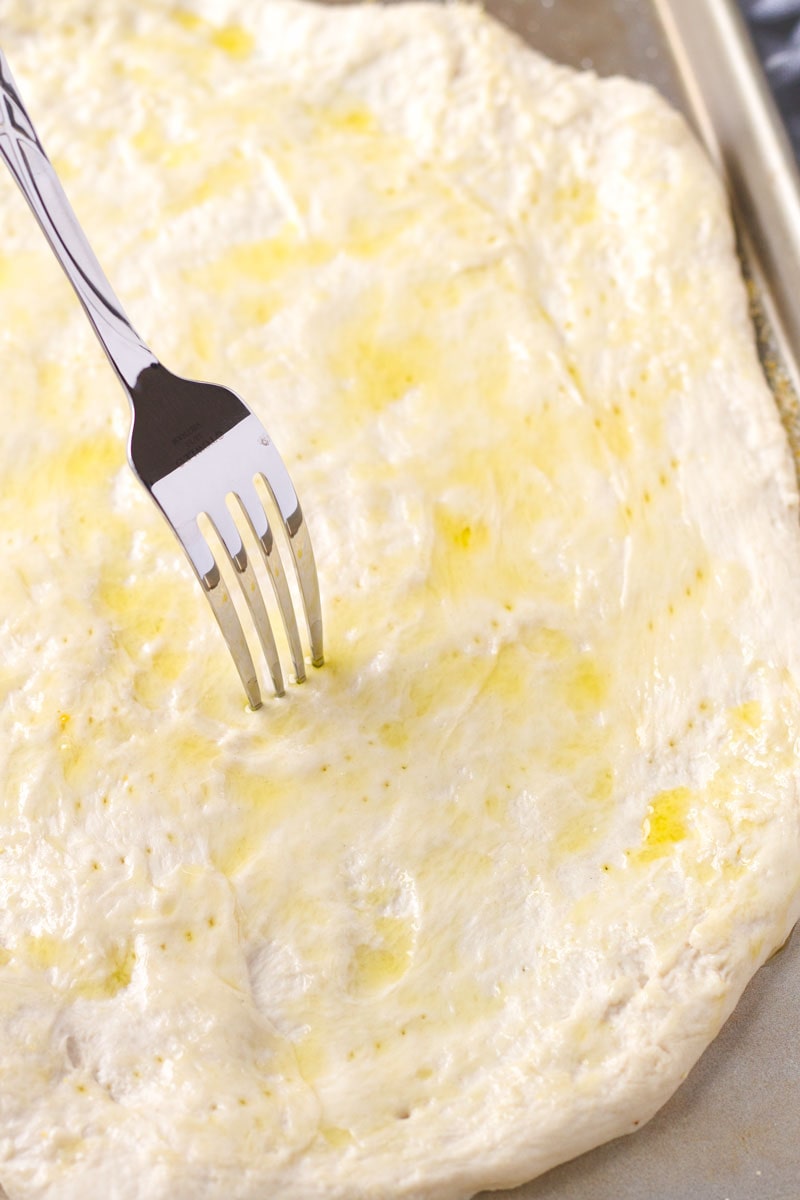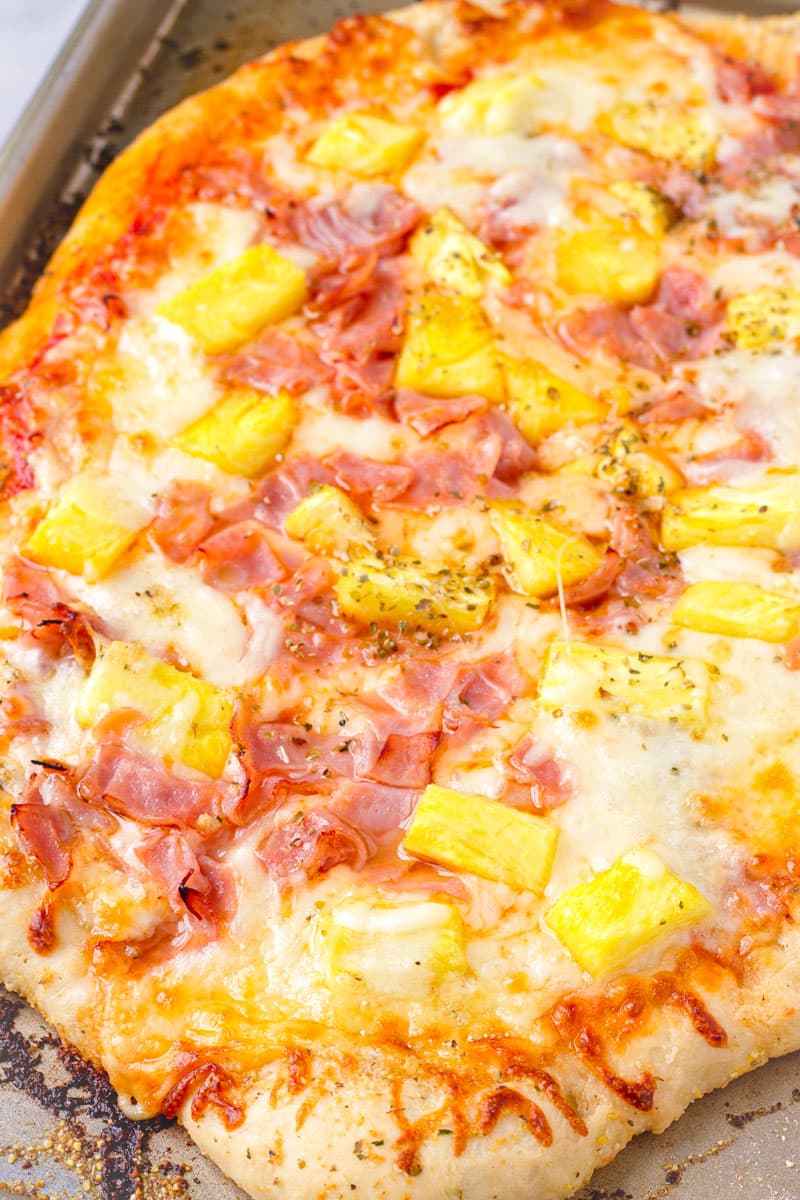 Great Side Dishes for This Pizza
No pizza night is complete without great side dishes!
Here are my favorite sides to serve with Hawaiian pizza:
My personal favorite is the cheesy garlic bread!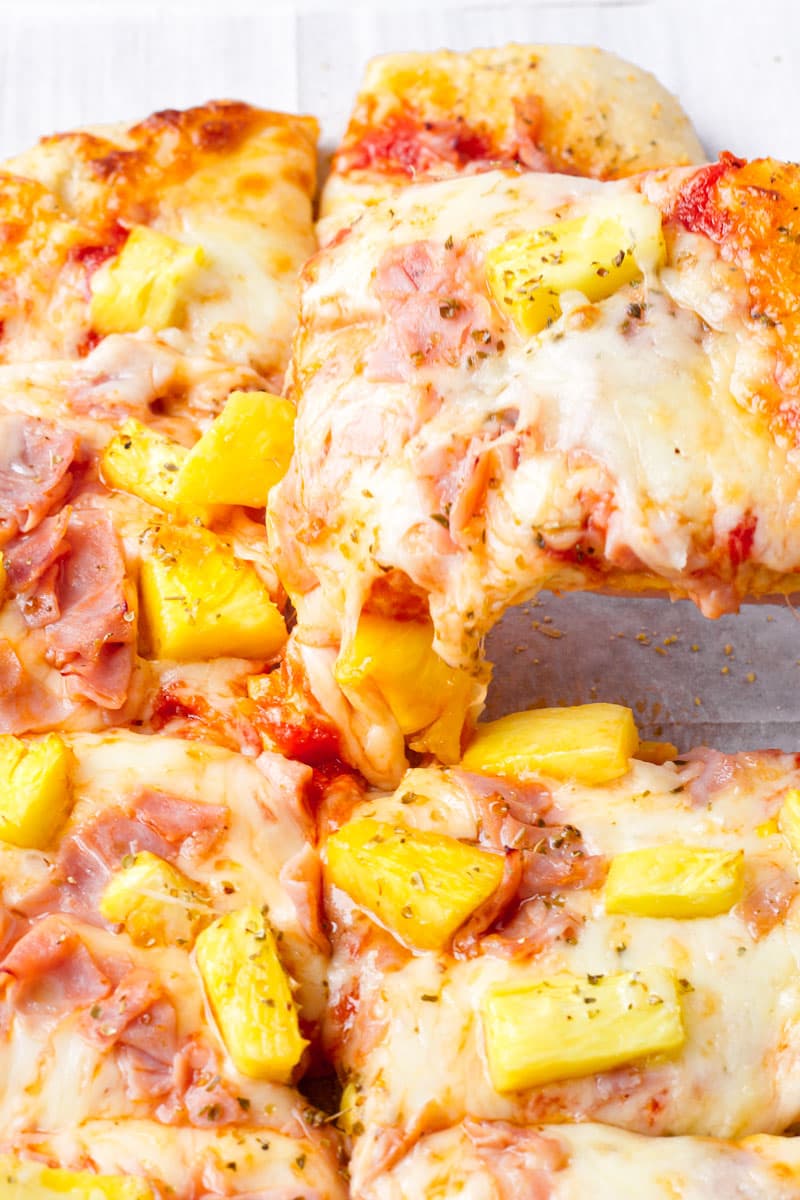 If you're hosting pizza night and need more pizza ideas, check out my favorite Greek Style Pizza or this delicious Artichoke Pizza from Sip and Feast!
Making pizza at home is a fun idea to cook with the kids, or even as a date night activity. Fun and good food?! Sign me up!
I hope you like this easy Hawaiian pizza recipe as much as I do. Only a few toppings required!
Tips for Success
Use fresh pineapple. It adds a touch of freshness with no artificial flavors. Makes a huge difference!
Pat try the pineapples thoroughly before adding them to the pizza. This will prevent excess moisture from forming as it bakes. I never skip this step.
To prevent soggy pizza, brush it with olive oil before adding the pizza sauce. The olive oil will act as a barrier between the crust and the sauce.
Pricking the dough with a fork before adding the toppings prevents hot air bubbles from forming underneath as it bakes.
For extra flavor, brush the borders with melted garlic butter.
Hawaiian Pizza
This delicious homemade Hawaiian pizza is very easy to make and perfect for any occasion. Made with fresh pineapples, ham, and spices as the toppings. You can make your own dough or use store-bought! Makes one 12-inch pizza.
Ingredients
Homemade pizza dough -

(or store-bought, see note)

½

cup

pizza sauce

-

(plus more as needed)

1 ½ to 2

cups

shredded mozzarella cheese

½

cup

diced deli ham

-

(plus more to taste)

½

cup

fresh diced pineapple, thoroughly patted dry

-

(plus more to taste)

Dried oregano to taste
Melted garlic butter (for brushing)
3

tablespoons

melted unsalted butter

½

teaspoon

garlic powder

½

teaspoon

dried oregano

Salt to taste
Instructions
If making your own pizza dough at home, make my pizza dough recipe until step 9. You only need one pizza dough ball for this recipe. You can also use store-bought dough, see note below.

Make sure your oven is preheated at 475 degrees F.

After you have brushed the dough with olive oil and pricked it with a fork (as directed in step 9 of my homemade pizza dough recipe), add the toppings. Start pizza sauce, then the cheese, ham, pineapple, and oregano. You can adjust the topping quantities, but don't overfill it, as this can make the pizza soggy. Important: Thoroughly pat dry the pineapples before adding in order to prevent excess moisture.

Make the melted butter by combining the melted butter with the garlic powder, oregano, and salt. Brush the borders with the melted garlic butter.

Bake for 15 to 20 minutes, until bubbly and the edges are golden brown. Cut into 8 slices and serve.
Notes
This recipe makes a 12-inch pizza, or 8 slices.
Store-bought pizza dough: You can use your favorite store-bought pizza dough. Be sure to brush the dough with some olive oil and prick it with a fork. The olive oil will prevent it from getting soggy, and pricking it with a fork will prevent hot air bubbles from forming in the oven. Then, you can proceed with the remaining ingredients as directed.
Important: Remember to pat dry the pineapple before adding it, otherwise it will release excess moisture.
Don't overcrowd with toppings. Too many toppings close together will create moisture and make the pizza soggy.
Bake at a high oven temperature: 475 degrees F is what I'd recommend (450 degrees F is fine too, but the crust won't get very crispy and golden brown on the outside). If you feel comfortable with 500 degrees F, you can do that too but make sure your pan or pizza stone is safe for that temperature.
Disclaimer: Nutritional values (per slice) are approximates only.
Nutrition
Serving:
1
slice
|
Calories:
277
kcal
|
Carbohydrates:
3
g
|
Protein:
8
g
|
Fat:
11
g
|
Saturated Fat:
6
g
|
Polyunsaturated Fat:
1
g
|
Monounsaturated Fat:
4
g
|
Trans Fat:
1
g
|
Cholesterol:
37
mg
|
Sodium:
388
mg
|
Potassium:
125
mg
|
Fiber:
1
g
|
Sugar:
2
g
|
Vitamin A:
348
IU
|
Vitamin C:
6
mg
|
Calcium:
114
mg
|
Iron:
1
mg