To continue to celebrate fall, I made a delicious kale and apple salad topped with crunchy candied pecans and toasted pumpkin seeds. Every bite is full of this season's harvest.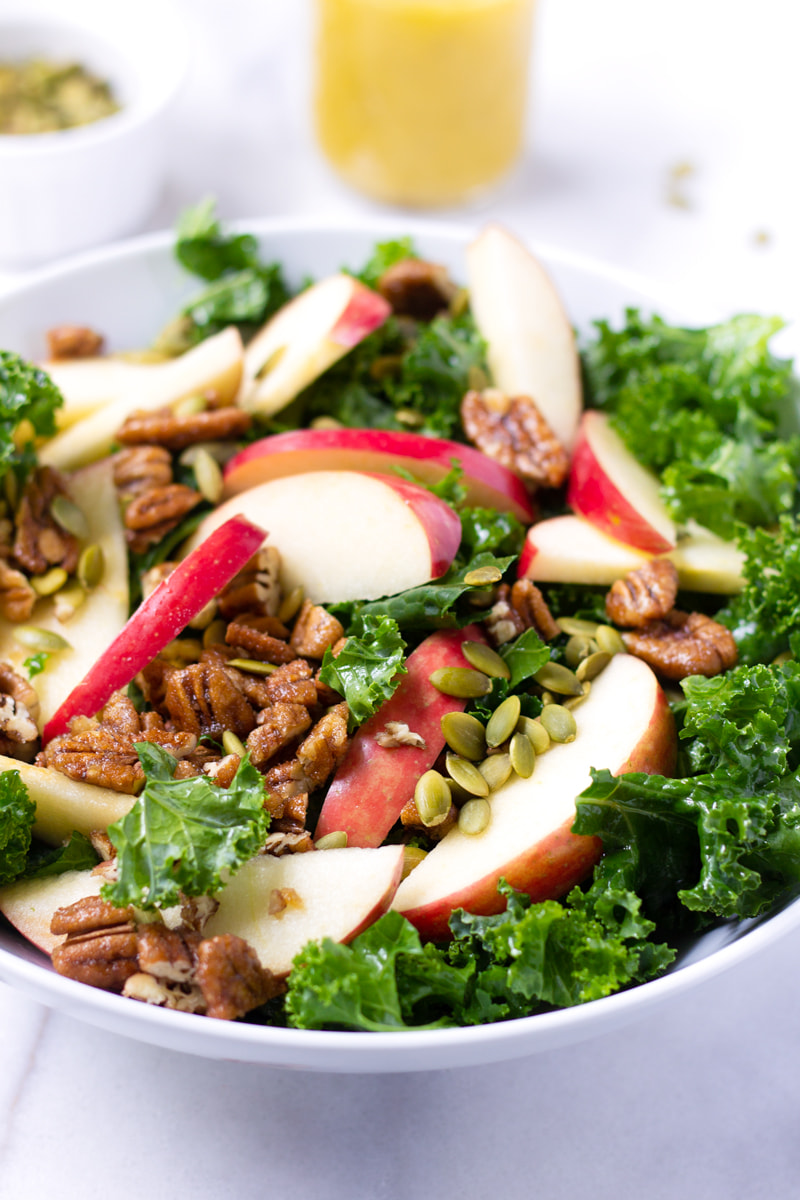 Let's continue to enjoy fall with all the delicious vegetables and apples we can get! I can't tell you how many apples I have eaten over the last few days. I've been trying to figure out ways to eat all the apples I can, and this super easy kale and apple salad is just perfect. The apples are so sweet and crunchy. The kale is massaged until nice and tender. The pecans are coated in sugar, and pumpkin seeds are lightly toasted to bring out their nutty flavor. Oh, and the dressing? A perfect apple cider vinaigrette.
Aaaaaahhh. I am drooling over here!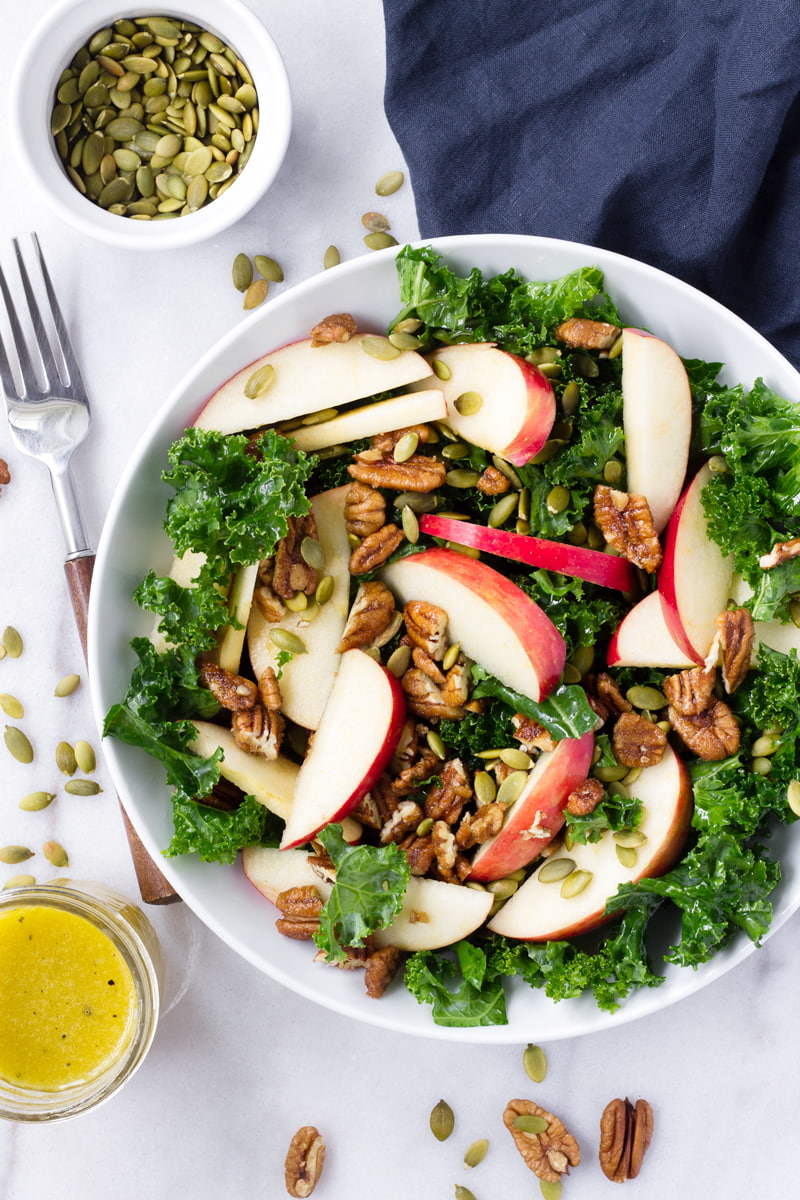 What's in This Kale and Apple Salad?
honeycrisp apples
kale
candied pecans
pumpkin seeds
a delicious apple cider vinaigrette
It's a pretty simple and clean salad. It come together in less than 20 minutes. You'll love it!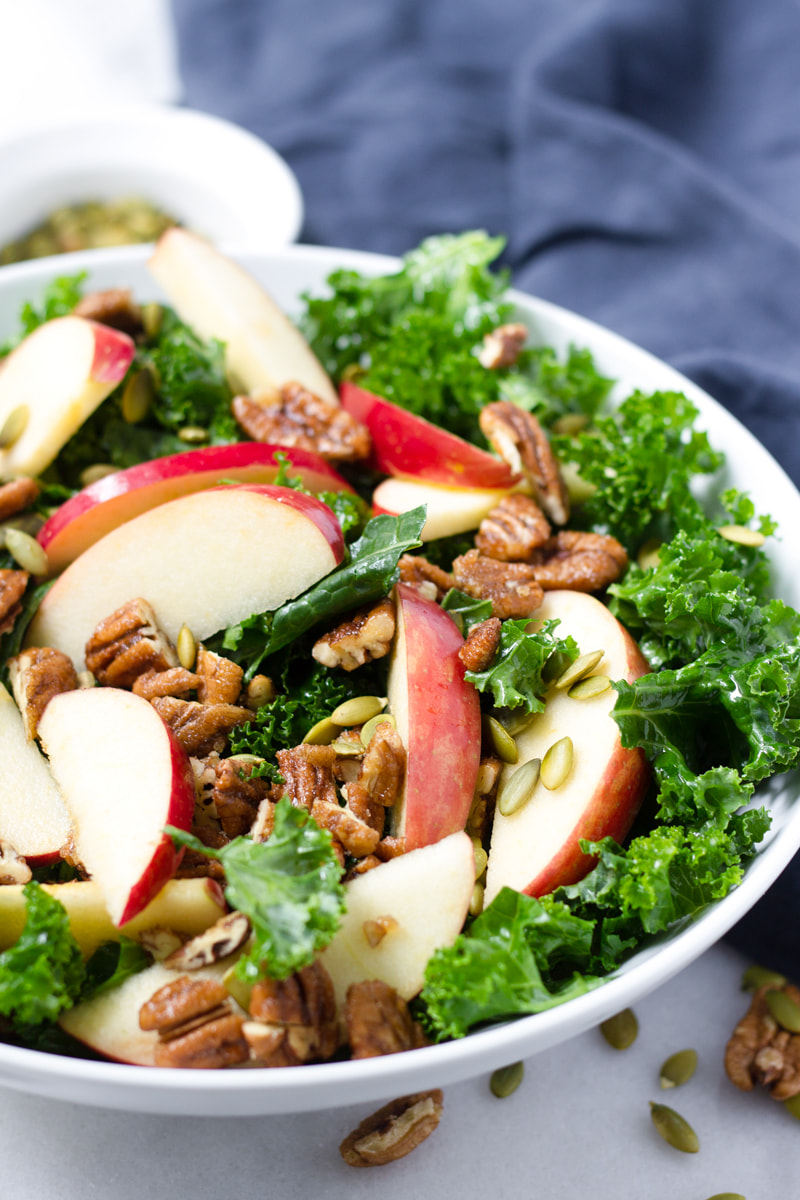 Apple Cider Vinaigrette
Of course, we needed an apple cider vinaigrette for an apple salad! It's the only way to go, guys!
This apple cider dressing is sweet and tangy. It gets just the right amount of sweetness from some honey. So what's in this dressing? Apple cider, olive oil, minced garlic, honey, dijon mustard, salt and pepper. That's all! Simple, easy, and delightful.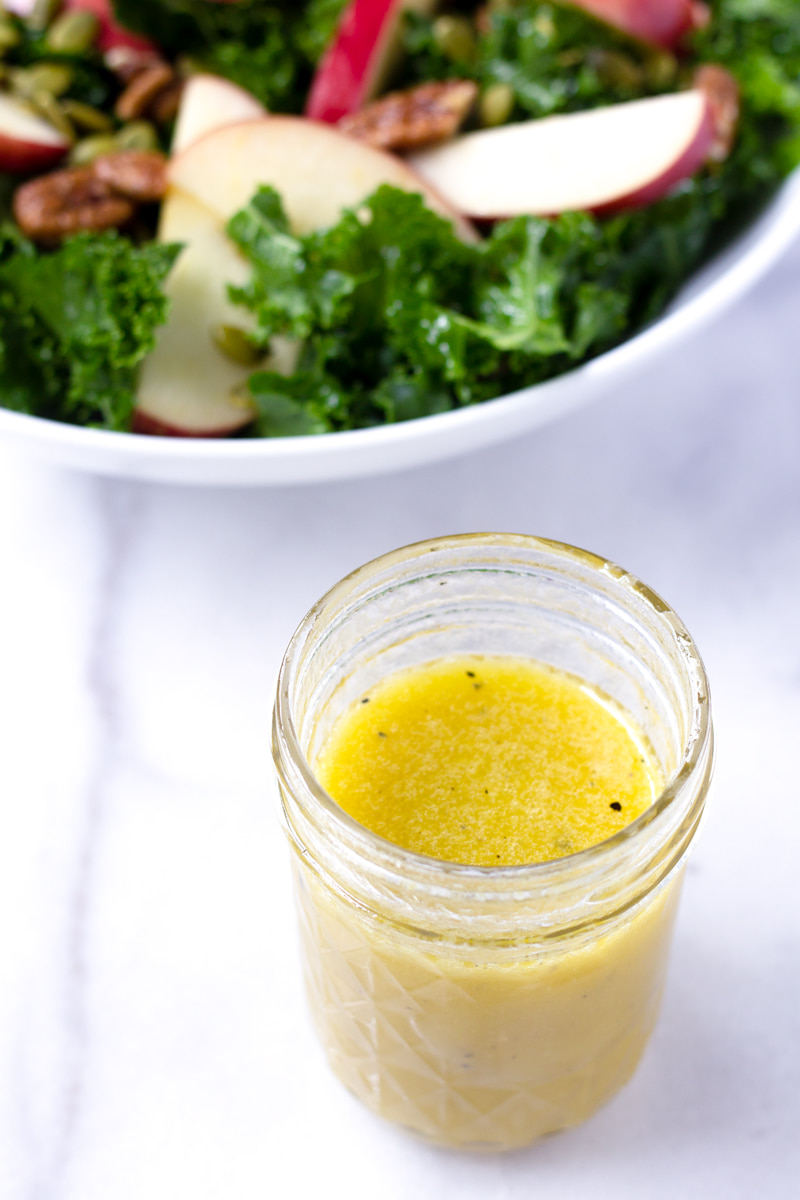 Serve this salad as a side! It would be a perfect side salad for Thanksgiving! I know, I know, it's only the beginning of October, but I am already thinking about all the festivities to come!
Some Ideas to Serve This Kale and Apple Salad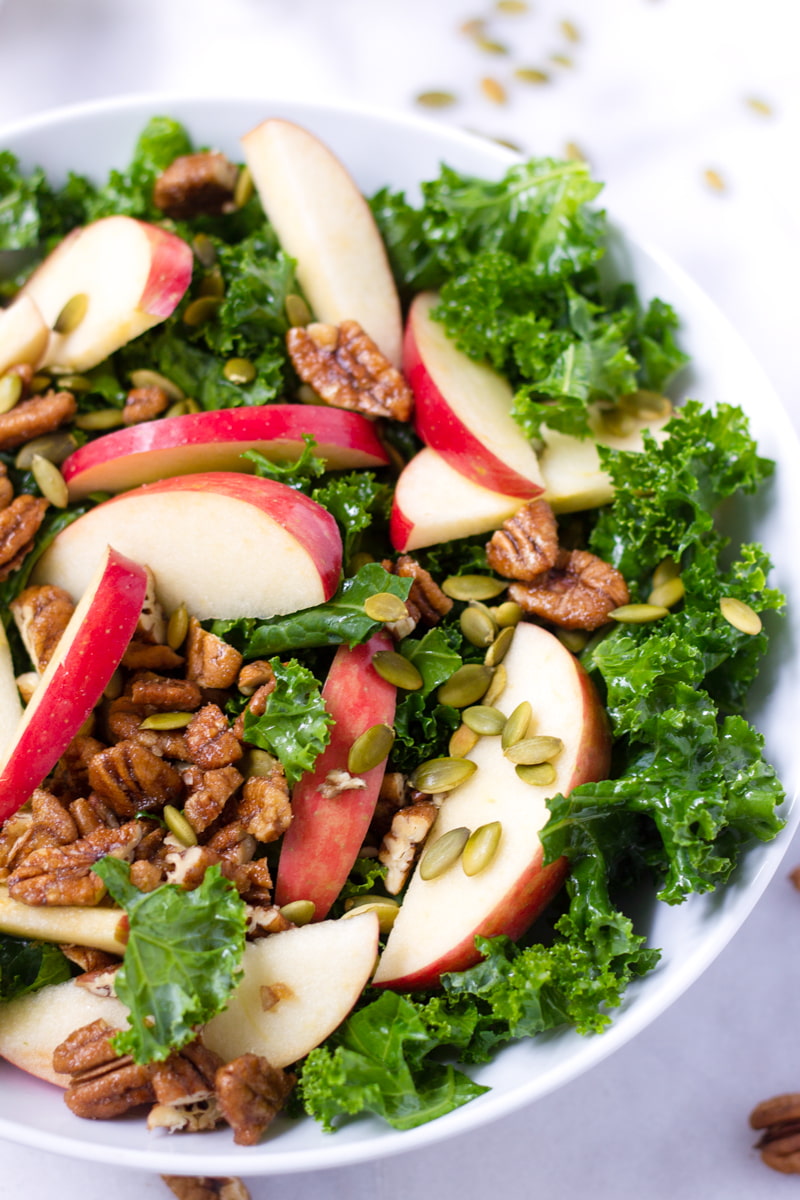 And don't forget to pin my recipe for later!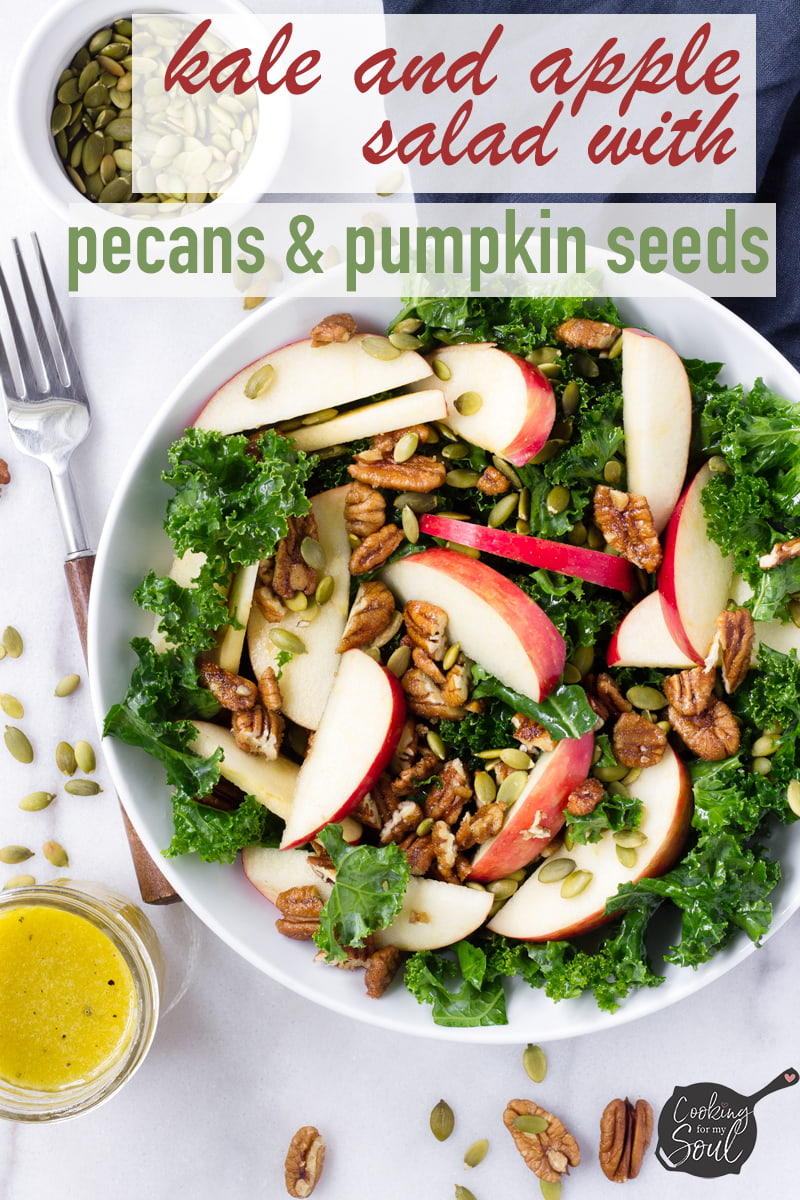 Kitchen Tips
I love honeycrisp apples, which is what I used. You can use any type of apples you'd like!
To toast pumpkin seeds, simple add them to a small skillet over medium fire. Stir or shake continually until lightly toasted and nutty.
Let the candied pecans cool down and harden before serving.You can roughly chop the candied pecans after they have cooled down.
If you try my recipe, use #cookingformysoul on Instagram! Follow me on Pinterest, Instagram, Facebook for the latest fun updates and recipes!
Kale and Apple Salad with Candied Pecans and Pumpkin Seeds
Fall is here and we all need to eat apples! Try this kale and apple salad, topped with candied pecans and pumpkin seeds, and drizzled with a great apple cider vinaigrette.
Ingredients
6

cups

chopped kale (about 1 bunch)

1

teaspoon

apple cider vinegar

Olive oil

2

honeycrisp apples, sliced

1/2

cup

pumpkin seeds, toasted
How to Make Candied Pecans
1/2

cup

brown sugar

2

tablespoons

water

2

cups

pecan halves

A pinch of salt
Apple Cider Vinaigrette
1/4

cup

apple cider vinegar

2/3

cup

extra virgin olive oil

1

clove

minced garlic

1

tablespoon

honey

1

teaspoon

dijon mustard

Salt and pepper to taste
Instructions
Make the apple cider vinaigrette: in a mason jar, combine all vinaigrette ingredients. Cover and shake well to combine.

Make candied pecans: Heat a small skillet to medium-low meat. Melt brown sugar and water. Stir in pecans until coated with melted sugar. Add a pinch of salt. Transfer to a plate and let cool. When cooled, roughly chop the candied pecans.

Massage the kale: Place chopped kale in a large bowl. Add a drizzle of olive oil, 1 teaspoon apple cider vinegar, and a pinch of salt. Using your hands, massage kale until softened. Add apples, pumpkin seeds, and candied pecans. Toss to combine.

Drizzle with some apple cider vinaigrette to taste and serve. Enjoy!