Chicken Fajita Bowls are a great idea for dinner or for meal prep! This delicious Chicken Fajita Bowl recipe is packed with flavor. Imagine cilantro lime rice, fajita chicken and vegetables, roasted corn, tomatoes, and guacamole all in one bowl!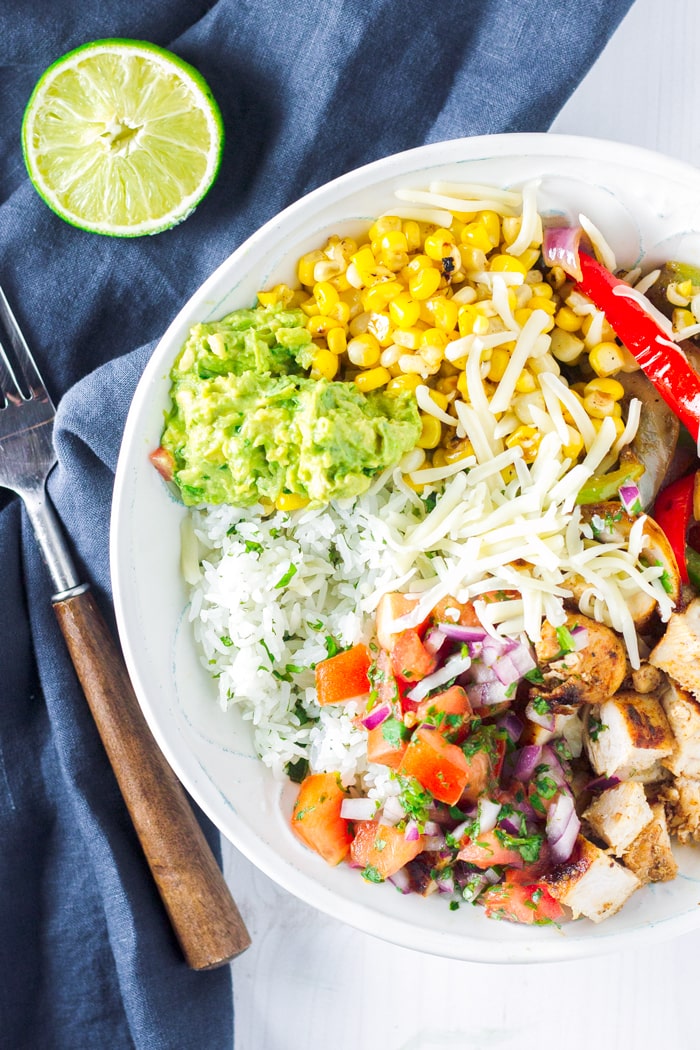 These easy flavor-packed chicken fajita rice bowls are, no joke, the best thing ever. When my husband took a bite of his chicken fajita bowl, he literally said "OMG" and then went silent as he devoured it. If you know me well, you'll know that anything with explosive flavors is right up my alley, especially if it involves Tex-Mex or Mexican flavors.
And the best part about these amazing chicken fajita bowls is that they are highly customizable! You can add whatever extra toppings you want. I added guacamole, tomatoes, cheese, and roasted corn. For more ideas, see below. I listed all my favorite toppings!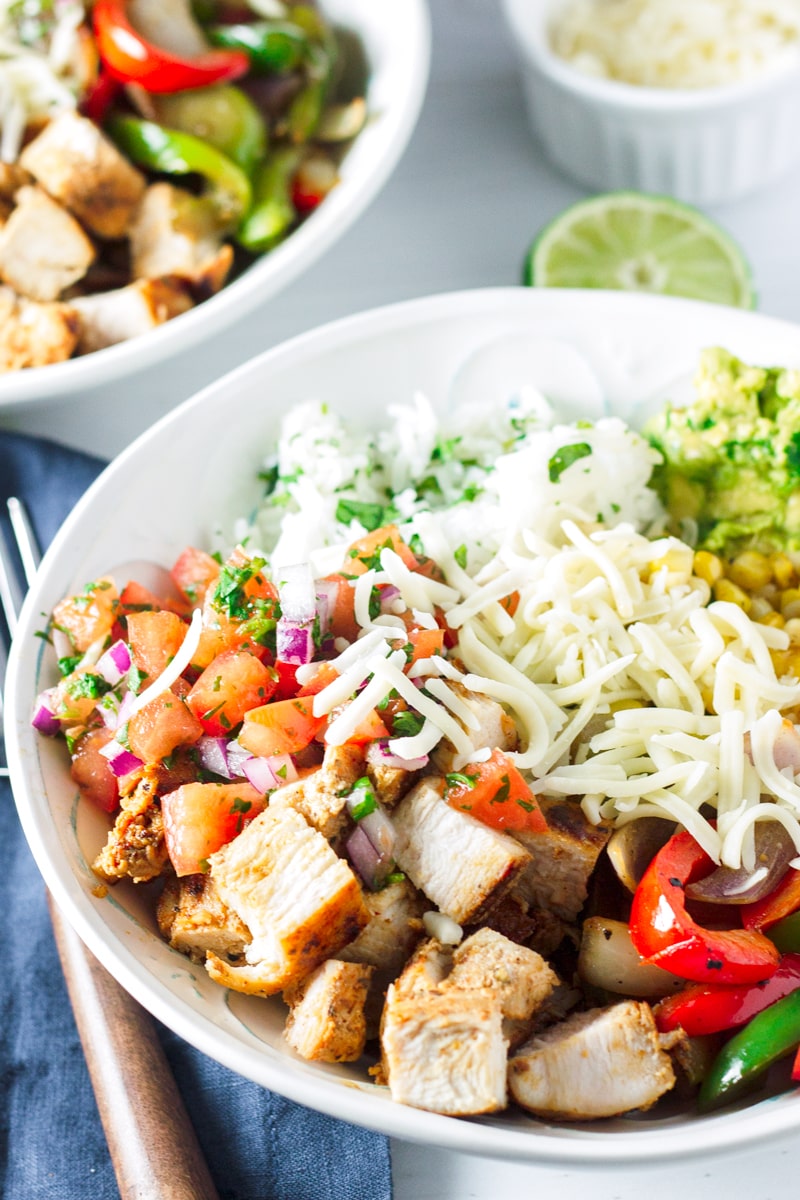 How to Make Easy Chicken Fajita Bowls
While there are a few components to this delicious chicken fajita rice bowl, each component is pretty easy.
Quick fajita chicken marinade: in a large Ziploc bag, combine all the fajita marinade ingredients and the chicken breasts. Seal tightly and let sit for a few minutes to let the flavors penetrate.
Make the cilantro lime rice: bring 4 cups water to a boil, add 2 cups of rice, and reduce to a simmer. Simmer for about 20 minutes until tender. When ready, stir in finely chopped cilantro and lime juice.
Cook the corn on a skillet on high heat until charred. Transfer to a bowl.
Turn down heat to medium and cook chicken, about 6-8 minutes per side.
Turn heat up to high and cook the bell peppers and onions.
Assemble the bowls: add rice, sliced chicken, veggies, tomatoes, onions, corn, guacamole, and cheese.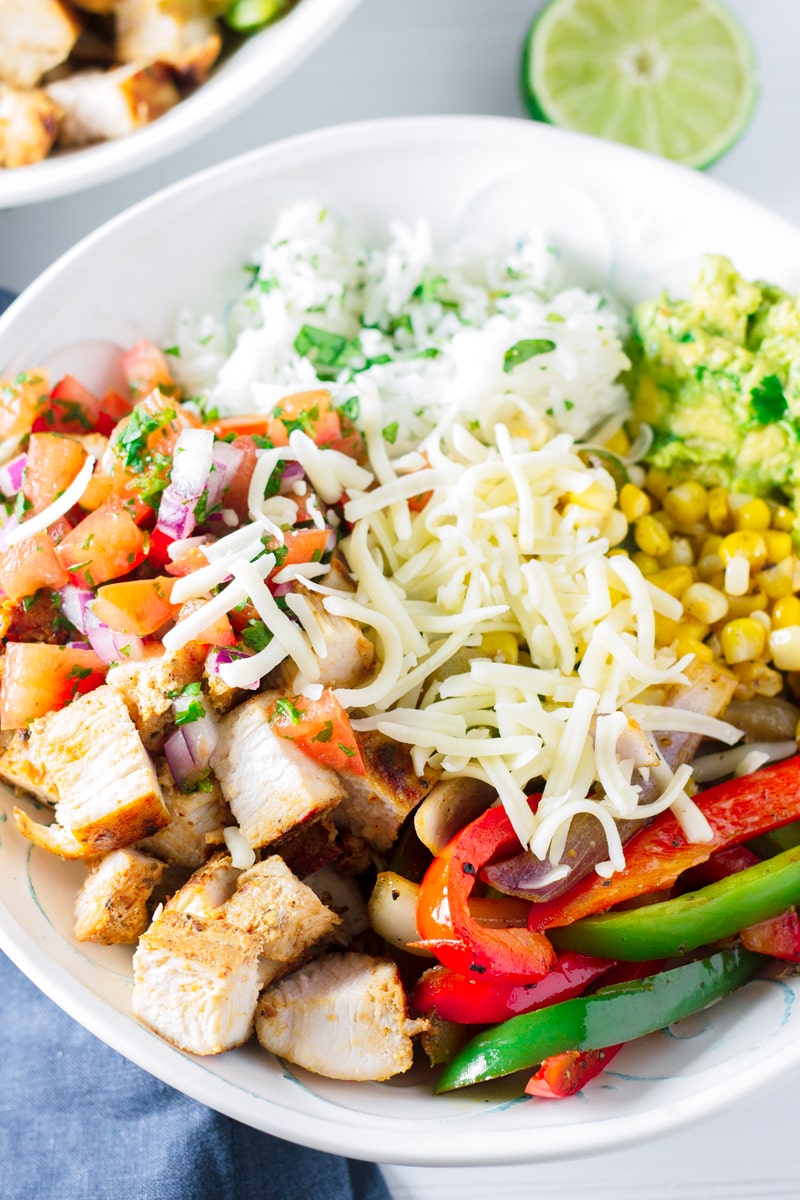 Chicken Fajita Rice Bowl Meal Prep Tips
A few tips to turn this into meal prep bowls:
Add the following to a container:

cilantro lime rice
cooked fajita chicken
cooked fajita veggies
roasted corn

Pack these separately:

shredded cheese: you don't want this to melt when heating it up
diced tomatoes and onions: seal in a smaller container or Ziploc bag
guacamole: seal tightly in a Ziploc bag to prevent it from getting brown
When ready to eat, heat up the container and then add the toppings. It's that easy!
More Chicken Fajita Bowl Topping Ideas
The more toppings for your fajita bowls, the better! Right? Here are some ideas:
beans
diced avocado (instead of guacamole)
sour cream
salsa
shredded lettuce
substitutions: fajita shrimp or steak
I hope you like my chicken fajita bowl recipe! This was a big hit in my house and I'm sure it will be the same for you. Thank you for reading, and if you have any questions or want to say hi, just leave me a comment below.
More Mexican and Tex-Mex inspired recipes:

If you try my recipe, use #cookingformysoul on Instagram! Follow me on Pinterest, Instagram, Facebook for the latest fun updates and recipes!
Chicken Fajita Bowls
These Chicken Fajita Rice Bowls are packed with explosive flavors. Try my easy chicken fajita rice bowl is perfect for dinner or even meal prep!
Ingredients
2

cup

long grain white rice

-

(Basmati or Jasmine)

4

cups

water

1/4

cup

finely chopped cilantro

1

tablespoon

lime juice, or more to taste

1

cup

corn kernels (about 2 ears of corn)

1

red bell pepper, sliced

1

green bell peppers, sliced

1

medium yellow or red onion, sliced

Salt and pepper to taste

Shredded Monterey Jack cheese or sharp white cheddar

-

(topping)

Guacamole -

(topping)

Diced tomatoes and diced onions

-

(topping)
Chicken Marinade
3

chicken breasts, pounded to 1/2 inch thick

1

tablespoon

olive oil

1

teaspoon

chili powder

1

teaspoon

paprika

1

teaspoon

garlic powder

1/2

teaspoon

ground cumin

1/2

teaspoon

dried oregano

1

teaspoon

Kosher salt

1/4

teaspoon

ground black pepper
Instructions
Prepare the chicken: Combine all marinade ingredients and chicken breasts in a Ziploc bag and seal. Let sit while you prepare the rest of the ingredients.

Prepare the rice: In a saucepan, add 4 cups water and 2 cups rice. Bring to a boil and then turn heat down to simmer. Simmer for 20 minutes until tender. Turn off heat and let it steam for 5-10 minutes. Stir in cilantro and lime juice.

In a large skillet, heat some olive oil to high heat. Cook the corn, undisturbed, until it gets a slight char, about 2-3 minutes. Stir and keep cooking until tender.

Bring heat down to medium. Cook chicken breasts, about 6-8 minutes each side, until cooked through or internal temperature reaches 165 degrees F. Set aside.

Bring heat to high. Add the bell peppers and onion and cook until you get a char, stirring occasionally, about 10 minutes. Season with salt and pepper to taste. Set aside.

Slice the chicken. You can also cut it into cubes.

Assemble each bowl: add rice, chicken, fajita vegetables, diced tomatoes and onions, guacamole, corn, and cheese.