If you're a big lasagna fan, but hate all the work it takes to prepare it, try this Easy Skillet Lasagna! It's an easy one-pan meat lasagna that I love to make on weeknights. I use no-boil oven-ready lasagna sheets for convenience, a quick hearty meat sauce, ricotta, herbs, mozzarella, parmesan. I promise, this skillet lasagna comes out so delicious and cheesy!
If you're looking for an easy and comforting weeknight lasagna recipe, this is it. Make it tonight!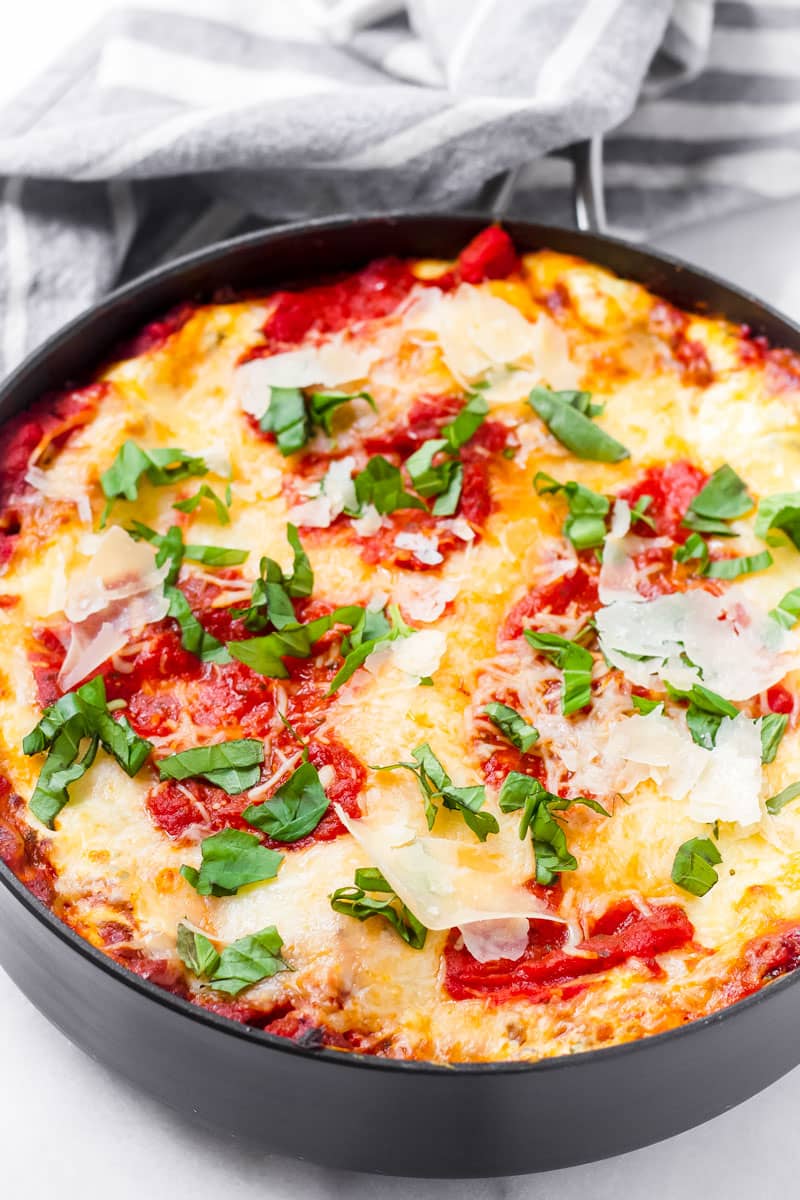 I absolutely love lasagna, but it's one of those dishes that takes a lot of time to prepare, which is why I usually get it at restaurants instead of making it at home…that is until the day I made this easy skillet lasagna!
That's right! It's a one-pan lasagna recipe, made with a quick meat sauce, a quick and creamy ricotta mix, no-boil oven-ready lasagna noodles, and lots of cheese. It's the perfect weeknight lasagna recipe.
This skillet lasagna is so delicious, easy, and comforting. You can even prepare several of the ingredients ahead of time.
Let me show you how to make it!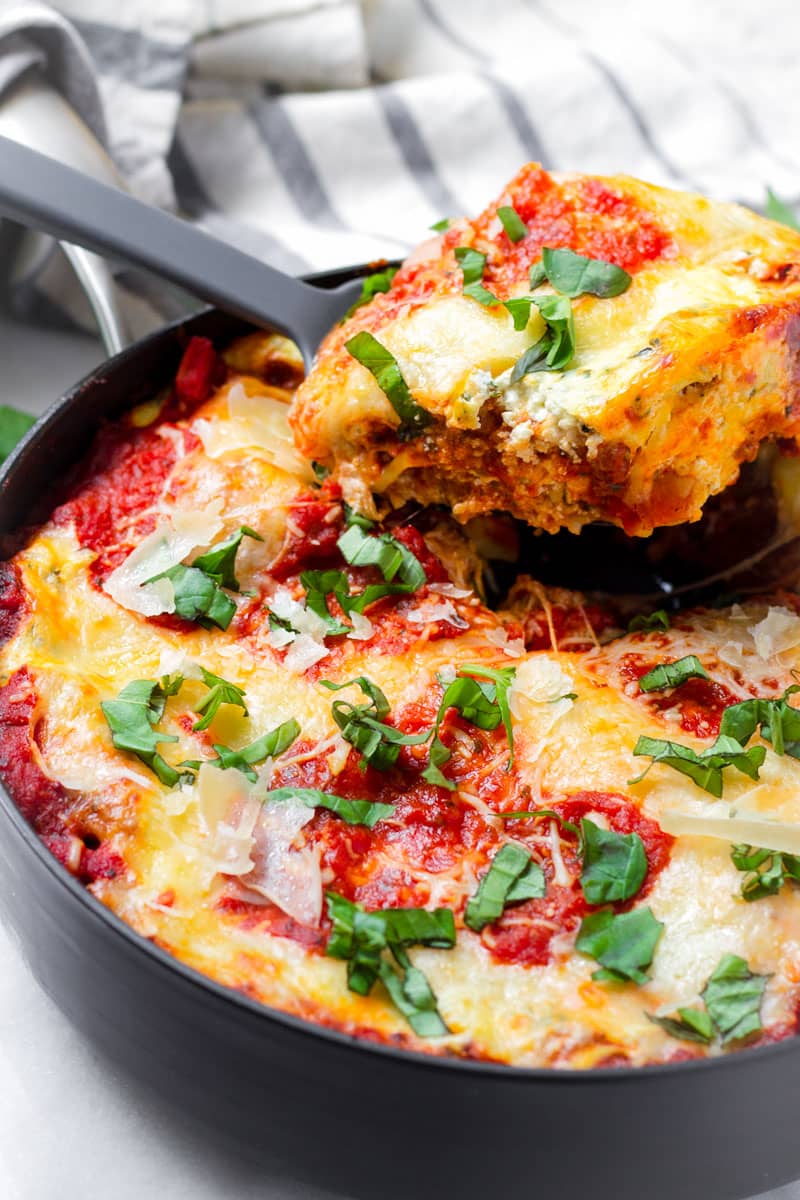 Easy and Convenient
Here is what I do to make this skillet lasagna recipe super easy and convenient:
It's a one-pan recipe, which means minimal clean-up.
For the meat sauce, I use store-bought marinara sauce. Use your favorite brand.
Instead of bechamel sauce, I use ricotta. I know, I know…using bechamel is the traditional way to make lasagna, but ricotta is a great alternative if you're looking for a quick option.
Use no-boil, oven-ready lasagna noodles: No-boil oven-ready lasagna noodles are a big time-saver, and you can't even taste the difference between this one and regular lasagna noodles. As long as the lasagna sheets are completely covered by the sauce, they will soften and cook in the oven.
You can have a delicious and comforting lasagna even on a weeknight! It takes about 1 hour to make, and many of the components, such as the meat sauce, can be prepared the day before.
Now, let me make it clear…while this one-pan lasagna recipe is absolutely delicious, nothing compares to a traditional lasagna bolognese! I'm already doing some recipe testing for traditional lasagna and can't wait to share it with you.
But for those weeknight lasagna cravings, this amazing skillet meat lasagna is the way to go!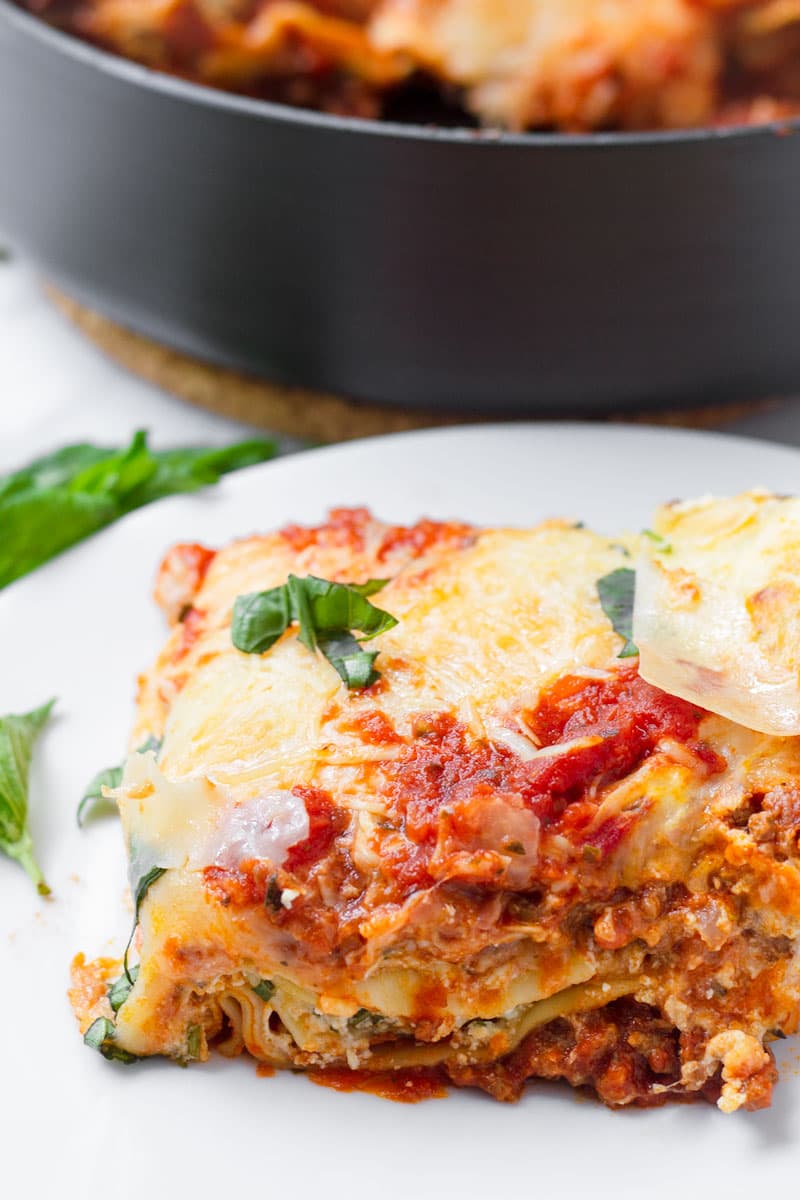 Ingredients You'll Need
A lot of the ingredients I use are pretty much shortcuts. For example, for the meat sauce, I use store-bought marinara sauce. Just make sure it's good quality marinara! I also use no-boil oven-ready lasagna sheets, which makes this recipe so easy.
Here are the ingredients in this recipe:
Ground beef and Italian sausage: I love using both, especially the Italian sausage because it adds lots of flavor.
Marinara sauce: For the meat sauce. Use your favorite brand or homemade marinara.
Yellow onion and garlic: These are the aromatics to build flavor for the meat sauce.
Italian seasoning: For flavor.
Ricotta cheese: For creaminess and for the layers.
Egg: The binder for the ricotta mixture.
Fresh basil: For the ricotta mixture. It will add great fresh flavors.
No-cook oven-ready lasagna sheets: Definitely a huge time-saver!
Mozzarella cheese: You'll need about 4 cups for a 10-inch skillet. Make sure it's shredded.
Parmesan cheese: Shredded or grated is fine. It will add amazing savory flavors.
Italian parsley or basil: For garnish.
Salt and pepper: To taste.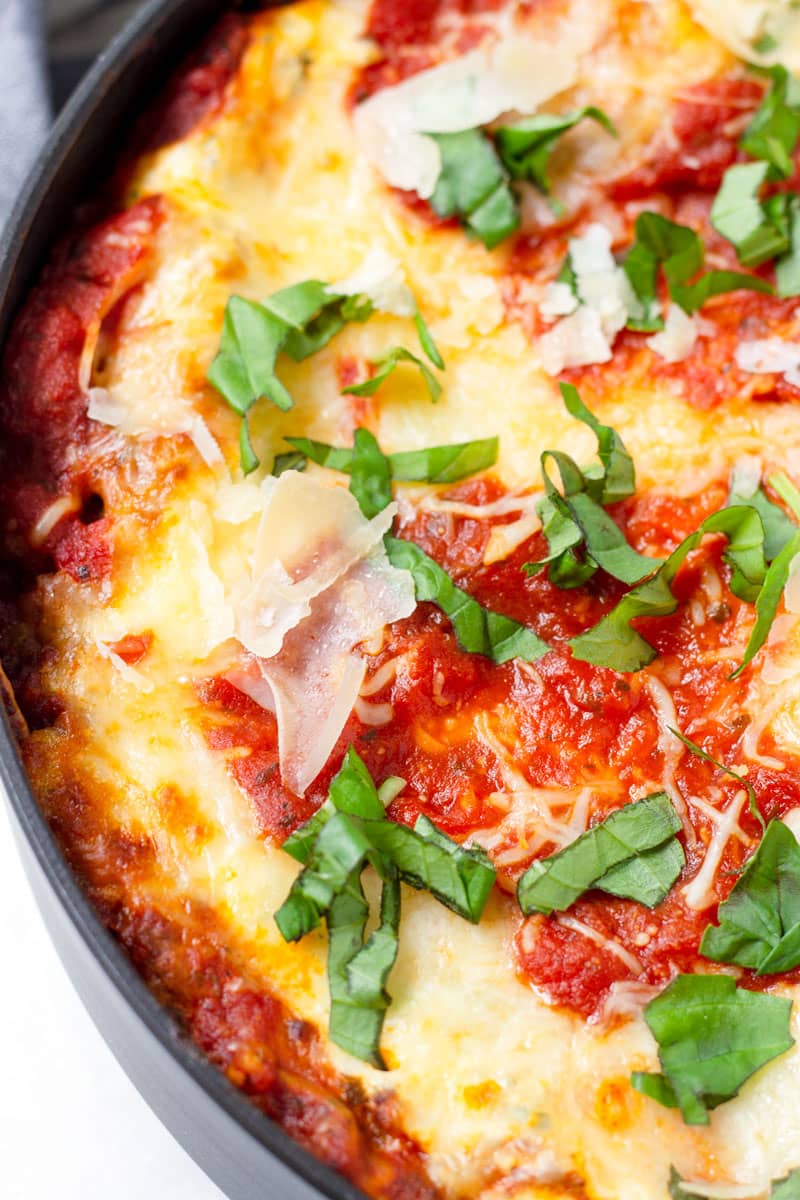 How to Make This Skillet Lasagna
To give you an idea of how easy this skillet lasagna is made, here is a top-level summary.
Per usual, the specific instructions are in the recipe card below.
Preheat oven to 375 degrees F.
Make the meat sauce: In a deep 10-inch oven-proof skillet, cook the ground beef and the Italian sausage (casings removed). Then, cook the garlic and onions, and add the marinara sauce. Simmer for like 10 minutes to allow the flavors to come together. Transfer the sauce to a bowl, leaving only about 1 cup of the sauce in the skillet.
Make the ricotta mix: Simply mix the ricotta, egg, basil, parmesan, salt, and pepper in a bowl. So easy!
Build the lasagna in the same skillet: Layer the oven-ready no-boil lasagna sheets with the meat sauce, ricotta mixture, and cheese. About 3 to 4 layers should be good!
Bake! For about 25 minutes, covered with foil, and then uncovered for another 10 minutes. If desired, broil the top for 1-2 minutes until golden brown and bubbly.
That's it! This shortcut lasagna recipe is absolutely delicious, comforting, and SO EASY.
Plus, it's a one-pan recipe, which means easy clean-up.
I love every layer of this lasagna. It is so, so good. You will love it!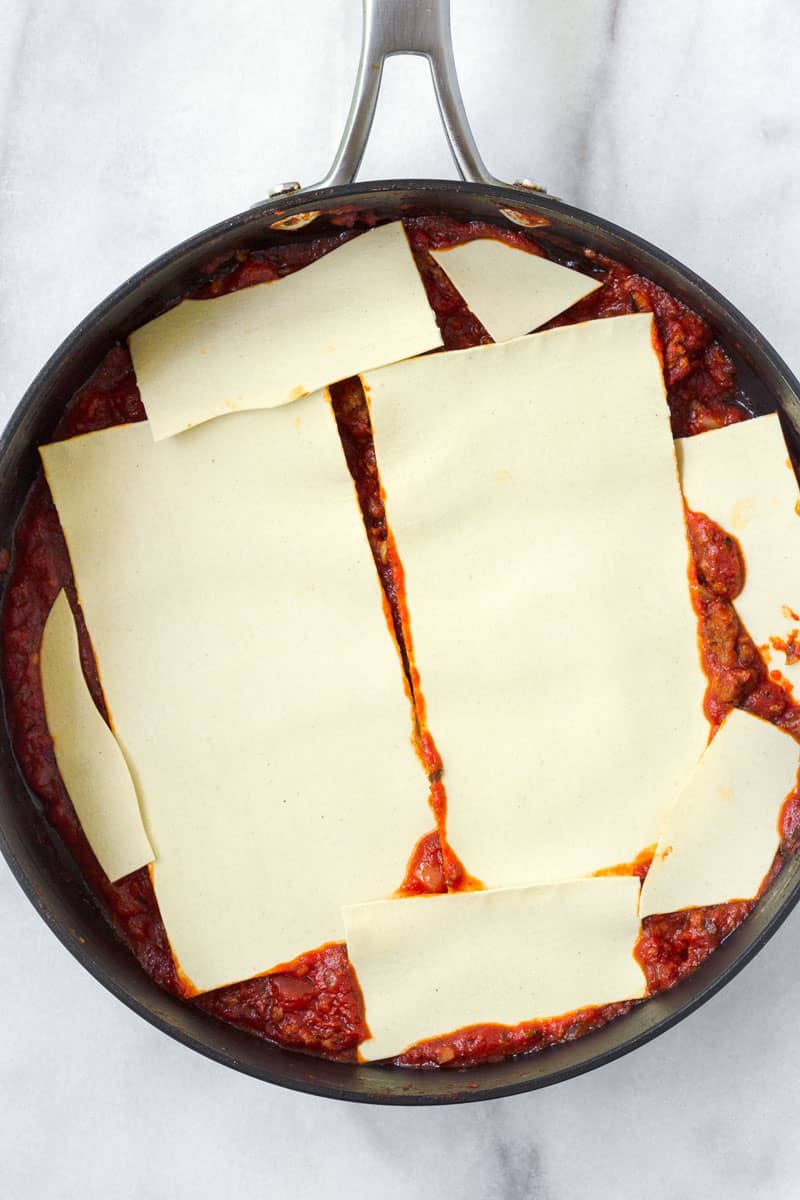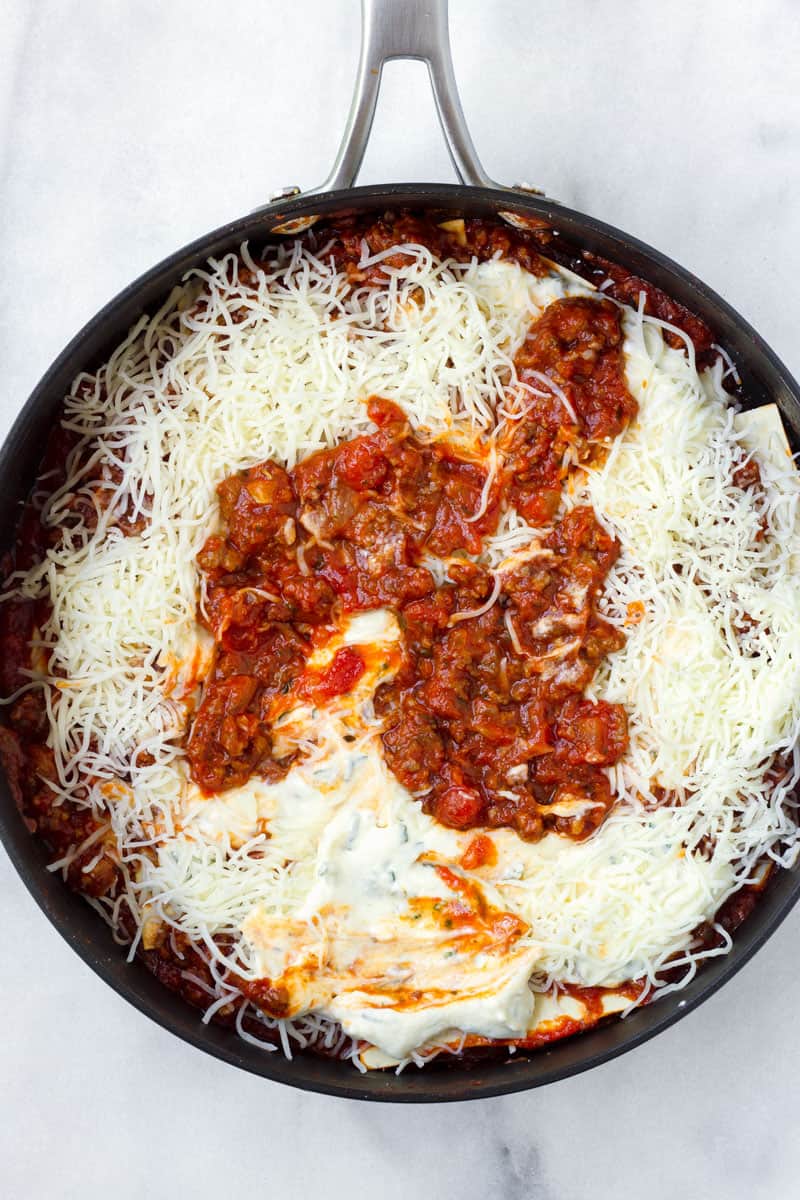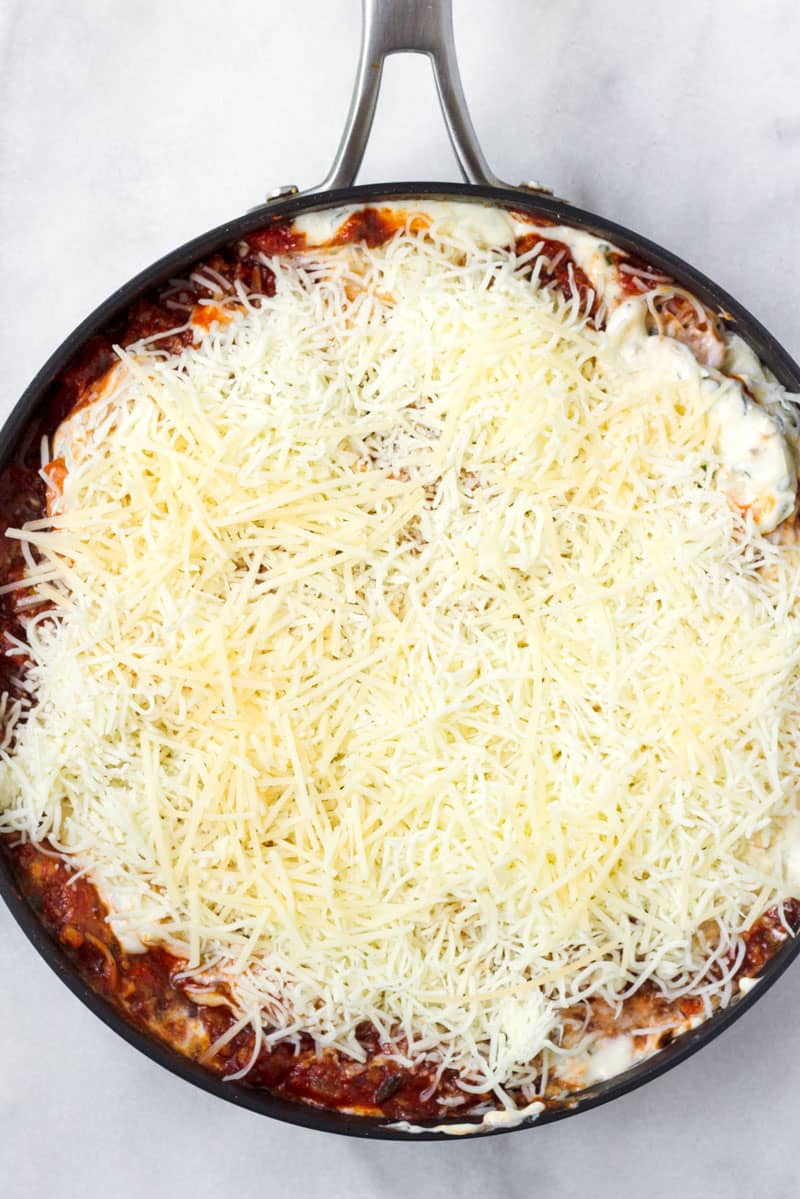 Pairings and Sides
My go-to side dish for lasagna is always this easy cheesy garlic bread, but on occasion, I will serve it with my panzanella salad or my shaved brussels sprouts salad.
If you're looking for appetizer pairings, try these cute little caprese skewers or tomato bruschetta!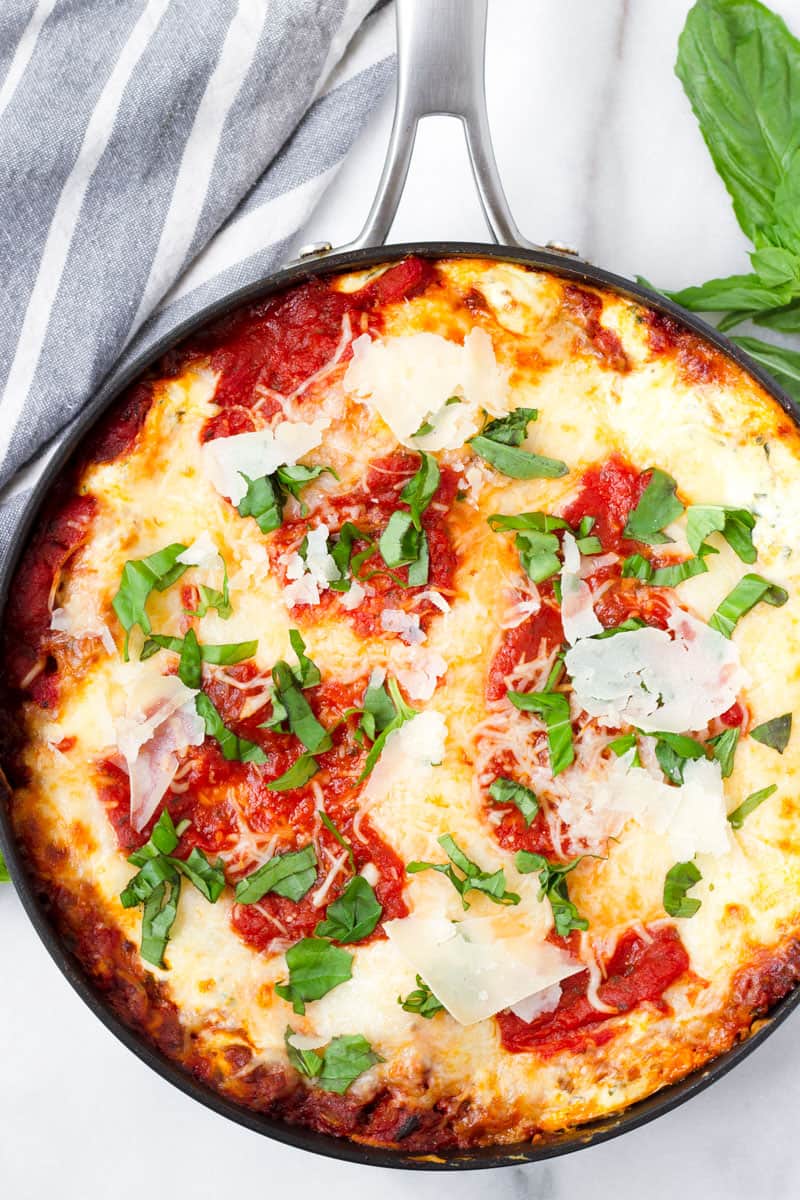 Simply the best weeknight lasagna recipe ever! Not only is it easy and convenient, but also so flavorful.
Every ingredient in this recipe was tested for yumminess and ease. The meat sauce is absolutely delicious and hearty, and the ricotta mix is rich and creamy. The lasagna sheets don't need pre-boiling, which is a huge plus!
It's also a one-pan skillet lasagna recipe, which means minimal clean-up. This might be my favorite part about this recipe.
If you have crazy lasagna cravings during the week, this is it. Make it ASAP. You will absolutely love it! Makes great leftovers too.
Tips for Success
Use no-boil, oven-ready lasagna sheets to save time (and energy!). Like its name says, there's no need to pre-boil them or anything. Just make sure that they are fully submerged in the sauce. This will help the lasagna sheets soften as they cook.
The meat sauce can be prepared the day before and stored in the fridge.
Easy Skillet Lasagna
This delicious weeknight skillet lasagna is so easy and comforting. It is a one-pan recipe for minimal clean-up. You will love the quick and delicious meat and marinara sauce, as well as the ricotta and basil filling. It's cheesy, cozy, and so delicious!
Ingredients
½

pound

ground beef

½

pound

Italian sausage

-

(casings removed)

2

(24 oz) jars

marinara sauce

-

(your favorite brand or homemade)

½

cup

diced yellow onion

4

cloves

garlic, minced

1

teaspoon

Italian seasoning

15

oz

ricotta cheese

1

large egg

2 to 3

tablespoons

chopped fresh basil, plus more for garnish

10 to 12

no-cook, oven-ready lasagna sheets

-

(I use Barilla brand)

3 ½

cups

shredded mozzarella cheese, plus more as needed

½

cup

shredded or grated parmesan cheese, divided
Instructions
Preheat oven to 375 degrees F.

In a deep oven-proof 10-inch skillet, cook the ground beef and sausage over medium high heat. Drain the extra fat. Transfer the cooked meat to a plate, and set aside.

On the same skillet over medium high heat, heat a few drizzles of olive oil and add the diced onions and minced garlic. Cook until fragrant, about 1-2 minutes. Return the cooked meat to the skillet. Add the marinara sauce and Italian seasoning, and stir everything together. Season with salt and pepper to taste. Bring to a low simmer, uncovered, and simmer for 10 minutes, stirring occasionally.

Meanwhile, in a medium bowl, combine the ricotta with the egg, basil, ¼ cup of the parmesan cheese, ½ teaspoon salt, and ¼ teaspoon of ground black pepper. Set aside.

Leave only about 1 cup of the meat sauce in the pan, and transfer the rest of the meat sauce to another bowl.

Build the layers: Add a layer of lasagna sheets on top of the sauce that remains in the skillet (you may have to break up a few lasagna sheets to cover the edges). Then, on top of the lasagna sheets, spread some of the ricotta mixture, some of the meat sauce, and some mozzarella cheese. Repeat this process to get 3 to 4 layers. The last layer should be meat sauce and the mozzarella on top. Sprinkle the remaining ¼ cup of parmesan cheese. The quantities per layer don't need to be exact, just try to make each layer relatively even.

Cover loosely with aluminum foil. Bake at 375 degrees F for 25 minutes. Uncover and bake for 10-12 more minutes until bubbly. Broil for 1-2 minutes or until golden brown on top.

Garnish with chopped basil. Serve immediately. Enjoy!
Notes
Special equipment: 10-inch deep oven-proof skillet.
Make ahead tips: the meat sauce can be made 1 day ahead and refrigerated. Before using, reheat it first.
If you can't find no-boil oven-ready lasagna sheets, you can use traditional lasagna sheets. But you will have to pre-boil them per package directions.
Storing: Store leftovers in the fridge for up to 3 days.