Slow cooker dinners are the best! Lately, I've been dreaming of this easy Slow Cooker Short Rib Ragu. It is made with tender and flavorful short ribs cooked in an amazing tomato sauce, and served with pappardelle pasta and fresh burrata!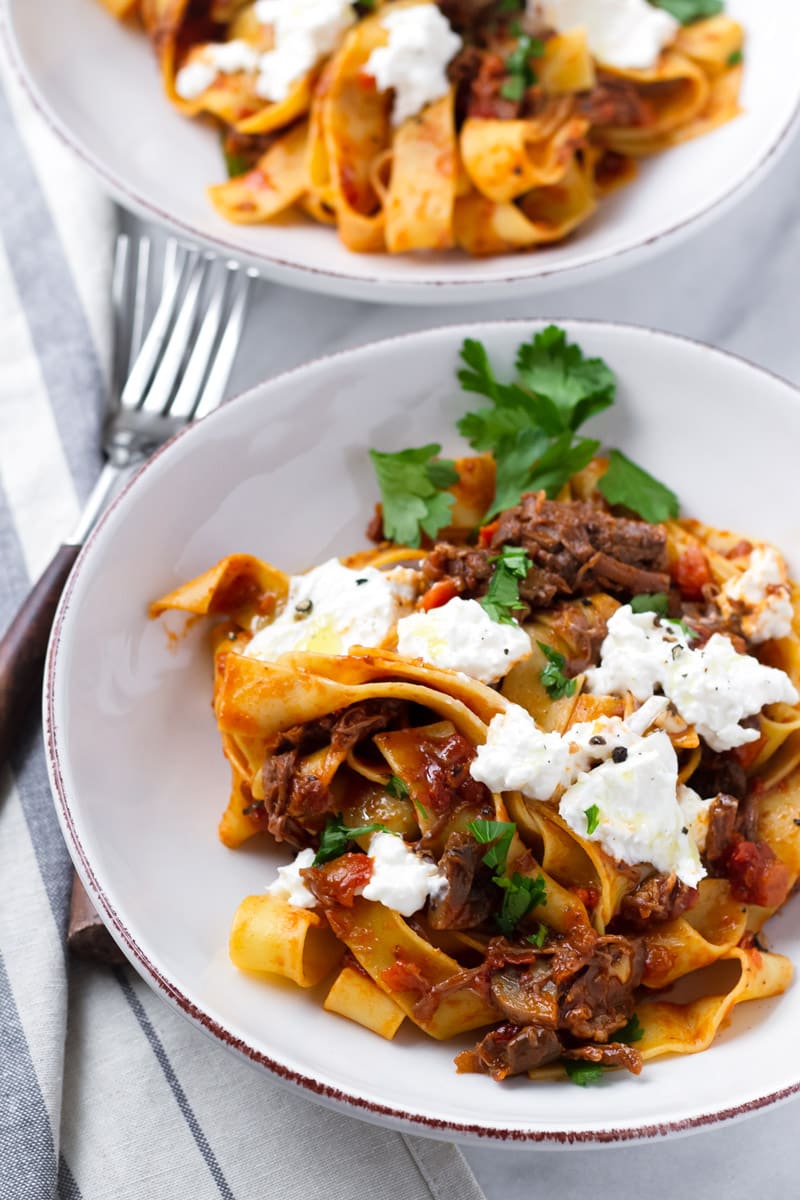 A few months ago, I went to a restaurant in Seattle that served an AMAZING pappardelle tossed with short rib ragu. I fell in love with it. So I had to recreate the short rib pasta at home, and let me tell you…it's sooo delicious! My version: slow cooker short rib ragu. And to make it even better, I served it with the absolute best cheese on the planet: fresh burrata!
I've made this slow cooker short rib ragu several times, and it's always a hit. Family dinners, date nights, potlucks…you name it. It's a great weekend dinner option that everyone will love.
Pasta is the way to my heart, especially if it involves short ribs and burrata. Emphasis on burrata.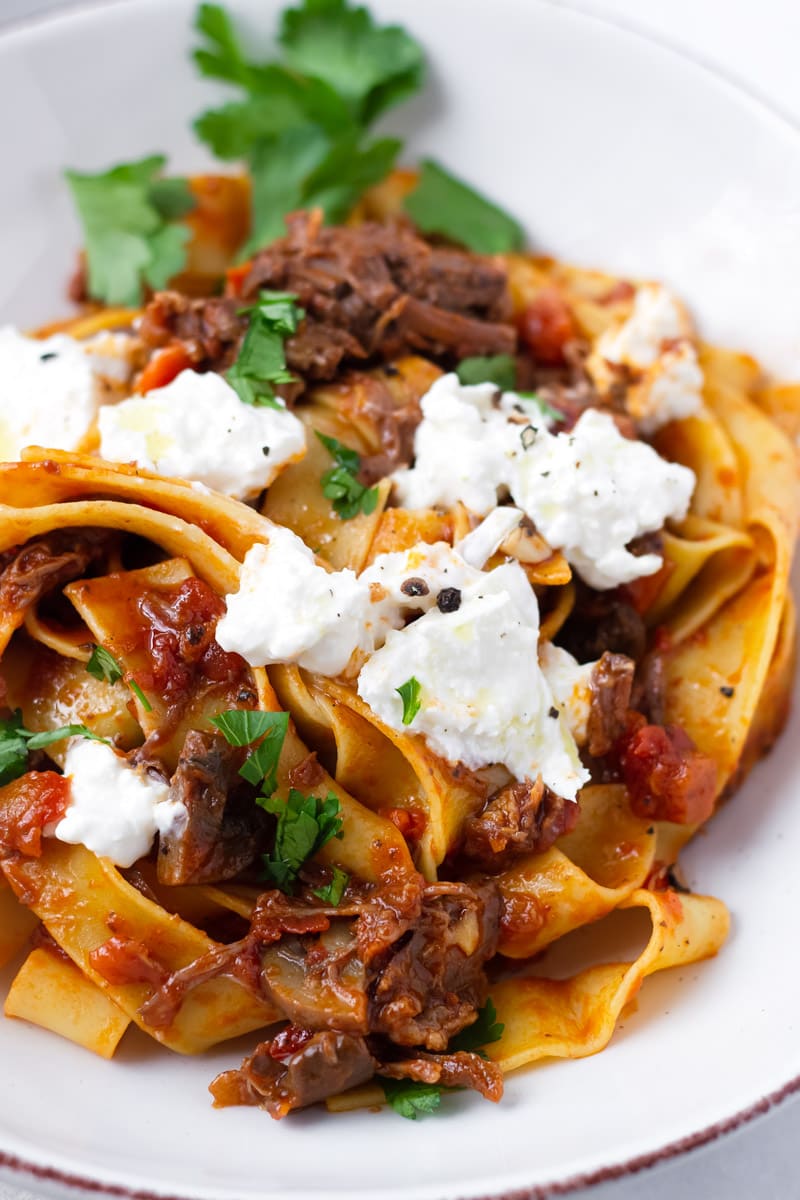 Short Rib Ragu Ingredients
Ragu is a meat-based sauce used in Italian cuisine, and is most commonly made with a flavorful tomato sauce. What characterizes ragu is that it's a meat sauce, meaning that there is more meat than tomato in the sauce. It makes a hearty meal for sure!
You'll need these ingredients:
Short ribs: Use bone-in preferably.
Prosciutto: Adds flavor. Make sure you chop it real small – it's supposed to "melt" in the sauce.
Olive oil: For the pan.
Yellow onion and garlic: The aromatics and flavor base.
Cremini mushrooms: Because…why not?!
Carrots: For flavor. Dice these real small as they are supposed to "melt" in the sauce.
Tomato Paste: Great flavor and color builder.
Red or white wine: The wine will add tons of flavor. I prefer red wine.
Canned crushed tomatoes: For flavor and for the liquid component of the sauce.
Italian seasoning and bay leaves: More aromatics!
Salt and pepper

Can you imagine all those ingredients together in each single bite?! Heavenly.
For serving, use cooked pasta (I used pappardelle), parsley, and cheese. I love pairing this short rib ragu with burrata cheese, but you can use any cheese you'd like! Great options are parmesan or pecorino romano.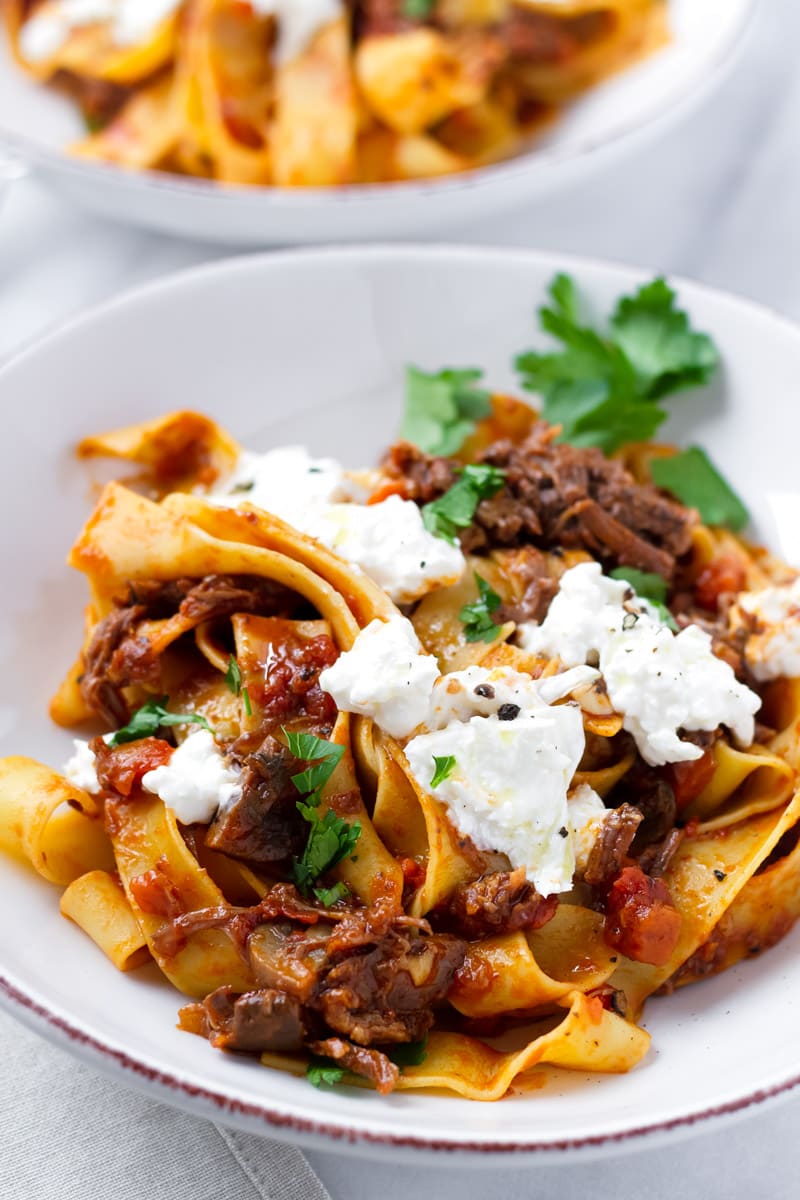 Build the Flavors on the Stovetop First
I know this is a slow cooker short rib ragu recipe, but the cooking process actually starts on the stovetop first, and for a good reason: ultra flavor!
After building the flavors by browning the meat and cooking the aromatics in a Dutch oven or skillet, you'll transfer everything to the slow cooker so the meat can cook until it becomes tender and falls apart. Slow cooking the sauce will also help develop the flavors even more. It's pretty amazing!
So…making this short rib ragu consists of:
Starting on the stovetop: browning the meat and cooking the aromatics to seal in all the flavors.
Finishing in the slow cooker: to allow the meat to become tender and to fully develop flavors.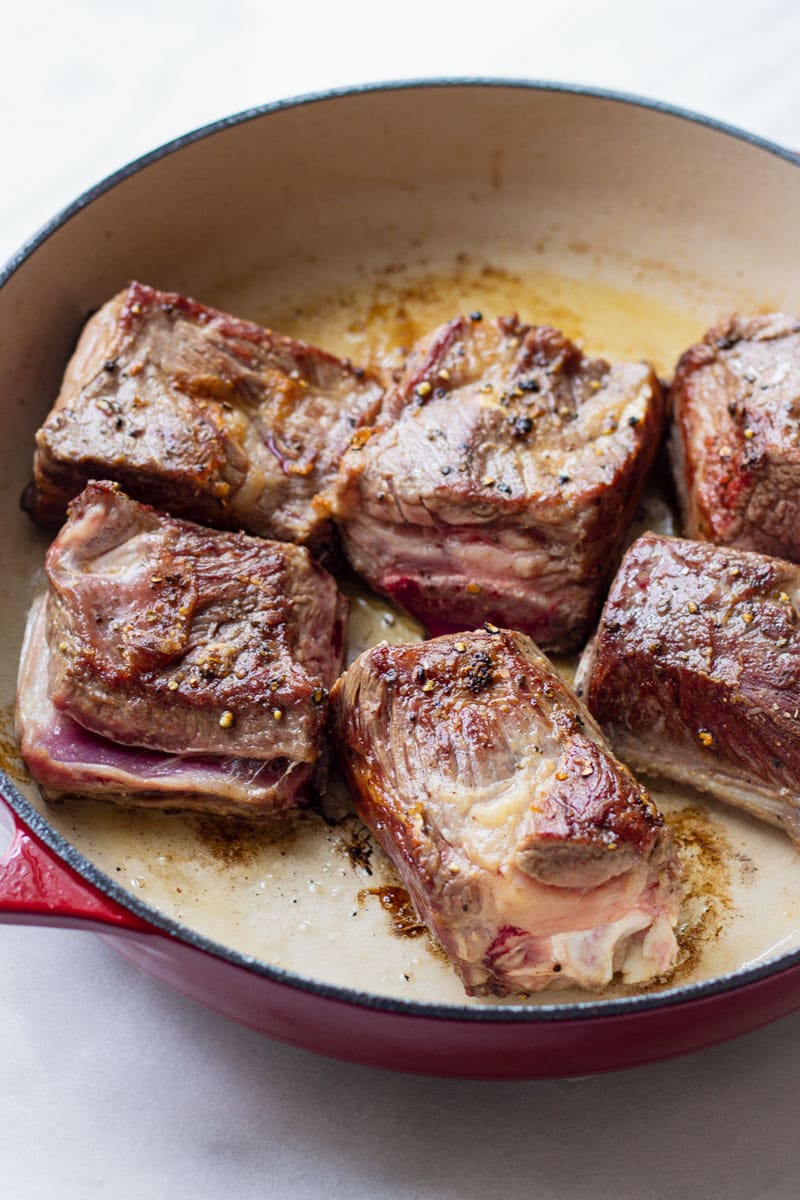 Slow Cook Until Tender
Once you get the meat all browned and the tomato base ready, add both to the slow cooker. Cook on HIGH for 4 hours or LOW for 8 hours.
When the cooking time is up, remove the short ribs and shred with a fork. Discard the bones. Then, return the shredded meat to the slow cooker and combine with the amazing tomato sauce.
It's that simple. All that's left to do is serve and eat!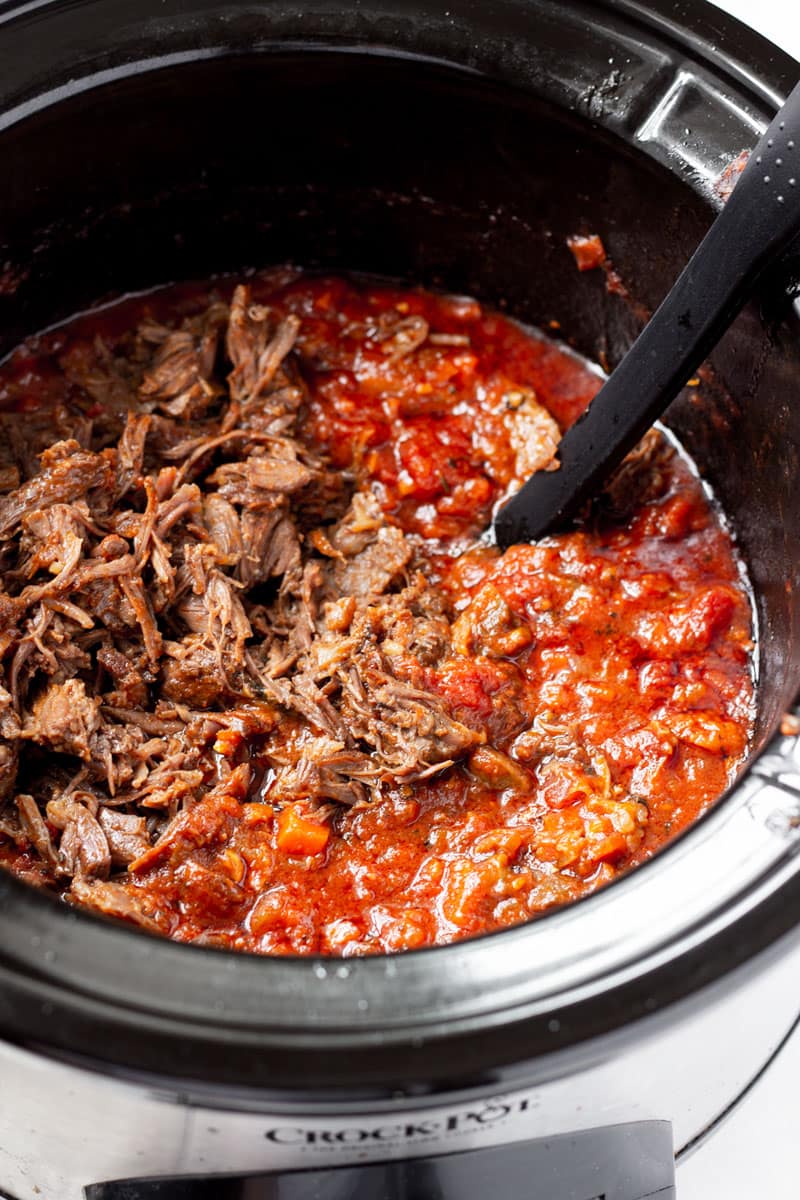 Serving the Short Rib Ragu!
Here's how I would serve it: Fresh pappardelle pasta cooked al dente, tossed with the short rib ragu…then topped with creamy burrata cheese, drizzled with extra virgin olive oil, and garnished with freshly ground black pepper and Italian parsley. So, sooo GOOD! I am drooling over here!
Other ideas:
Other pastas: rigatoni, fettuccine, tagliatale.
Gnocchi
Polenta
If you don't like burrata, just use your favorite cheese! Other great options are parmesan and pecorino romano.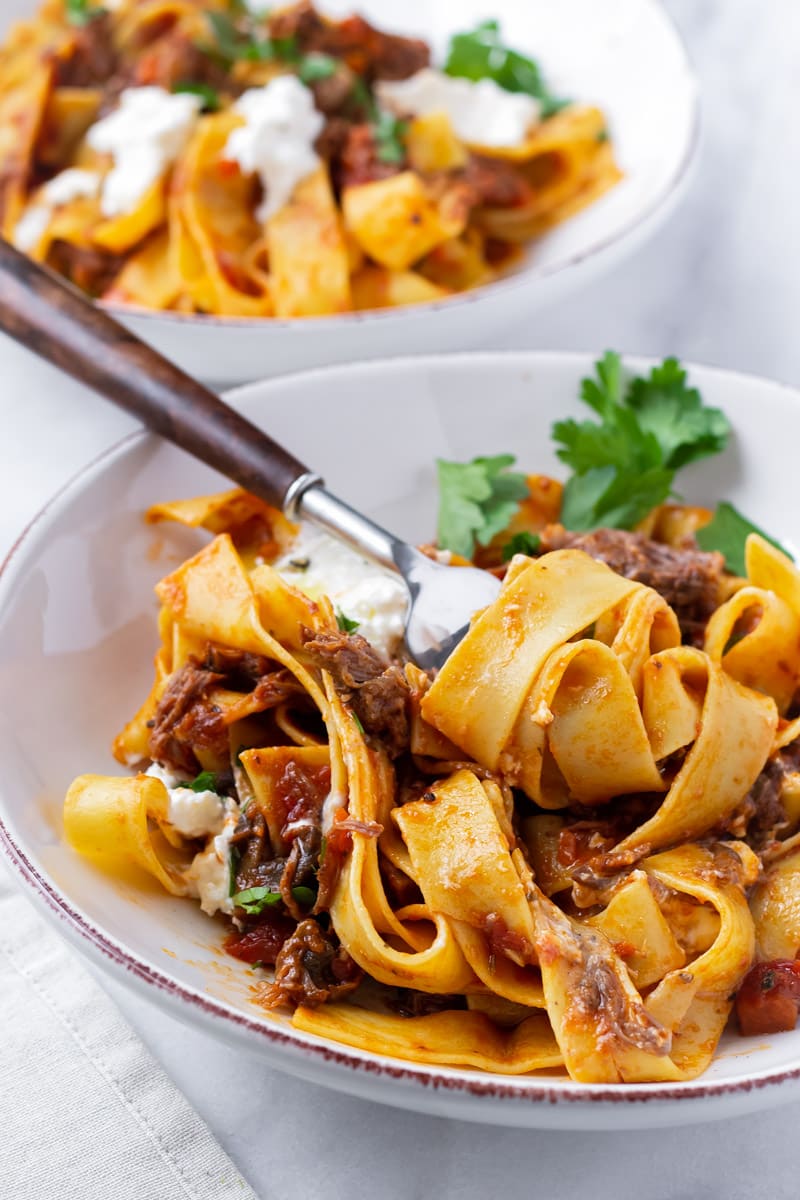 This easy slow cooker short rib ragu recipe will make enough for about 6 people. If you're planning to change the quantities, feel free to do so! Halve it, double it, triple it…anything you'd like. It's that straightforward!
More slow cooker recipes that I love:
Thank you for reading! I hope you enjoy this recipe. It's one of my favorites.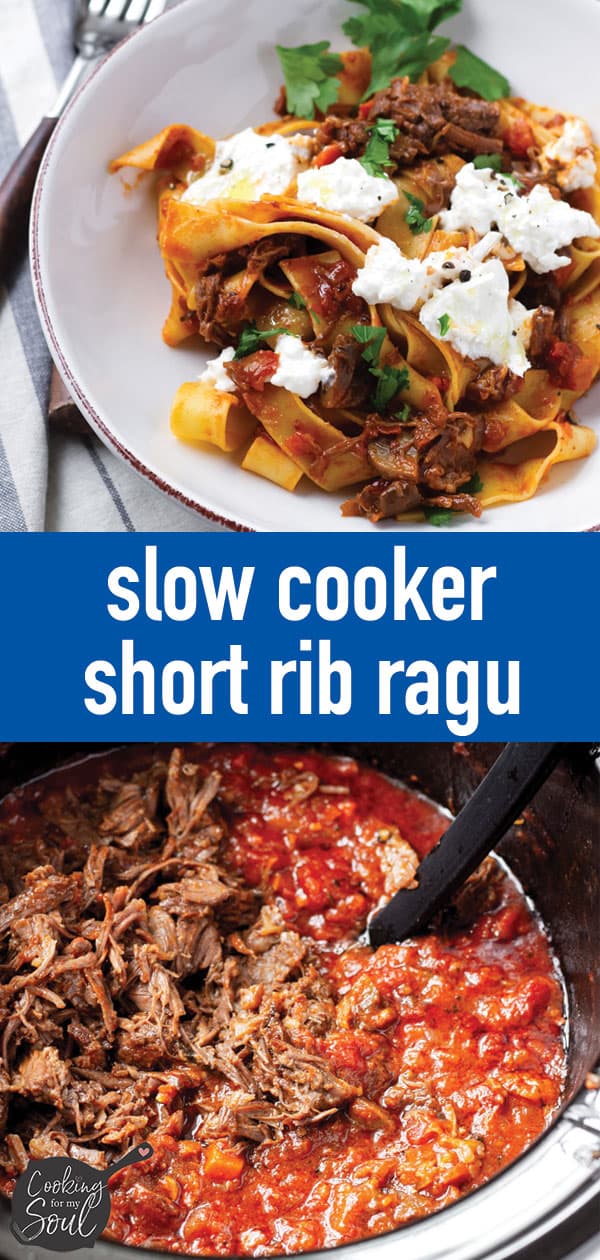 Tips for Success
Make sure you get the meat browned properly. It should be caramelized and well-browned, but obviously not burnt.
Don't clean the pan after browning the meat! The brown bits contain lots of flavor that will get released once you start cooking the onions. Release the brown bits with a a wooden spoon.
If you can, use bone-in short ribs. They always come out juicier and more tender compared to boneless short ribs.
If you try my recipe, use #cookingformysoul on Instagram! Follow me on Pinterest, Instagram, Facebook for the latest fun updates and recipes!
Slow Cooker Short Rib Ragu
Easy slow cooker ragu! It's tender and packed with so much flavor. Serve with pasta and your favorite cheese. You will love this easy slow cooker dinner!
Ingredients
3 to 4

pounds

bone-in short ribs, excess fat trimmed

2

oz

prosciutto, finely chopped

Olive oil

1

medium onion, small diced

2

medium carrots, peeled and finely diced

5

cloves

garlic, minced

8

oz

cremini mushrooms, sliced

2

tablespoons

tomato paste

1/2

cup

red or white wine

-

(optional)

1

(28 oz) can

crushed tomatoes

2

teaspoons

Italian seasoning

2

bay leaves

Salt and pepper to taste
For serving
1

pound

Pappardelle pasta or your favorite pasta

Fresh burrata or your favorite cheese

Fresh basil or parsley, chopped

-

(for garnish)
Instructions
In a large Dutch oven or deep skillet, cook the prosciutto over medium heat until crispy. Transfer to a large slow cooker.

Season short ribs with salt and pepper generously. On the same Dutch oven or pan, heat some olive oil (about 2 tablespoons) over medium-high heat and sear all sides of the short ribs until beautifully browned. If needed, do it in batches to avoid overcrowding the pan (overcrowding will result in steaming rather than browning). Transfer the browned short ribs to a large slow cooker.

Do not wipe the Dutch oven or skillet clean. Heat about 1-2 tablespoons olive oil in same Dutch oven or skillet. Add onions and carrots, and cook for 6-8 minutes over medium-high heat until softened. Once the onions start to release moisture, scrape the brown bits (left behind from browning the short ribs) with a wooden spoon. Add garlic and mushrooms and cook until fragrant, another 1-2 minutes. Add tomato paste and stir to combine.

If using, add wine and deglaze the Dutch oven or pan. Cook until reduced.

Stir in crushed tomatoes, bay leaves, and Italian seasoning. Bring to a boil and adjust seasoning with salt and pepper as needed. Simmer for 3-5 minutes. Transfer the tomato sauce to the slow cooker along with the browned short ribs and the cooked prosciutto.

Cook on HIGH for 4 hours or on LOW for 8 hours. When the meat is ready, shred with a fork and discard bones. Return the shredded meat to slow cooker. Keep the slow cooker on the warm setting.

Cook the pappardelle or your favorite pasta according to package directions. Serve with the short rib ragu, fresh burrata, and fresh parsley. Enjoy!
Notes
Special equipment: large Dutch oven, large slow cooker, wooden spoon.
Refrigerate any leftovers in an airtight container for up to 3 days.
Short ribs: Preferably, use bone-in short ribs to keep them juicy and moist while they cook.
Wine: wine is completely optional, but it will add complex flavor that you'll love! I prefer using red wine for color and intensity.