Say hello to these easy Greek Turkey Burgers! These are juicy and flavor-packed, and served with a delicious homemade tzatziki sauce. You'll love them!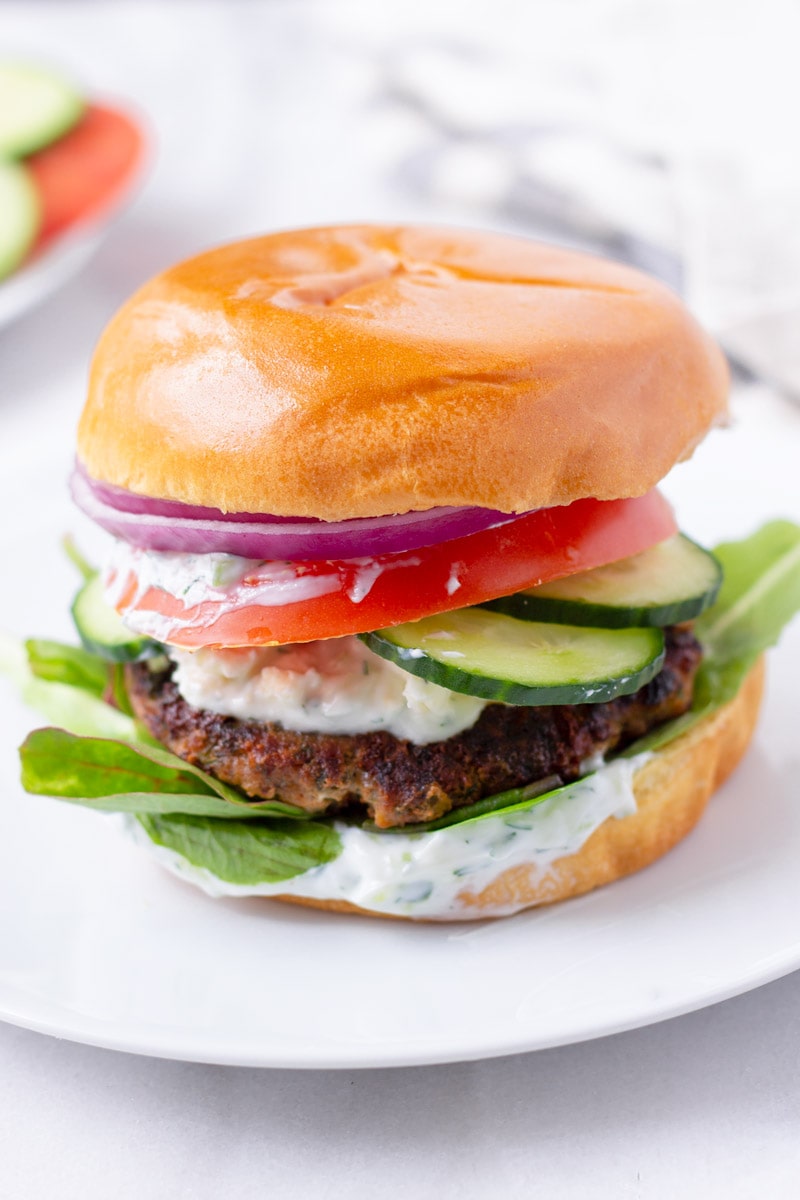 The number one thing in burgers is flavor. I love to change it up and use different types of protein, and turkey is one of my favorites. These Greek turkey burgers are everything I ever dreamed of in a turkey burger: amazing flavor, juiciness, and fresh toppings!
The turkey patties are packed with fresh herbs, feta crumbles, and aromatics. The toppings are also pretty amazing: homemade tzatziki sauce, cucumbers, tomatoes, onions, and greens. And served on a golden brioche bun.
It doesn't get any better than this!
Why I Love these Greek Turkey Burgers
The reasons are pretty simple:
They are packed with SO much flavor! The patties are packed with herbs and aromatics.
They are juicy! The key here is to use 85% lean ground turkey (15% fat). Other ingredients in the patties that keep them moist are minced onions and crumbled feta.
The Greek-inspired toppings are amazing! I used cucumbers, tzatziki, tomatoes, crumbled feta, and greens.
I'm drooling over here, guys.
I'm sharing all the secrets on how to make the most delicious Greek turkey burgers ever…so read on!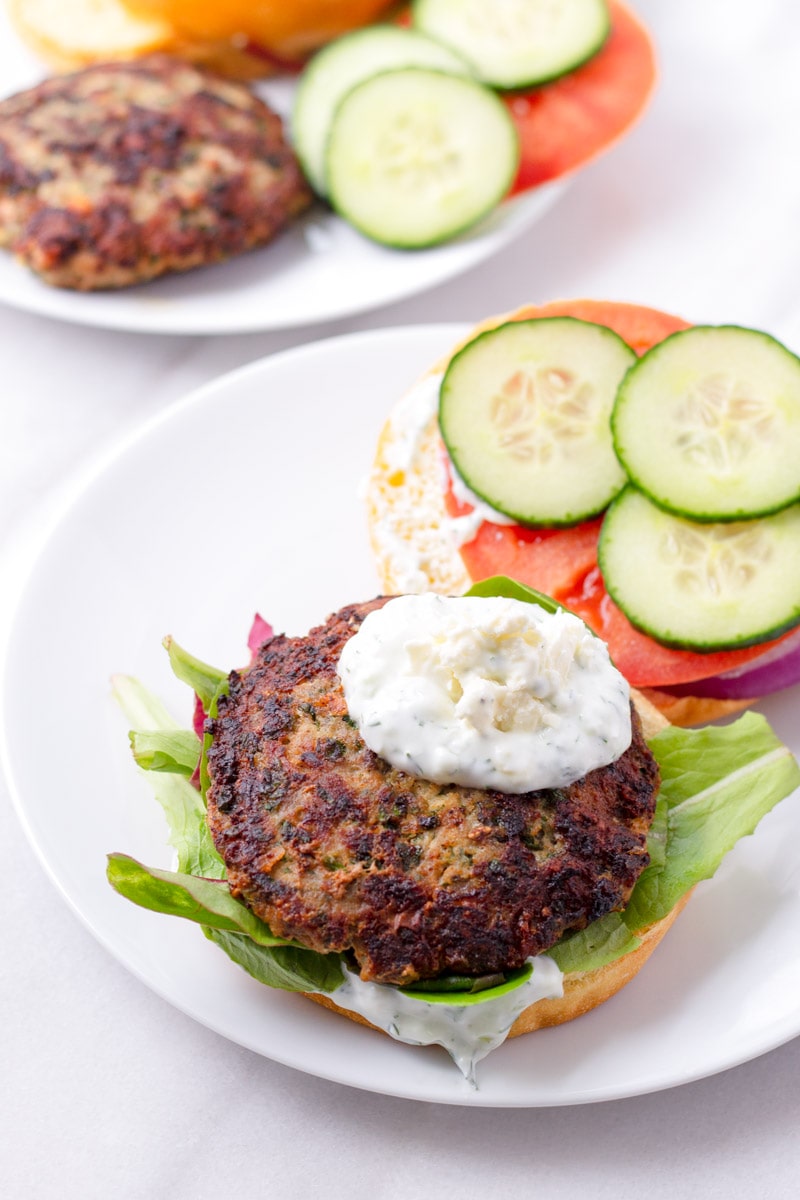 Flavorful and Juicy Turkey Patties
Obviously the most important component in a burger is the burger patty.
In all my burger recipes, I make sure that the it's seasoned generously and packed with flavor. For example, my salmon burger patties are packed with fresh herbs and spices, and my Hawaiian burgers are always seasoned generously and infused with Worcestershire sauce.
So I'll say it one more time: the patties MUST be flavor-packed!
Here's what you'll need for the the Greek turkey burger patties:
Ground turkey: Use 85% lean, 15% fat for juicy patties! This is a must. The fat will add moisture and keep it juicy.
Fresh dill: For fresh, herby flavors.
Fresh Italian parsley: For fresh, herby flavors.
Minced red onions: The onions will add flavor and moisture.
Minced garlic: For flavor!
Dried oregano: More herbs please!!
Crumbled feta: The feta cheese will add tons of flavor and moisture.
Salt and pepper: For seasoning.
As you can see, all these ingredients are combine to maximize flavor and moisture in these Greek turkey burgers…and it's seriously the best thing ever!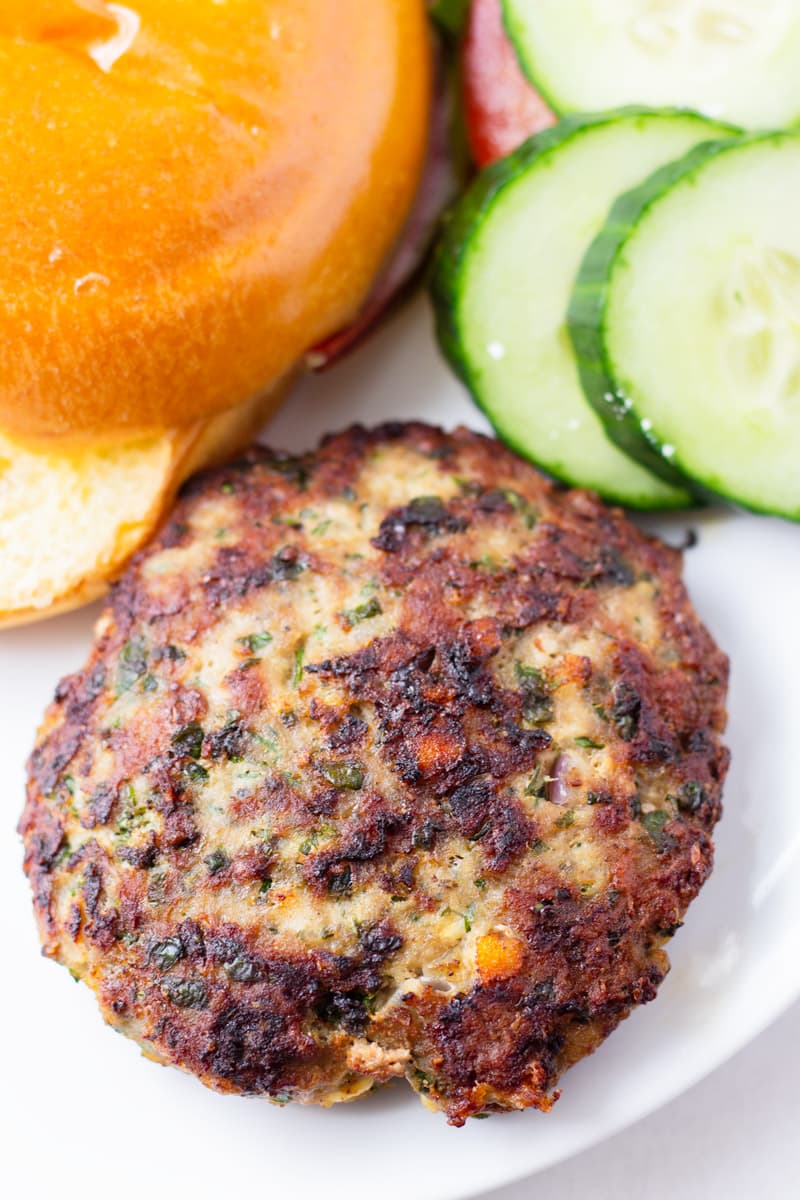 The Homemade Tzatziki Sauce
I can't say enough about how much I love this easy homemade tzatziki sauce. It's smooth, ultra delicious, and refreshing. It adds so much creaminess and texture to the turkey burgers.
The tzatziki sauce is very simple and quick. It's made with Greek yogurt, dill, garlic, and cucumbers. It comes together in 10 minutes or less, and will make your burgers taste amazing!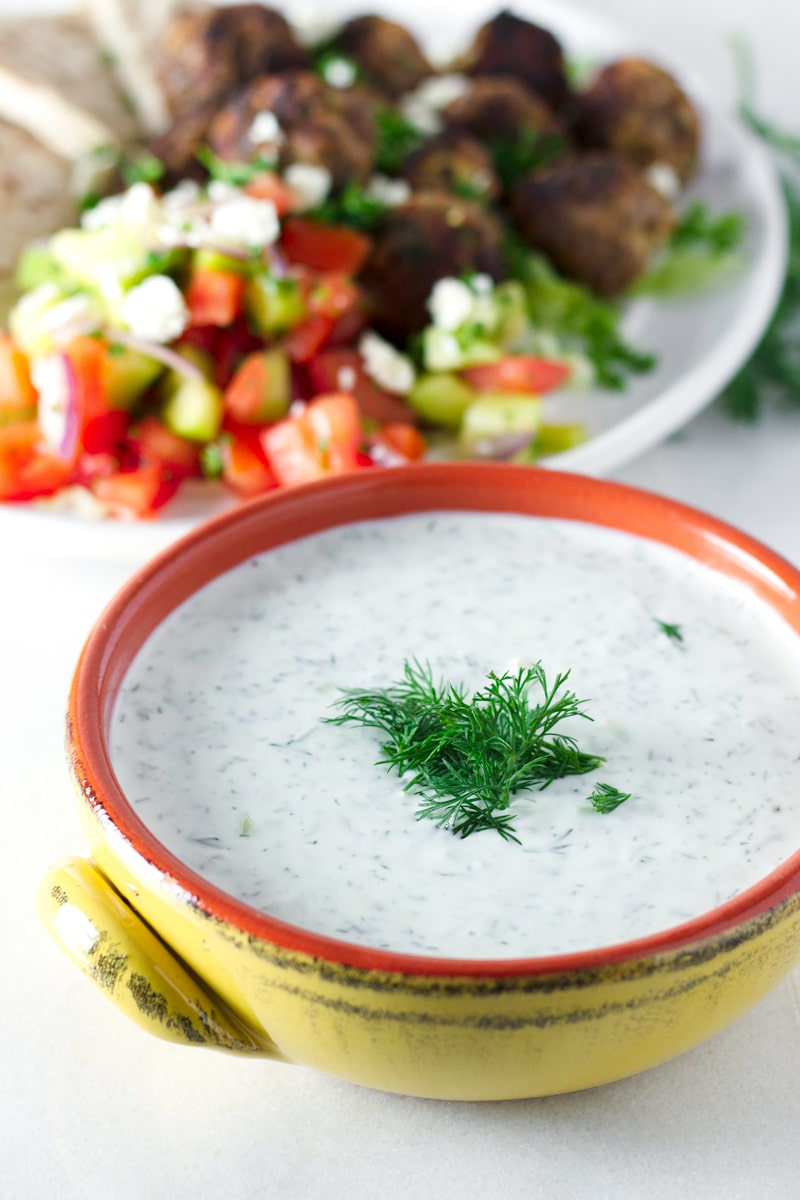 Building the Greek Turkey Burgers
A well-constructed burger is essential. Here are some ideas:
For the buns, you can use:
Brioche buns
Regular burger buns
Pita
You could even skip the buns!
Customize your toppings:
Tzatziki
Cucumbers
Tomatoes
Lettuce, spinach, arugula, or mixed greens
Crumbled feta
Olives
Avocado
Sprouts
The possibilities are endless! If you have any other suggestions, please comment below. I would love to hear from you!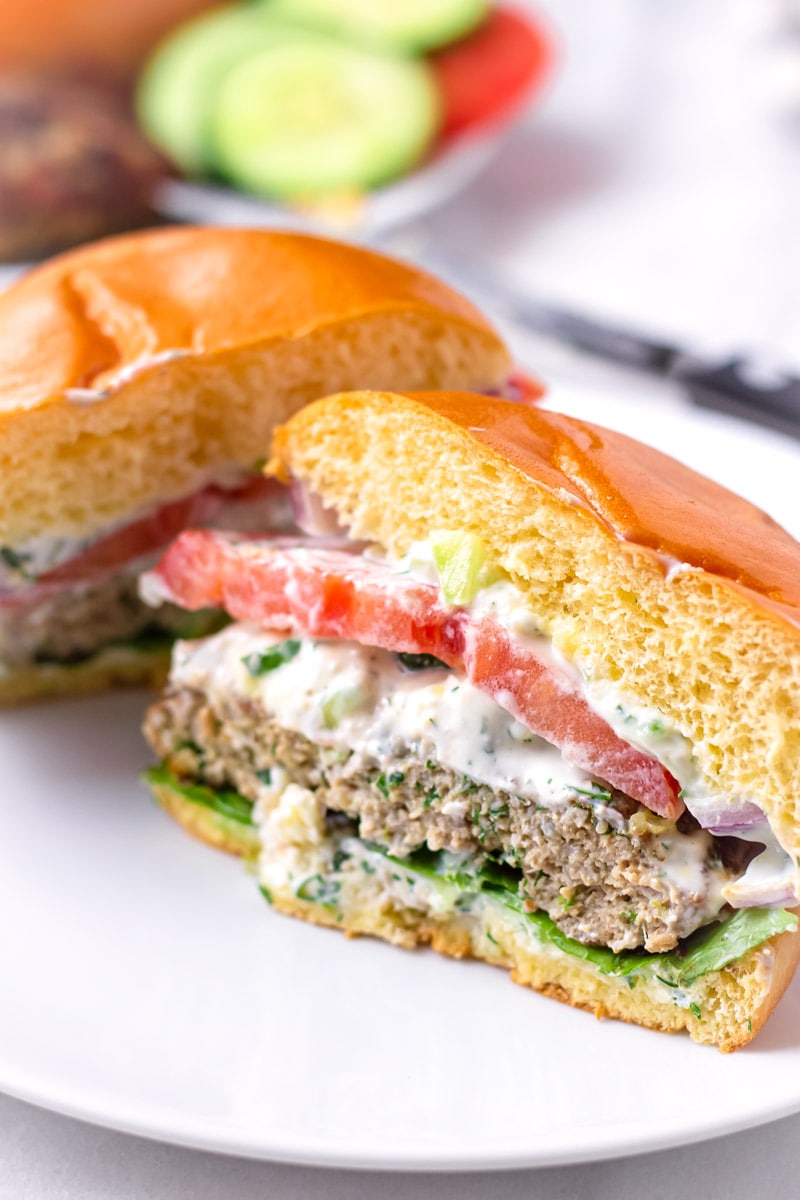 I am so in love with these Greek turkey burgers. They are pretty amazing and makes everyone in my family so happy. Happy tummy, happy family!
I am also a big fan of Greek and Mediterranean flavors. Check these out:
Thank you so much for reading, and please don't forget to pin this recipe!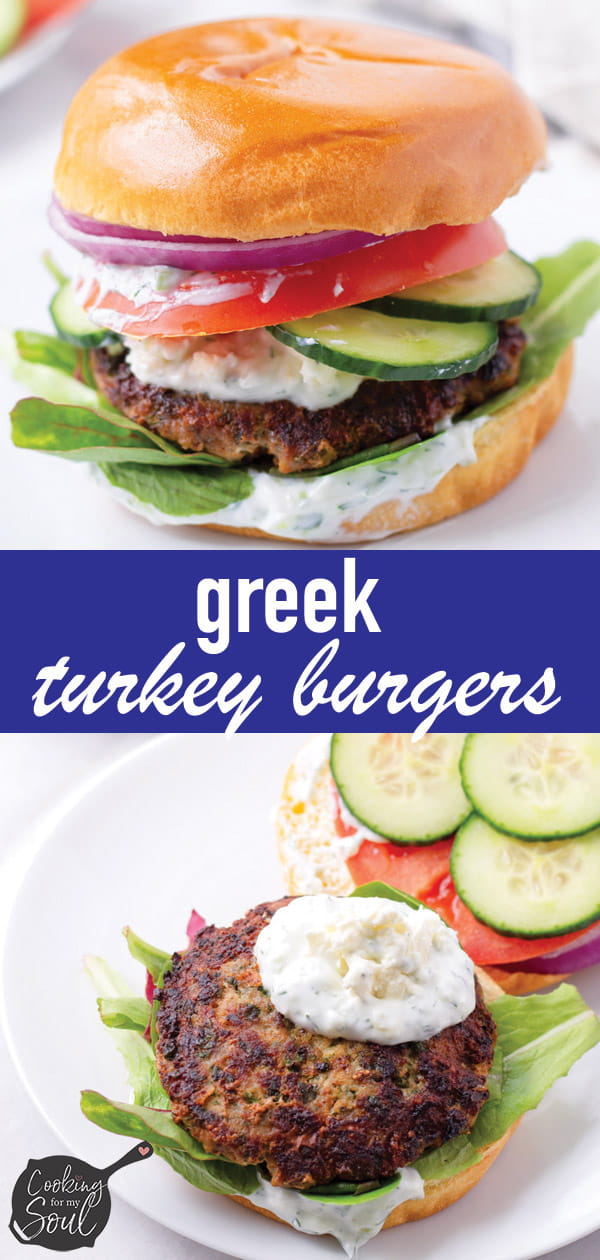 Tips for Success
The turkey patties will shrink a bit while cooking. Form the patties a bit bigger to account for this.
Try not to make thick patties! Keep them at 1/2 inch thick for even cooking. Nobody wants charred meat on the outside but undercooked meat in the center!
Don't overmix the ground turkey. Overmixing results in tough meat.
Don't overcook it. 4-5 minutes per side on medium-high heat should be enough for a 1/2 inch turkey patty.
If you try my recipe, use #cookingformysoul on Instagram! Follow me on Pinterest, Instagram, Facebook for the latest fun updates and recipes!
Greek Turkey Burgers
These flavor-packed Greek Turkey Burgers are easy, healthy, and super delicious. It's an easy weeknight dinner that everyone will love.
Ingredients
Turkey Patties:
1

pound

ground turkey

(85% lean, 15% fat)

1/4

cup

finely chopped Italian parsley

1

tablespoon

fresh dill, finely chopped

2

tablespoons

minced red onions

2

cloves

garlic, minced

1

teaspoon

dried oregano

1/4

cup

crumbled feta cheese

1/2

teaspoon

Kosher salt

1/4

teaspoon

freshly ground black pepper

Olive oil for pan
Buns and toppings:
4

burger buns

(I like using brioche buns)

Tomato slices

Cucumbers slices

Onion slices

Crumbled feta

Greens
Instructions
Form the turkey patties: In a large bowl combine all the turkey ingredients, and mix until evenly combined. Evenly divide into four 1/2 inch thick patties. Tips: 1) Do not overmix or the patties will turn out tough. 2) Form the patties a little bit bigger than the buns since these will shrink somewhile cooking.

Heat some olive oil (about 2 tablespoons) on a large non-stick skillet over medium-high heat. Cook the turkey burger patties until they reach 165 degrees F in the center, about 5 minutes on each side.

Build the burgers on the brioche buns along with the toppings. Serve and enjoy!
Notes
Special equipment: large non-stick skillet.
Turkey patties: Don't over-mix the turkey patties. Over-mixing results in a tough texture. Also don't make them too thick, 1/2 inch is perfect.
Make-ahead turkey patties: Uncooked turkey patties can be prepared ahead of time and stored in the refrigerator for 1-2 days. Store each patty in between parchment paper.
Freezing uncooked turkey patties: Freeze the patties on a baking sheet until they harden. Then transfer to freezer-safe bags and store in the freezer for up to 2 months. Thaw in the refrigerator for 1 day.
Make-ahead tzatziki sauce: It's best if you make it up to 1 day in advance for freshness and flavor. It starts tasting a bit sour if kept for too long.
Grilling? Absolutely! Feel free to cook the turkey burgers on the grill!