A true comfort breakfast dish: Spinach Artichoke Strata! This delicious strata is made with rustic bread, lots of cheese, spinach, artichokes, and a creamy egg mixture. It all gets soaked into the bread for a few hours and then baked until golden brown. It's amazing!
There is nothing cozier than a nice brunch at home with friends and family, especially around the holidays. I absolutely love casseroles because they can feed a large crowd and can usually be made ahead. If you're into make-ahead breakfast egg casseroles, then you'll absolutely love this Spinach Artichoke Strata!
There are so many reasons why I love making this spinach artichoke strata:
You can make it ahead! In fact, you need to let the egg custard and the bread soak in the fridge for at least 2 hours or, better yet, overnight. It's the perfect breakfast make-ahead recipe.
It's cheesy: I use gruyere and parmesan cheese…a great combo!
Made with fresh spinach and artichokes: I am a huge fan of spinach and artichoke hearts.
It's filling and comforting!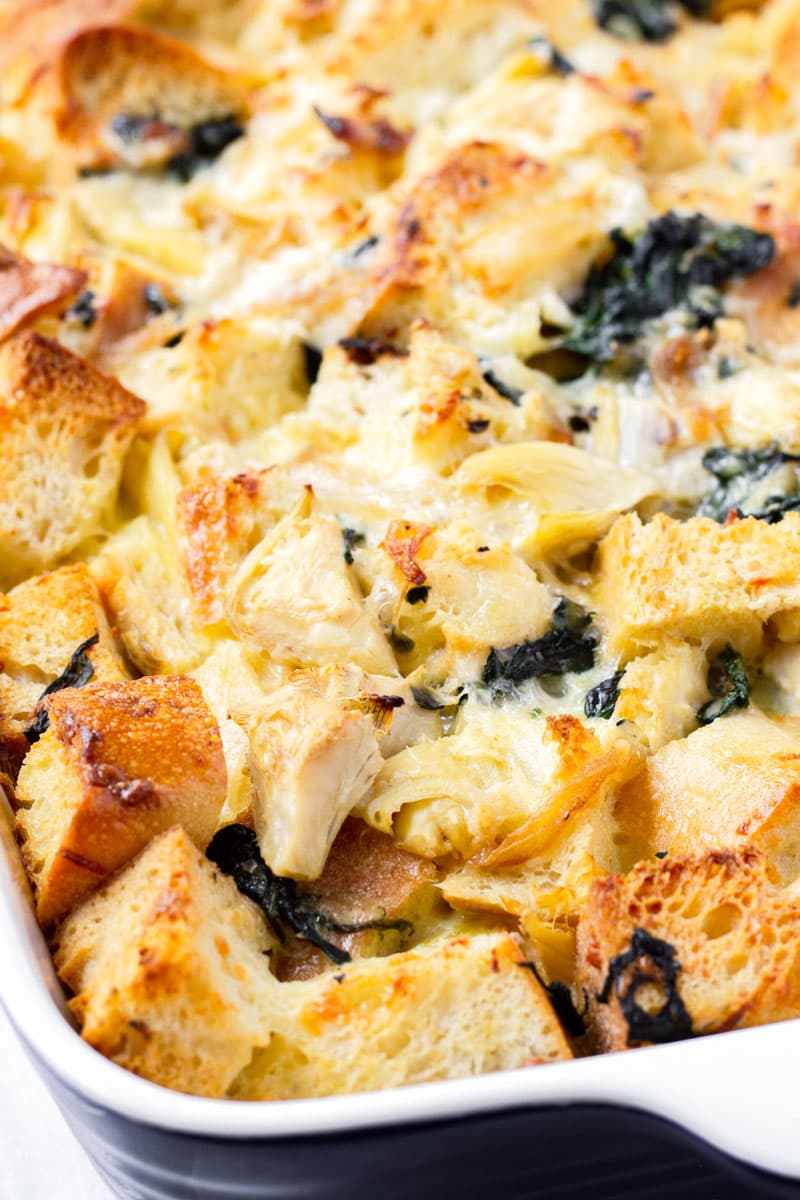 What is a Strata?
A strata is basically a breakfast casserole dish made with cubed rustic bread and cheese soaked in an egg and cream mixture. Typically, it's soaked for at least 2-3 hours or overnight before baking, which makes strata a great make-ahead breakfast recipe.
In this strata recipe, I used spinach, artichoke hearts, and caramelized onions. For the cheeses, I used parmesan and gruyere.
It's also a very versatile bread and egg casserole dish, so you can get creative and customize however you want! A few of my favorite strata additions are butternut squash, kale, mushrooms, zucchini, and prosciutto. Other popular choices are ham, sausage, bacon, and bell peppers. Yummy!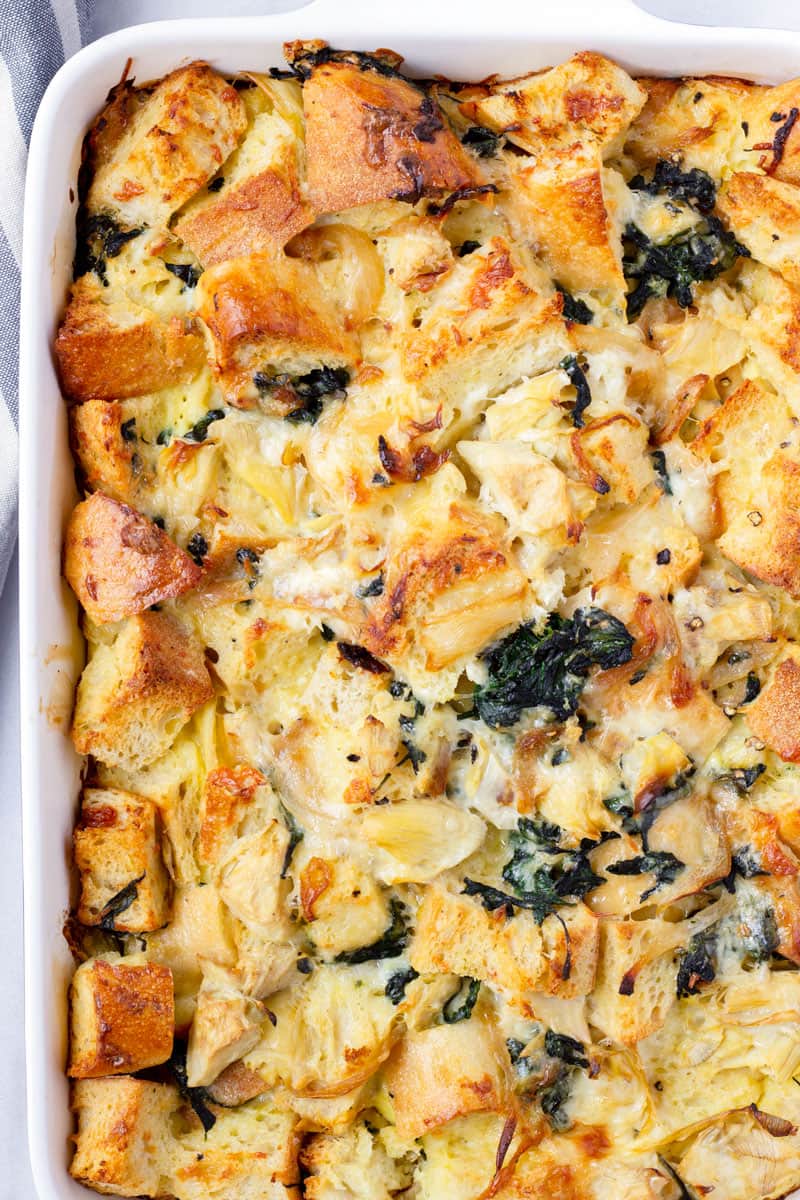 The Perfect Make Ahead Recipe
Who doesn't love overnight breakfast recipes?!
Basically, you can prepare this spinach artichoke strata and let everything soak overnight in the fridge. The next morning, all you have to do is bake it, and breakfast is done! It needs to bake covered for 30 minutes, and then uncovered for another 45-50 minutes.
I find this spinach cheese strata recipe a great choice for holiday brunches because I can get a lot of other stuff prepped while it bakes in the oven.
Some things I love to serve with the strata are:
Fruit salad and yogurt
Banana muffins
A simple greens salad
Coffee, tea, and freshly squeezed juice
Cocktails (my faves: peach bellinis and orange mimosas!)
It's a great recipe for a holiday brunch party or just for family! No matter what the occasion is, this cheesy spinach strata is always a huge hit.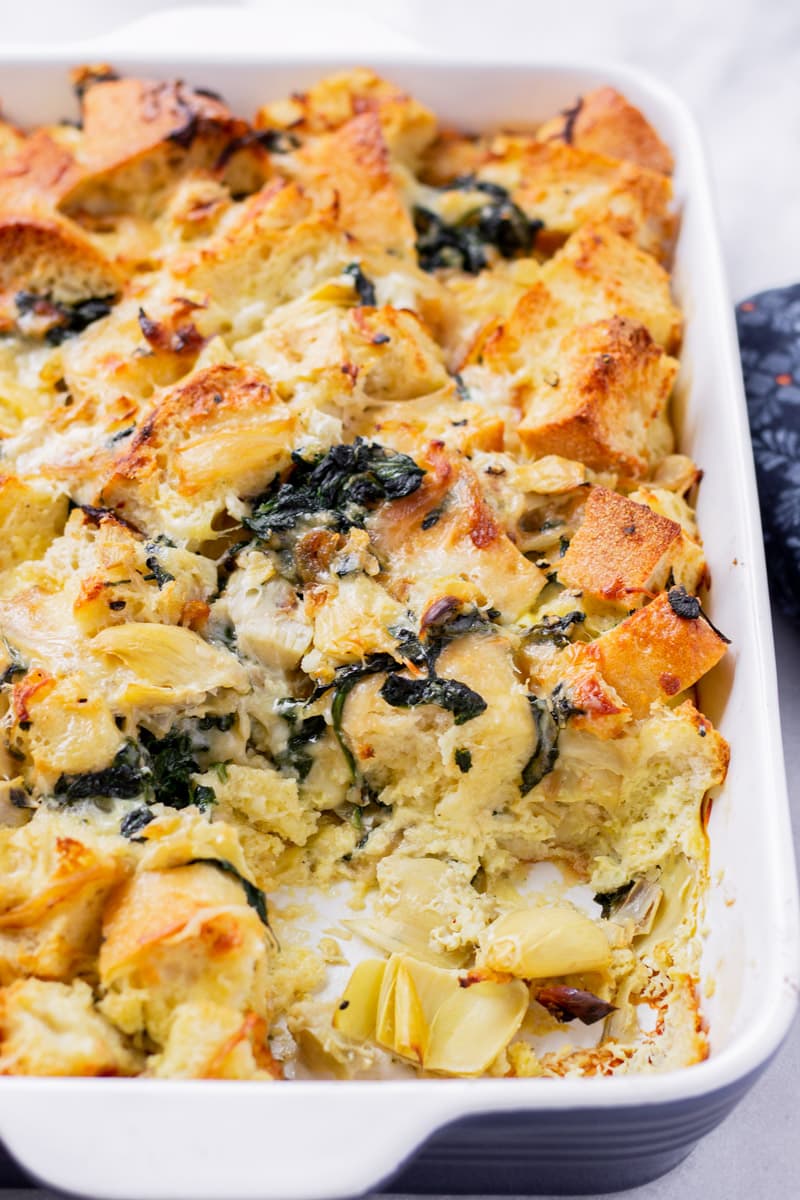 Ingredients for Spinach Artichoke Strata
Now, imagine all these comforting ingredients in one dish:
Olive oil: For cooking the spinach and onions
Fresh spinach leaves: You'll need 1 pound…yes, a big bag of spinach. Spinach shrinks like no other, so if it seems like you're buying a lot of spinach, don't worry about it.
Yellow onion: Use sweet or yellow onions for mild flavors. You'll caramelize the onions before adding it to the baking dish.
Minced garlic: You'll add the garlic to the caramelized onions, and cook until fragrant. Garlic makes everything better!
Artichoke hearts: Get artichoke hearts in water. They usually come in cans or jars.
Rustic bread: Day-old bread works best here because they soak liquids better. I used a loaf of rustic French bread.
Cheeses: Parmesan and gruyere are a lovely combo!
Eggs: You'll need 9 large eggs for a 9×13 baking dish.
Half and half: For the egg mixture.
Salt and pepper to taste
I love these ingredients in a strata! And if you want to customize it by adding different types of cheeses, veggies or even meats, feel free to do so.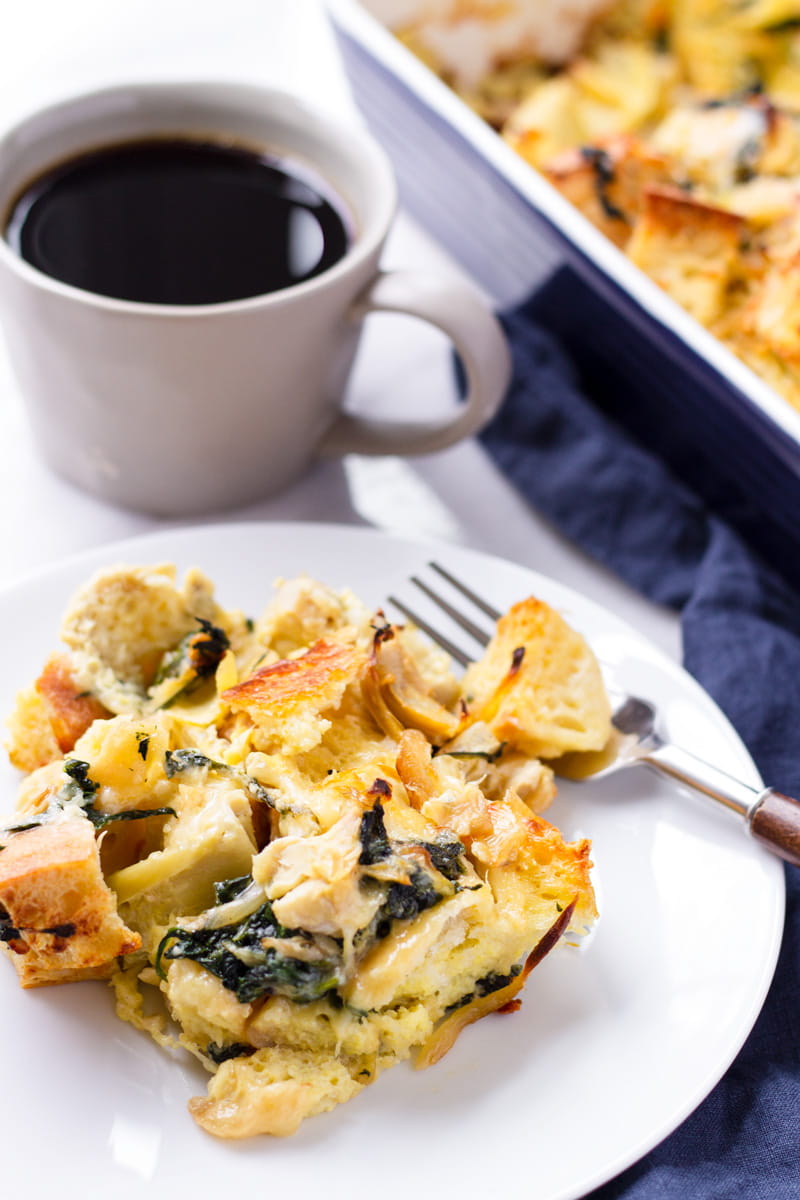 How to Make this Spinach Artichoke Strata
You can find the ingredient quantities and instructions in the recipe card below, but you give you an idea of how to make this spinach artichoke strata…
Cook down the spinach: 1 lb of spinach will reduce significantly and release a lot of liquid. Be sure to squeeze the excess liquid out before adding the spinach to the strata.
Caramelize the onions and add garlic: The key to caramelizing onions is to cook them down without disturbing them too much.
Toss everything together in a prepared 9×13 baking dish: cubed bread, cheeses, caramelized onion and garlic, cooked spinach, artichoke hearts.
Make the egg mixture and pour all over prepared bread mixture: Pour the egg mixture evenly, even through the corners and edges.
Let it soak for at least 2 hours or overnight in the refrigerator.
Bake! 30 minutes covered, and then another 45-50 minutes uncovered.
There you have it. The perfect make-ahead breakfast recipe!
Remember, the two keys to the perfect strata are 1) using day-old bread for better liquid absorption, and 2) letting everything soak for hours or overnight.
I hope I've convinced you to run to the kitchen and make this breakfast dish! It's so comforting, delicious, and inviting. Everyone loves a good breakfast, and this spinach artichoke strata is definitely one of my brunch faves.
If you're into brunching all day (ehem, meeee), check these out:
Thanks for reading, and please don't forget to pin this recipe!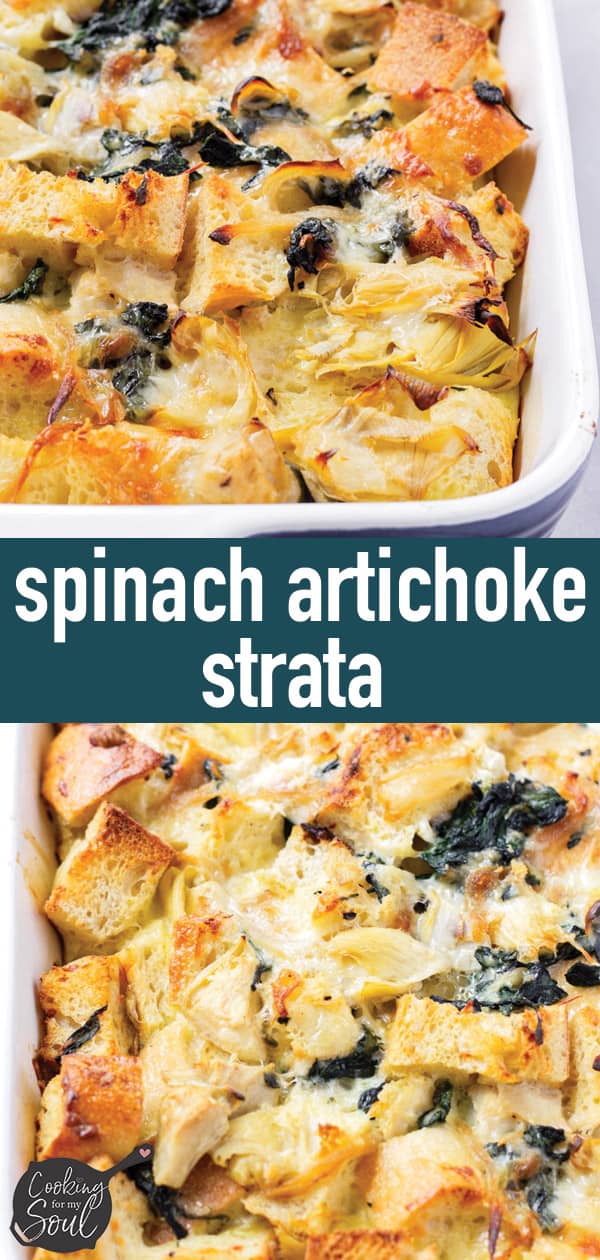 Tips for Success
Use day-old, crusty rustic bread. Day-old bread absorbs liquid better, and rustic breads hold their shape in the oven. I love using crusty French bread.
Let it soak! At least 2 hours or overnight.
If desired, add ham or prosciutto.
If you try my recipe, use #cookingformysoul on Instagram! Follow me on Pinterest, Instagram, Facebook for the latest fun updates and recipes!
Spinach Artichoke Strata
Nothing better than a delicious and comforting spinach artichoke strata! This make-ahead spinach strata is easy to make and perfect to feed a crowd.
Ingredients
Olive oil

1

pound

fresh spinach leaves

1

medium yellow onion, thinly sliced

3

cloves

garlic, minced

Salt and pepper to taste

1

can

(15 oz) artichokes hearts, in water

-

(drained, patted dry, and chopped)

1

large loaf

rustic bread, cubed

-

(I use day-old crusty French bread, about 8 cups)

2

cups

shredded gruyere cheese or similar

1

cup

parmesan cheese, shredded

9

large eggs

2

cups

half-and-half

1 1/2

teaspoons

Kosher salt

1/4

teaspoon

ground black pepper
Instructions
In a large skillet, heat some olive oil over medium heat and cook the spinach for a few minutes until reduced (you may do this in parts). Transfer to a plate and let it cool down slightly. Remove excess moisture by squeezing the spinach with your hands and patting dry with paper towel.

In the same skillet, heat about 2 tablespoons of olive oil over medium heat. Add the sliced onions on a single layer and cook for about 10 minutes, stirring occasionally, until softened and caramelized. Heat some more olive oil and add the garlic. Cook another 1-2 minutes until fragrant. Season with salt and pepper to taste. Set aside.

In a large bowl, evenly toss the cubed bread, artichoke hearts, cheeses, the prepared spinach, and the caramelized onion and garlic mixture. Transfer to a lightly greased 9x13 baking pan. Set aside.

In a medium bowl, whisk the eggs, half and half, 1 1/2 teaspoons salt, and the 1/4 teaspoon ground black pepper. Pour this egg mixture evenly over the prepared bread mixture, even through the corners and edges. Cover with foil and refrigerate for at least 2 hours or overnight.

When ready to bake, preheat oven to 350 degrees F. Bake for 30 minutes with the aluminum foil on. Remove foil and continue baking for another 45-50 minutes. Let it sit for 5 minutes before serving. Enjoy!
Notes
Special equipment: 9x13 baking dish, aluminum foil.
Bread: Use a rustic, crusty bread so that it holds its shape, preferably day-old bread.
Make ahead: Prepare the strata the night before, cover with aluminum foil, and let it soak overnight in the refrigerator, or for at least 2 hours.