I love Italian Baked Eggs because they are so rich, cheesy, and fun to eat! Plus, it comes together in 20 minutes. It's a quick and easy breakfast that everyone will love.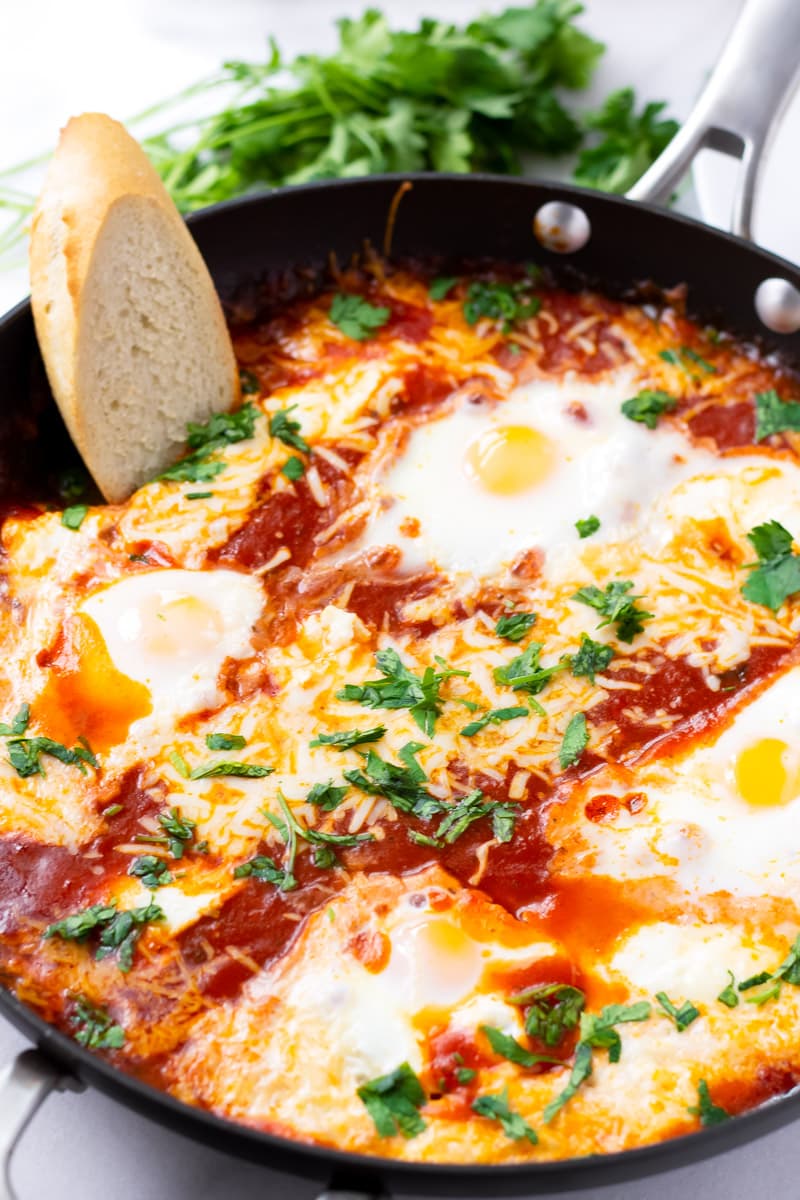 Confession: I have a weakness for eggs in a skillet. This is why I love these Italian baked eggs so much, as well as similar breakfast dishes like shakshuka. I get it whenever I can at brunch restaurants.
Italian baked eggs are pretty much eggs nested and cooked in delicious marinara sauce and topped with cheeses. I love adding basil or parsley, and serving with toasted baguette or Italian bread.
Italian baked eggs and eggs in purgatory may be the same thing, although some people argue that eggs in purgatory should always be spicy. Since I am not a big fan of spicy things, I'm calling this recipe Italian baked eggs! No matter how I call it, this amazing breakfast dish already has my heart.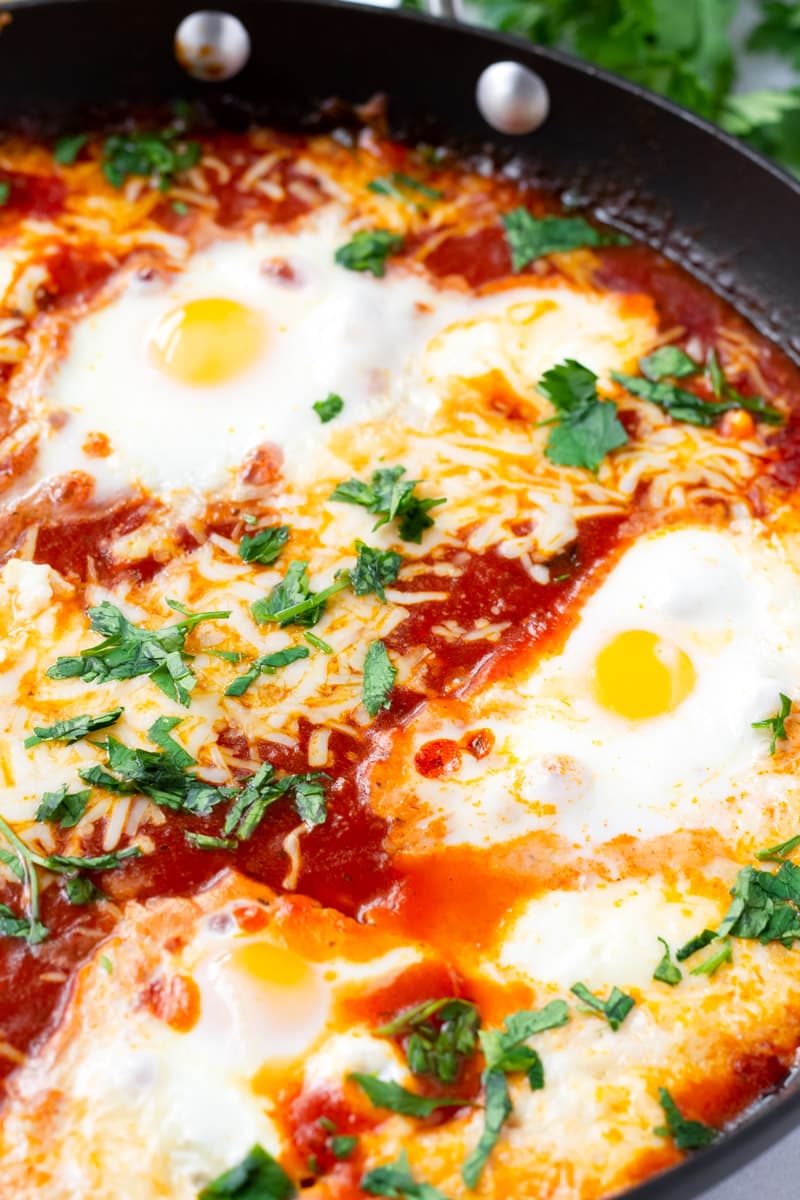 Italian Baked Eggs Ingredients
Italian baked eggs may be one of the easiest breakfast dishes I've made. Plus, the ingredients are super easy to find, which is always a plus.
My favorite part about this breakfast dish: ricotta! I add dollops of ricotta to make it a bit creamy. It's amazing!
Here's what you'll need:
Olive oil: For cooking the onions and garlic.
Diced onions and minced garlic: To add flavor to the sauce.
Marinara sauce: Get good quality marinara! Homemade or store-bought.
Eggs: Large eggs.
Ricotta cheese: The ricotta will add delicious creaminess and texture.
Parmesan cheese and mozzarella cheese: Use shredded. You can also substitute for other cheese that melt well.
Salt and pepper to taste
Basil leaves or parsley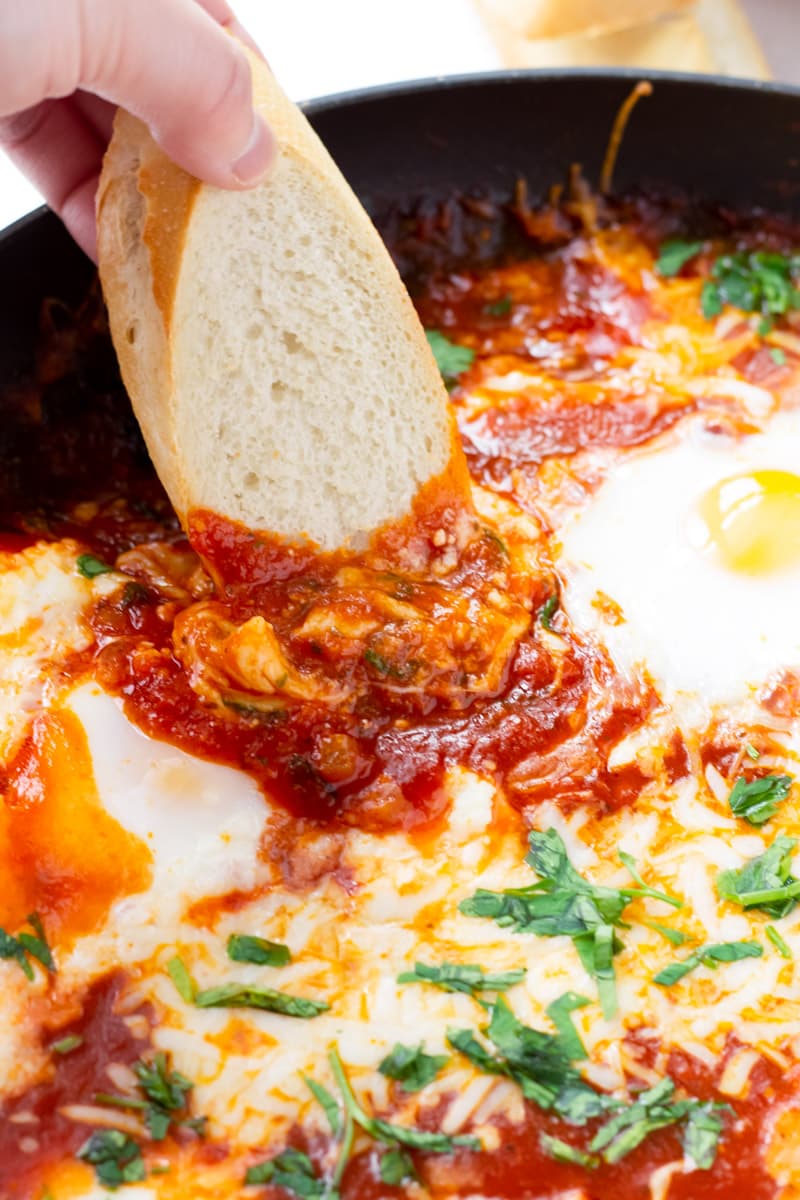 How to Make Italian Baked Eggs
This is probably one of the easiest and quickest breakfast dishes ever!
Preheat oven to 375 degrees F.
Cook the onions and garlic in a large oven-proof skillet: This will add flavor to the marinara sauce.
Add the marinara sauce: Warm it up just a little bit to get it going.
Create a few wells and drop the eggs: I'd recommend cracking the eggs into bowls, one at a time, and then dropping them in the sauce.
Add the cheese: I used ricotta, shredded parmesan, and shredded mozzarella.
Bake! For 12-15 minutes or until yolks are set.
I like to serve these with basil or parsley, as well as toasted baguette.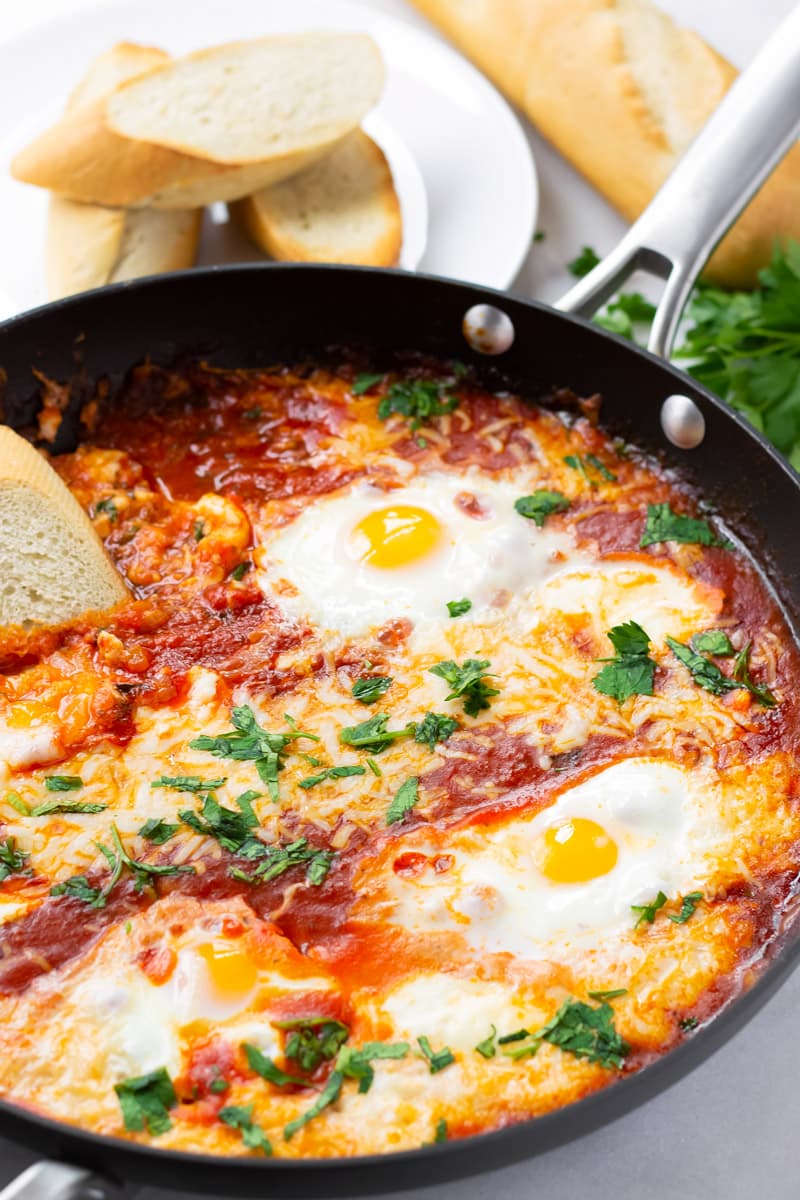 What to Serve with this Dish
Pairing Italian baked eggs with some sort of bread is almost mandatory. I mean, it just completes this dish so well and makes it ultra enjoyable. I used sliced baguette, but you anything similar will work.
Here are some ideas:
Toasted or grilled bread (Italian bread, baguette, sourdough…)
Garlic bread
Polenta cakes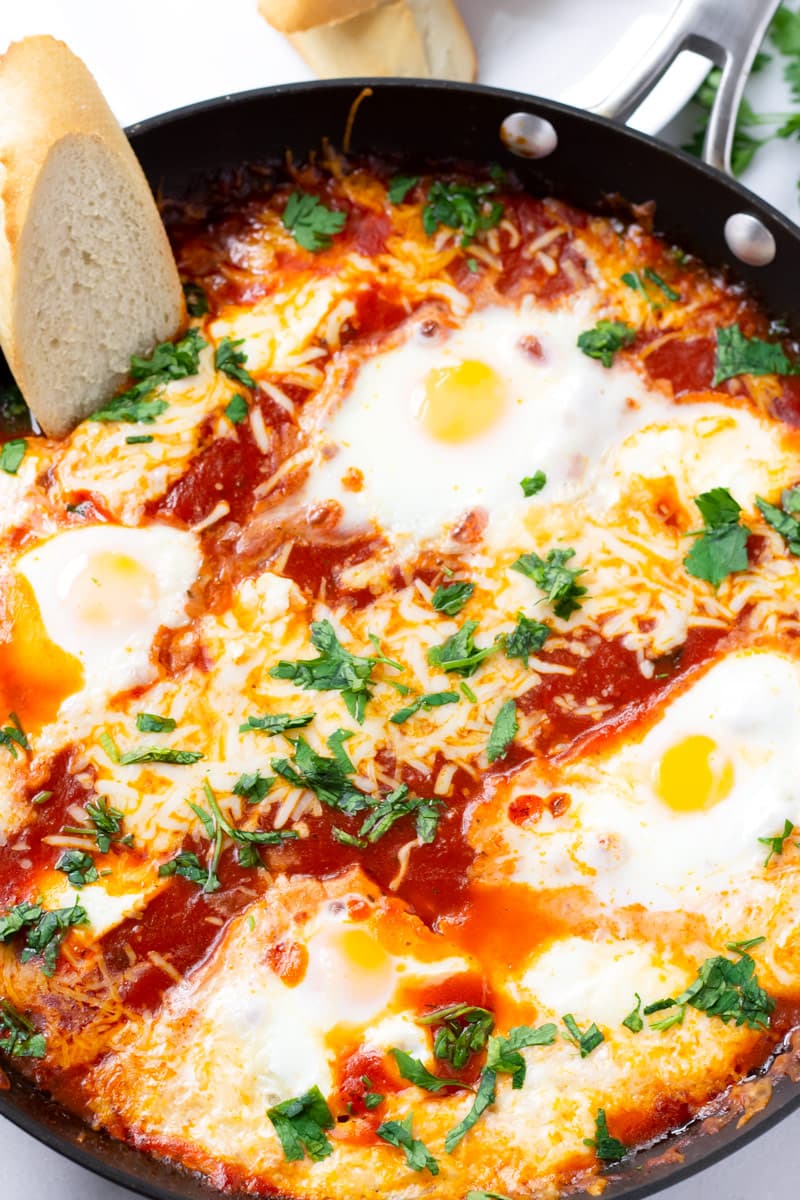 If you're a big fan of egg for breakfast, check out these recipes:
Now, excuse my while I go devour my Italian baked eggs.
Thanks for reading, and please don't forget to pin this recipe!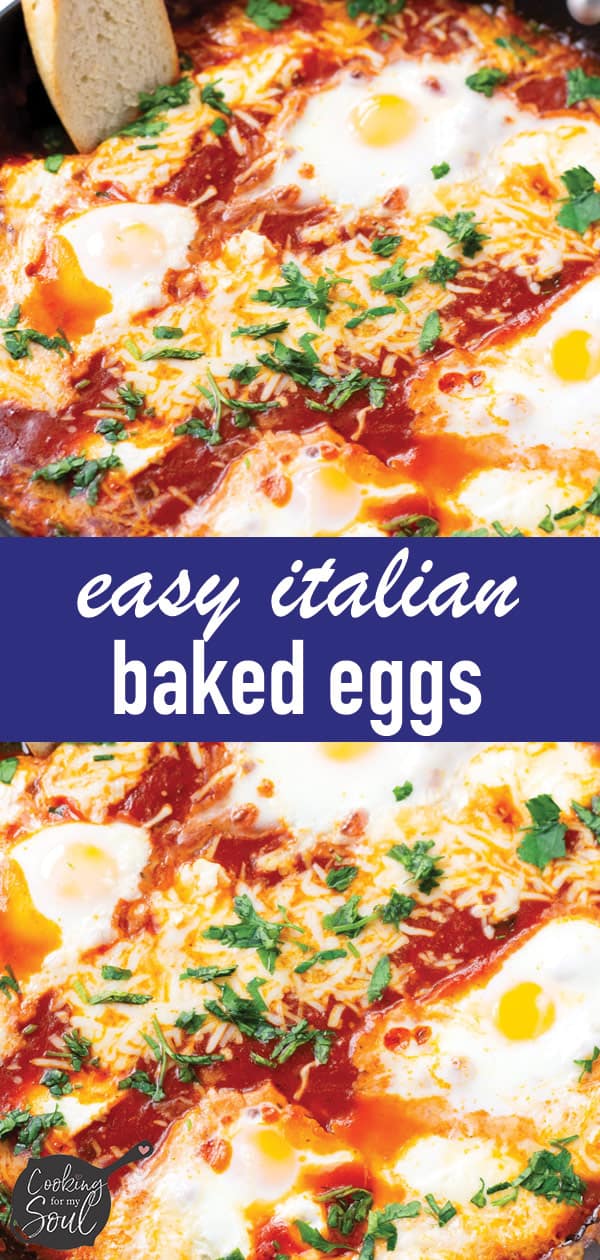 Tips for Success
Crack the eggs into bowls before dropping them in the skillet. This well prevent any accidental egg shells in the dish.
When adding the cheese, try not to do it over the eggs. It's always better when the cheese is over the sauce.
Marinara sauce: you can use homemade or store-bought marinara sauce. If you want, you can even use chunky marinara, for texture.
If you try my recipe, use #cookingformysoul on Instagram! Follow me on Pinterest, Instagram, Facebook for the latest fun updates and recipes!
Italian Baked Eggs
These Italian baked eggs are so easy and quick! Such a comforting and beautiful breakfast dish that everyone will love.
Ingredients
Olive oil

1/2

cup

yellow onion, small diced

2

cloves

garlic, minced

1

jar

(24oz) marinara sauce, or more if desired

-

(store-bought or homemade)

4

large eggs

Salt and pepper to taste

1/2

cup

ricotta

1/2

cup

parmesan cheese, shredded

1/2

cup

mozzarella cheese, shredded

Basil leaves or parsley, chopped

Baguette or Italian bread to serve, sliced and toasted
Instructions
Preheat oven to 375 degrees F.

Heat some olive oil over a large oven-proof skillet over medium heat. Add the onions and cook for about 3-4 minutes until softened, stirring occasionally. Add the minced garlic and cook until fragrant, stirring, about 1-2 more minutes. Season with salt and pepper if needed.

Add the marinara and warm it up a little bit. Make 4 wells, and break an egg into each well. Tip: crack eggs into a bowl, one at a time, and then add them to the skillet to prevent accidental egg shells.

Add a few dollops of ricotta, gently pushing it down into the sauce. Top with shredded parmesan and mozzarella cheeses.

Bake in the oven for about 12-15 minutes or until eggs are set to taste. Serve with basil or parsley as garnish, and toasted bread.
Notes
Special Equipment: Large oven-proof skillet, enough for 4 eggs.
Quick tip: to prevent egg shalls from falling into the skillet, crack the eggs in a separate bowl, one at a time.
Because the marinara sauce shines in this dish, use good quality marinara sauce.